Frequently voted as the most liveable city in the world, the scene in Melbourne has proven irresistible time and again. Known as the city that has it all, there you'll find excellent coffee, thought-provoking street art, anything and everything packed into a laneway, and more fabulous restaurants and bars than you can visit in a month of Sundays. The Central Business District (CBD) alone can take weeks to fully discover, and that's just the tip of the iceberg. Without further ado, let's review some of the city's most resplendent features. But first, be warned–if you've come to visit Melbourne, you may never want to leave.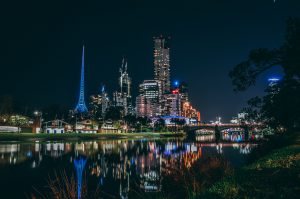 Quick Facts:
Language: English
Currency: $1 = $1.38
Population: 4.8 Million
Transport: Tram, Bike, Walk, Drive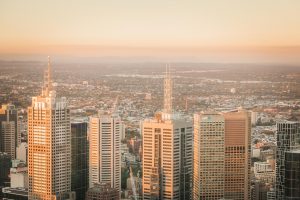 When To Go
It doesn't really matter when you turn up in Melbourne, the lights are on and the city is home.
Notoriously, Melbourne is capable of producing all four seasons in one day. Locals are well prepared for a few minutes of glorious sun followed by a raging typhoon and so should you be. The weather aside, there's always a welcome distraction from the rain just around the corner.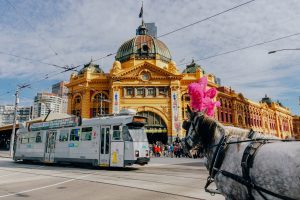 Get Around
Getting around is so easy here, Melbourne's transport system is seamless. The CBD is already quite compact, so you can walk from one side to the other in under an hour.
The easiest and most efficient way to get around the inner CBD is the tram. Absolutely no competition on this one because it loops the city in an efficient grid and is completely free. To travel further out all you need is a travel card. It's referred to as a Myki and you can buy them from a vending machine at every station and most tram stops. With a Myki, any journey made in under an hour usually costs around $3 per trip. So if you catch multiple trams to get to a specific spot, you'll only be charged the flat fee.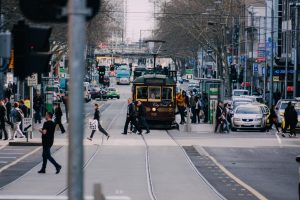 Sights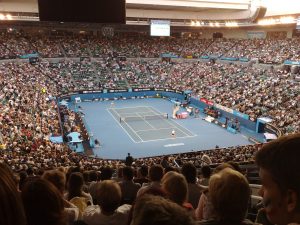 Laneways
At some point, the people of Melbourne decided that things were only cool if they were packed into tiny little laneways covered in graffiti. These colorful and narrow arteries, such as Centre place, are packed with tiny bars, fine coffee shops and a lot of interesting and ever-evolving street art.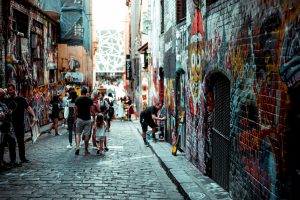 Street Art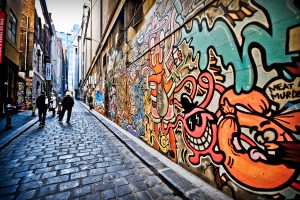 Hosier Lane and ACDC street
Epic pieces of art crop up in every corner of the city, some of them scaling entire buildings. If you want to witness a collection of streets dedicated to this form of expression then head to Hosier Lane and ACDC street. Both are prominent sections of Melbourne's metropolis that attract thousands of visitors and artists alike. The vibe here is eclectic as the pieces are continuously painted over and started anew. Melbourne has created some extremely well-known street artists who have blown up on Instagram. They are now producing a plethora of interesting and sometimes controversial pieces all around the city. One of the more intriguing artists is known as RONE; he paints portraits of beautiful women in abandoned buildings and places soon to be demolished. His ephemeral works are only found by chance and are soon reduced to rubble, but a few permanent pieces reside around Melbourne in some well-known spots.
If celebrities are a little more your taste, the giant mural of Kim Kardashian by @Lushsux is also listed on the map at the end of the article, though no promises can be made for the state it may be in when you find it.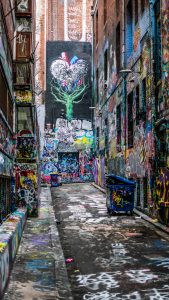 Tours
Melbourne has a few free city tours, one of them is even labelled on Google maps as I AM FREE. They set off a few times a day from the State Library. The tour takes you around some of the cities most iconic sites, but the best way to really get to know a city is to join a local! Reach out on Facebook and the friendly locals will be more than happy to meet you for coffee and gush over their beloved city.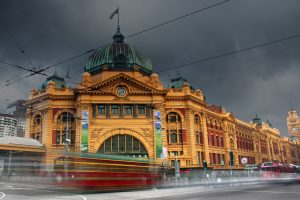 Melbourne State Library
The library is a top spot for weary travellers. The steps out front are a popular place to sit and eat lunch and watch the world go by. Occasionally, the space out front is also a base for pop up music festivals and events organised by the city. On such occasions, comfy bean bags are dropped on the grassy hills in front of the building. It's also the go-to spot for a bit of free wifi. The domed multi-levelled reading room at the back of the building has the most beautifully structured balconies and ceiling. It's a wonderful spot to do a bit of research on the city or just look up and enjoy the architecture.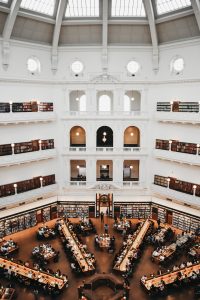 Melbourne's Best Views
Melbourne is an architectural paradise from wherever you stand. There are a few good vantage points along the central Yarra River and down towards the docklands. A pretty view of the bridge and the skyscrapers of Federation Square can be enjoyed from the East side of the riverbank.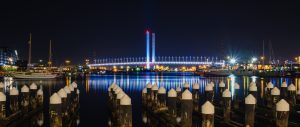 Eureka Sky Deck
This towering skyscraper, the iconic Eureka Sky Deck, occupies the highest point of Melbourne's glinting skyline. This relatively new addition for the concrete city represents a part of Australian history that you'll learn on your free Melbourne tour! The main draw is the observation deck, which offers a 360-degree review of the whole skyline. Taking a ride up at sunset would be nothing short of spectacular and provides an unbeatable view that stretches towards the Mornington Peninsula, though it does cost a pretty penny. Adults can visit the Skydeck for $23 and kids for $15.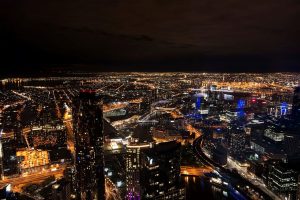 Alternative Free View
If you want a less impressive but equally lofty view, an alternative hides insides the Sofitel Hotel. Take the lift up to the 35th level of the Sofitel Hotel and nip to the toilets, you will be greeted with possibly the most remarkable sky view of any toilet in the world.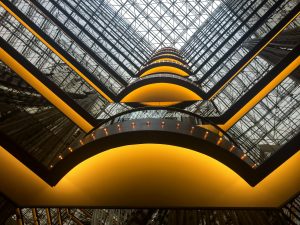 Shrine Of Remembrance
The most impressive sight of Melbourne's dazzling horizon is offered by the Shrine of Remembrance. Climb up to the rooftop and stand in the very centre–you'll be catching your breath at the sheer perfection of the view. Look a bit more closely though and you might spot the shape of a strange grumpy face. Unlike a face in the clouds or the dents in your muffin, however, this uncanny portrait is no illusion. The face was purposely carved into the facade of a 32 storey building on Swanston Street. This genius feat of architecture comes to life only when viewed from the Shrine.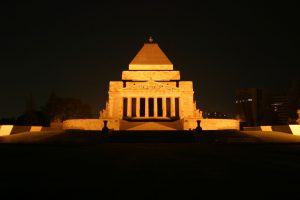 Food & Drink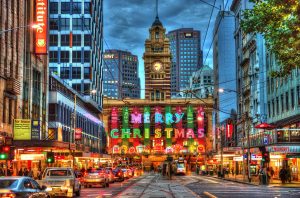 Aqua S
Asian fusion makes for delicious ice cream, and Aqua S is the best soft serve in Melbourne. They've really perfected their flavours and the signature sea salt ice cream is a party for the taste buds. You can choose from one or two different flavours such as popcorn, matcha latte and lychee that change regularly, and add as many delicious toppings as you like. The fun part? Choose to have it served in a traditional cone with a squid ink twist, or in a cup for that extra helping of mochi. If you're feeling really extravagant, ask for the fairy floss and have it presented on a puffy cloud of magical candy floss goodness. The wall in the shop is painted blue with wispy clouds for that token Instagram shot.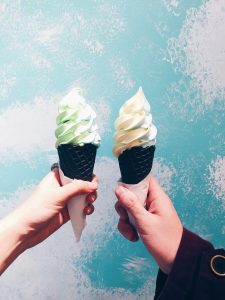 Tokui Sushi
It's hard to find cheap quality meals in Melbourne but when it comes to sushi Tokui has has got you covered. At $2.50 a roll, lunch is sorted.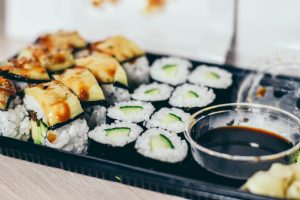 This is Life Wellness Emporium
The first of its kind in Melbourne, this family-run amalgam of cafe restaurant and lifestyle centre in Elwood is a one-stop shop for wellness. They incorporate a chiropractor, nutritionist, yoga studio, and massage therapist, as well as a restaurant cafe providing deliciously hand selected recipes to suit every diet.
Lentil As Anything
At Lentil As Anything, a bohemian vegetarian restaurant, you pay what you feel the food is worth. There are a few Lentils scattered about the city to choose from and they're hugely popular among backpackers.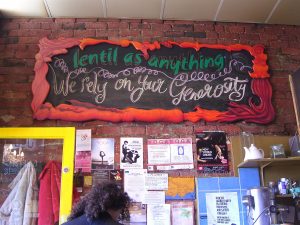 Coffee
Melbourne, as well as the rest of Australia, takes its coffee very seriously. The baristas might as well be magicians and the coffee a love potion. You're hard pressed to find a bad coffee house in the city, but a good rule of thumb is to avoid the chains and follow the trail of locals queuing up outside tiny laneway coffee houses and tea rooms.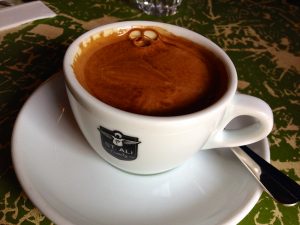 Here are some of our favourites spread out across the city:
Axil Coffee Roasters: There are four of them in the city so you're never too far away from great coffee.
St Ali: The kings of speciality coffee, let St Ali show you a thing or two about good coffee beans.
Code Black: A roasting laboratory leading the way in coffee science. They roast on site and also offer excellent brunch.
Industry Beans: A converted warehouse in the hipster district of Fitzroy. The location might be a bit too cool but the coffee is timeless. They're also pioneers of the bubble cup – tapioca pearls soaked in coffee and served in cold brew.
Rooftop Bars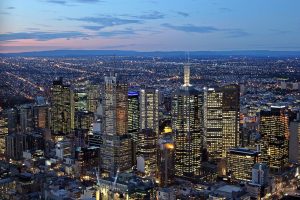 Naked in the Sky
Melbourne is as famous for its rooftop bars as it is for its street art, and you're sure to discover at least one on every street. The popular restaurant and bar district of Fitzroy is full of them.
A popular rooftop with amazing night views over South Melbourne sits at the top level of Naked for Satan. Naked in the Sky is a great place to order your first $10 beer and introduce yourself to the culture of the city. Downstairs the snacks are a little easier on the wallet at $2 a pop.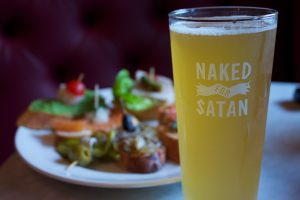 Madame Brüssels
Madame Brussels brings the ground to the sky and has the quintessential look of an old English Garden. The fake turf carpet and spindly pink tables and chairs are complemented by a variety of pastel hued parasols to shade you from the blazing sun on the deck. A tasty cocktail, a delightful decor and a fabulous view are sometimes all a person needs in a bar.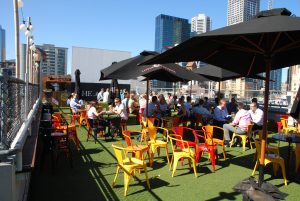 Storyville
Storyville is a special place that will have you feeling like you stepped right into the pages of a fairytale. Inside, the bar is carved into giant neon mushrooms that poke out of the walls and hang overhead. Every cocktail on the menu, also shaped like a storybook, is inspired by popular tropes from literary history. Have a Polyjuice Potion for us.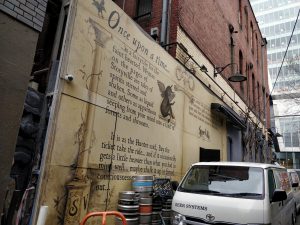 Beaches
It wouldn't be the perfect city without them, and sure enough Melbourne is indeed surrounded by a great variety of beaches ranging from the lively St Kilda beach to the quiet stretch at Port Melbourne Pier.
Melbourne sits at the top of a bay, which means it doesn't see incredible surf, but the water lulls soothingly at the shore. Making it ideal for a spot of summer bathing and floating about on inflatables. When the wind picks up, paragliders flock from every corner of the city to take advantage of the flat waters and open space.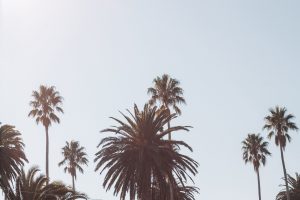 St Kilda
St Kilda Beach is the closest bit of seaside just outside of the CBD. Exit the busy city streets and out towards the coast and St Kilda Pier will materialise before you. The beach is generally busy, especially in the summer heat when everyone is fighting for their place on the sand. The beach stretches down towards St Kilda Pier, which has a charming little yellow hut at the end selling drinks and ice cream. This area makes for a great vantage point to catch the city skyline in the distance and really take in its vertiginous scale.
After dark, go beyond the hut and down to the rocks to catch the real magic of St Kilda Pier. As the sun begins to dip behind the city and dusk blankets the sky, St Kilda's fuzzy littleresident fairy penguins suddenly bob out of the water to attend to their nests. Volunteers gather on the bridge to explain the penguin's history and their habitat. Most people are polite and heed the advice of the volunteers however others can't help themselves and jump down onto the sand trying to get close to the penguins. The fairy penguins are used to seeing people by now but they do not take kindly to being harassed, so do be aware of your behaviour.

Luna Park
Luna Park is a quirky old theme park just down the road from St Kilda Beach. It only contains tame, child-friendly roller coasters and traditional bumper car rides, but is a fun place to hang out with friends and indulge in a kitschy summer vacation vibe.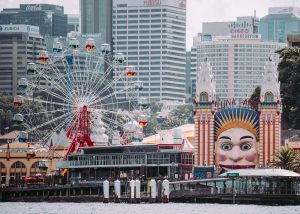 Brighton
Further along the coast from St Kilda, the Brighton beach boxes come into view. Brighton is a prestigious area so the beach here is well kept and picturesque. The famous Brighton Boxes are chalets painted in every colour imaginable, some with humorous designs reminiscent of the plucky Aussie wit. You can't rent them as they're privately owned (and you would not believe the prices they sell for) but they're fun to look at as well as pose in front of.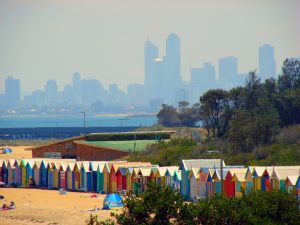 Events
Being the lively city that it is, there's always an event or two happening in Melbourne whether it be music festivals, firework displays, or pop up food parks. The live music scene is legendary and the city sees multiple festival lineups each year featuring homegrown talent to world-famous household names.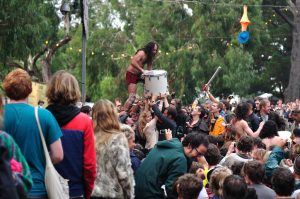 Find out what's going on when you arrive HERE
White Night
Every year, for one weekend only, White Night comes to town and engages the city in a celebration of light and wonder. A flurry of entertainment descends onto every corner of the city, including light shows, art sculptures, interactive features and a plethora of likewise entrancing attractions. The party starts at dusk and carries on into the wee hours of the night. Grab a program on the first night and take on the challenge to catch every event. New attractions pop up every year, but some old favourites return; such as the giant fire-breathing serpent sculpture and the incredible projection mapping light show on the front of the Royal Exhibition Building that sees the old museum come to life.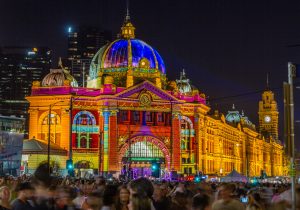 If you have trouble finding any of these cool places please check out this map that we have marked to help you along your way. Happy travels.
This article is a contribution from one of our amazing travel writers Becky Coe on her experiences traveling Australia. For more by Becky Coe check out her photos here.