An Expert's Guide To Curaçao: The Hidden Cultural Treasure Of The Caribbean
An Expert's Guide To Curaçao: The Hidden Cultural Treasure Of The Caribbean
Known for its liqueur of the same name, Curaçao is an extraordinarily unique island—and what it lacks in land mass, it makes up for in its diversity. It is here, in the melting pot of the Caribbean, that you'll uncover the intricate beauty of Curaçao: from its people to its languages to its beaches to its food. Proclaimed as the Caribbean's best-kept secret, Curaçao is located away from the hurricane belt, leaving it a perfect year-round destination brimming with opportunities for snorkeling, scuba diving, beach parties, and sightseeing of both historical architecture and breathtaking natural landscapes. While it's often forgotten next to its close by sister, Aruba, Curaçao is full of culture just waiting to be explored and embraced.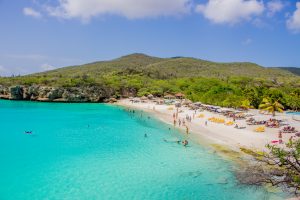 Photo by Jorgen Hendriksen on Unsplash
Quick Facts:
Capital City: Willemstad
Langauge: Part of the Dutch ABCs (Aruba, Bonair, and Curaçao), located in the Caribbean, Curaçao's official languages are English, Papiamentu (a Portuguese creole with Dutch, Spanish, and African roots), and Dutch. Most locals can speak a minimum of two languages, with the inclusion of Spanish (which is not considered an official language)
Currency: The island takes both USD and the Netherlands Antilles Guilder: $1 USD is equal to $1.79 ANG. While most main tourist sites take USD, a lot of the smaller towns or beaches only accept ANG or will give you change back in ANG (ATMs on the island in the major tourist areas offer both currencies for withdrawal)
Population: 161,922
Size: 444 km²
Note on beaches: Most public beaches are free; however, most will charge you to use the beach chairs/umbrellas.
Advertisement
Fun facts: Dushi (pronounced: douche-y) is a popular, and often-used, slang term on the island that means "sweet" or "nice". So it's okay—no one is actually calling you a douche.
Curaçao is one of the most LGBTQ-friendly islands in the Caribbean
Tip for party seekers: See if your trip falls on the Full Moon Party—Curaçao has a lively nightlife! During this night every year, locals and tourists alike head to Kokomo Beach to enjoy a night of alcohol, music, and fireworks
Important notice: Sea turtles are staples and beloved animals on the island—whenever you encounter one in the waters, DO NOT touch them.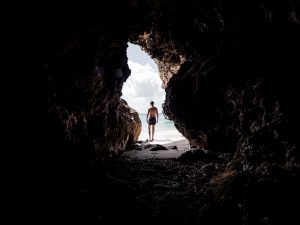 Photo by Bruno van der Kraan on Unsplash
How To Get Here
With only one international airport located on the island, you will be arriving on the north end of the island into Curaçao International Airport. Some airlines offer you hotel and flight combo deals.
Advertisement
However, depending on when you want to go, round trip flights from major airlines usually cost around:
LAX: $700 to $1,500 depending on the season

JFK: $300 to $1,000 depending on the season and connections

ORD: $750 to $1,400 depending on the season and connections

MIA: $300 to $850 depending on the season and connections
Photo by Emiel Molenaar on Unsplash
How To Get Around
It takes about 45 minutes to get from one end of the island to the other, so it is highly recommended you rent a car for the entire duration of your visit (rental cars range in price from $30 to $50 a day). It can be extremely difficult to get around the island otherwise so this is definitely the best call especially when traveling in a big group or with your family.
Advertisement
While buses (which you flag down and can cost anywhere from $1 USD to $4 USD one way) are available (they look like vans and are not the traditional North American vehicles), there is no set schedule for bus times. This can make it extremely difficult to use public transportation especially if you are on a tight schedule. Taxis are also grossly expensive ranging in $20 USD to $50 USD one way. With so few other options renting a car is definitely the best way to enjoy your stay on the island to the fullest without too much of a headache.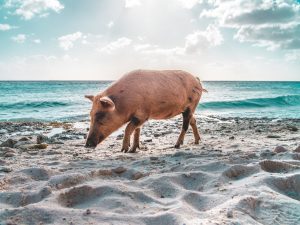 Photo by Bruno van der Kraan on Unsplash
Where To Stay
Due to its small size, most of Curaçao's tourist accommodations are in the south close to its capital. While there are some options in the northern parts of the island, most of the tourist attractions are in the south/south-east.
Advertisement
Unlike most Caribbean islands, Curaçao only has one all-inclusive resort. Catering to its Eurocentric lifestyle and flocks of European tourists, Curaçao provides more options consisting of villas, hotels, and bed and breakfasts. Blue Bay Golf & Resort is a gated community where you can rent your own private villa. Or if you prefer hotels, choose from options like the Hilton Hotel or Blue Bay Villas Dorados (an adults-only option, that is also very LGBTQ-friendly).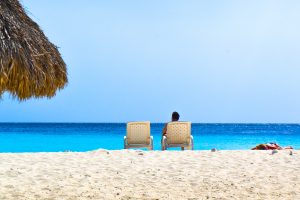 Photo by thiago japyassu on Unsplash
Hop on an Island Tour
One of the easiest, best, and most informative ways to see the island is to hop on one of the many island tours. Despite its location in the Caribbean, you'll be surprised as you drive through the island's arid landscape. From palm trees to cacti, from ocean views to rocky hillsides, Curaçao's landscape is just as diverse as its population. Most tours will give you a chance to stop along Caracas Bay (the deepest bay in Curaçao), Shete Boka National Park, and Kenepa Beach (one of the most pristine and bluest beaches you will ever see, guaranteed). And, how can you visit Curaçao without visiting the birthplace of its largest export? Pick a tour that allows you to stop by the Curaçao Liqueur factory—where you'll get history and a chance to watch how this popular liqueur, created from the Laraha (a bitter orange), is made.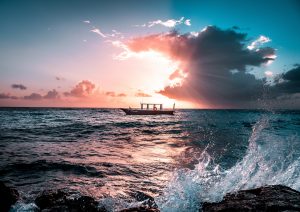 Photo by Bruno van der Kraan on Unsplash
1. Willemstad

Overview:
Made famous on Instagram for its sherbert-toned, European-inspired architecture, Willemstad's shades of green, red, orange, blue, and pink represent Curaçao's tropical and vibrant roots. A clash of both the past and present, Willemstad offers tourists the perfect place for wining, dining, and shopping.

Advertisement

And with more than 50 nationalities making up the city's population, the diversity is nothing short of amazing in this bustling hub.

The historic town is a UNESCO World Heritage site where the island's Dutch colonial heritage comes to life, and while the city's famous Floating Market is no longer around (due to some political restrictions), Willemstad still has much to offer in its architecture, museums, and other markets.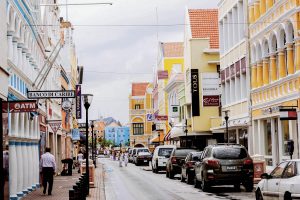 Photo by Lakeisha Bennett on Unsplash
What to see:
1. The Queen Emma Pontoon Bridge
Known locally as the "Swinging Old Lady," this famous swinging bridge, connects the district of Otrabanda to the district of Punda. One of the island's most historical landmarks the bridge, which is closed off to vehicles, provides tourists a beautiful laneway into town. And as a bridge situated on pontoons, you'll feel the bridge's sway beneath your feet. However, when alarms sound, the bridge swings open to allow cargo ships and boats to get through the channel.
Advertisement
During these down times, don't worry—you're not stuck on side of the island. Instead, hop onto the free ferry to get to the other side. Watch—or even wave to—the boats passing through, as you enjoy happy hour by the water. Stick around at night, to watch the bridge light up, adding even more marvellous colors to the beautiful city.
Wikimedia
2. Extreme Watersports
While surfing and scuba diving are island favorites, Curaçao also offers extreme watersports that you've got to try! Get your adrenaline pumping, floating over the water with a flyboard. Or partake in aquafair—an easy-diving excursion offered in Curaçao, and in only six other places around the world. Experience life under the sea with a submersible scooter.
Advertisement
It's a great opportunity for guests of any and all ages!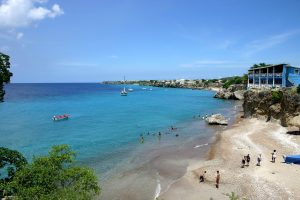 Pixabay
3. The Old Market
While the famous Floating Market was shut down in 2017, Willemstad's Old Market—also known as Plasa Bieu—is still standing, and each day gets filled with booths of souvenirs (like stone-carved turtles), jewelry, oils, and décor from locals. While the streets of Willemstad offer familiar boutiques like MAC and Pandora, embrace Curaçao's culture with this must-do.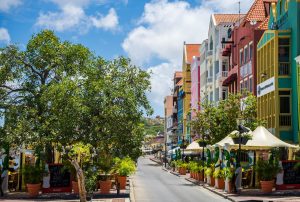 Pixabay
4. A Walking Tour
Curaçao offers a number of tours that will get you into the heart of Willemstad. Whether you choose the western or eastern tours, history buffs would be smart to hop onto this opportunity.
Advertisement
Stretching about 2 km in length, you'll get a chance to visit Fort Amsterdam (Curaçao's oldest monument), the PENHA building (one of the best examples of baroque architecture), the Waterfort, and a bunch of different 'kuras' (residential yards). Marvel at the architecture of some of the town's oldest residential areas, as well as the colors of the mansions, banks, and even a temple.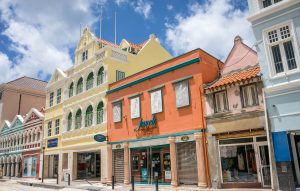 Pixabay
What To Eat:
Curaçao's cuisine can cater to any palette. With European style dishes (like pastas and pizzas), you can choose from the Eurocentric restaurants found on the waterfront. Or tickle your taste buds, with local fare from hole in the wall restaurants or via happy hour specials right by the water. Give their local smoothies, Bastidos, a try or, if you're feeling adventurous, visit the Old Market where you can order some Curaçaoan dishes like Keshi Yena (a Gouda cheese dish stuffed with either meat or fish) or even iguana soup!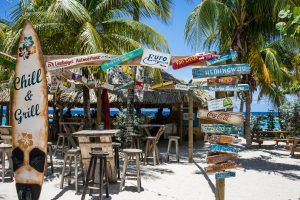 Pixabay
2. Playa Piscado
Overview:
With 35 beaches of stunning blue water, mirroring the color of Curaçao's liqueur, it's no surprise that beach hopping is the way to go. If we had the capacity to write about all of them, we would.
Advertisement
However, it's important to know that the beaches lining the south of the island have hardly any waves, whereas the northern beaches can get a little dangerous. Yet, on the north east corner of Curaçao, lies a tiny fishing beach, where you'll get a chance to enjoy another thing Curaçao is also well known for: sea turtles! Pack your waterproof cameras and prepare to be astounded by the beautiful turtles so close to shore.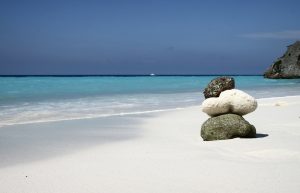 Pixabay
What To See:
Sea Turtles
Pack your snorkeling gear, prepare to smell like the catch of the day, and get those waterproof cameras ready to go! Playa Piscado is one of the best places to get up close and personal to these majestic creatures.
Advertisement
But, as the locals will have you know, do not touch the turtles.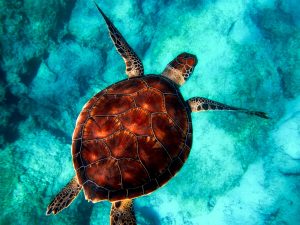 Pixabay
What To Eat:
A snack bar, available only on weekends, is the go-to for this fishermen's beach. It's there you can get a chance to try some local seafood delicacies. Fried dishes are served with rice, with the option to get swordfish (which is really delicious if you haven't tried it). This location only takes ANG so it's easier to carry ANG with you when visiting this area.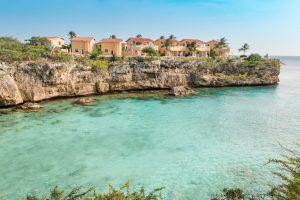 Flickr
What To Look Out For:
Try to pack your own snorkeling gear so you won't have to haggle with the locals to rent out snorkeling equipment for the afternoon. Also, like most beaches, be careful swimming in open water due to occasional strong and unpredictable undercurrents.
Advertisement
Flickr
3. Shete Boka National Park
Leave the serene sights of the beaches behind, and close to the tip of the island. This is where you'll find geological wonders, as the oceans wrath takes out its fury on Curaçao's rugged north coast. Home to a dynamic and breathtaking landscape, no matter which trail you choose to take, you'll come face to face with the best Mother Nature has to offer. A rocky coastline—stretching 10 km—pummelled by majestic waves, and filled with giant iguanas and endangered sea turtles, a natural bridge, and a cave,  Shete Boka is every nature lover and hiking aficionado's dream.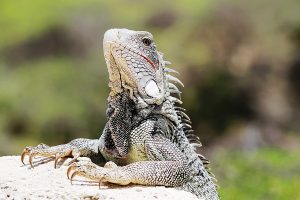 Pixabay
What to See:
1. Boka Tabla
Start your time in the park at Boka Tabla.
Advertisement
A path of rocks, made from lava, will lead you to the edge of a cliff where you can marvel at the high and magnificent waves crashing into an underground cave, carving their imprints into the limestone.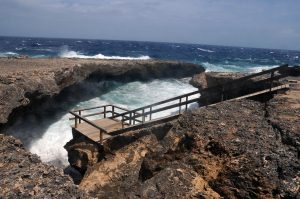 Wikimedia
2. Boka Pistol
Like its name suggests, this spot in the National Park likes to make a noise. The waves in this corner of the park, put on quite a captivating show as they crash violently against the limestone. While walking over to get a good photo, always remember to stay on the marked paths to avoid any injuries.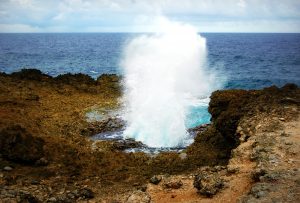 Pixabay
3. Sea Turtle Nesting Grounds
If you're lucky, venture over through to Boka Brown where you'll find....TURTLES!
Advertisement
Wikimedia
What To Look Out For:
While Curaçao will have you accustomed to walking around in flip flops and bathing suits, wear proper shoes when traversing through this national park. You'll spend most of your time in this park walking across rocky—and possibly slippery—pathways. It's always better to be safe than sorry, especially when traveling abroad.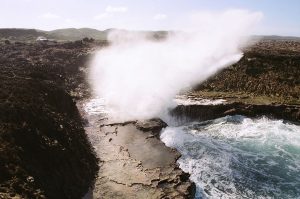 Wikimedia
4. Mambo Beach Boulevard
Overview:
Where urban meets the sea, Mambo Beach Boulevard is a Curaçao must-see. The epitome of urban living on the island, this strip is the perfect spot to enjoy the white sand beaches, stroll through the shops, participate in some watersports, or just relax underneath the Caribbean sun.
Advertisement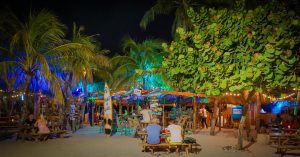 Pixabay
What To See:
1. The Beach
As the name suggests, you can't fully enjoy Mambo Beach Boulevard without spending some time tanning on the white sand beaches. Mambo Beach does have an entrance fee of $3 per person, and another $3 per beach chair. Fun local tip, though: the beach is free at sunset.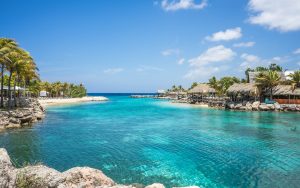 Pixabay
2. Explore The Aquarium
Just down the street from the beach is Curaçao's Aquarium. Created by a Toronto-native, the aquarium is smaller than the famous Ripley's in Toronto, but it's teeming with educational and fun activities. The aquarium is the perfect opportunity to get up close and personal with sea lions, feed some lobsters and flamingos, and swim with (or get kissed by) some dolphins!
Advertisement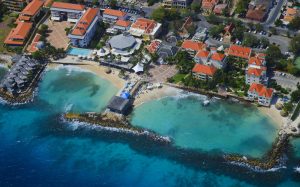 Pixabay
What To Eat:
Similar to Willemstad, Mambo Beach Boulevard offers a lot of European and North American-inspired cuisine. With options like Mexican, Japanese, and Italian littering the beach, there's something to satisfy everyone's cravings. And, if you're so inclined, there is even a Starbucks!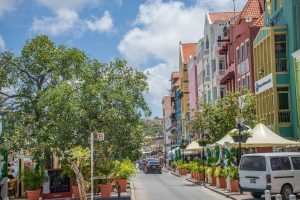 Pixabay
5. Klein Curaçao
Overview:
Finally, you can't leave this tropical paradise without visiting what's described as the jewel of Curaçao. Klein Curaçao is a deserted white-sand beach island, only measuring around 1.7 km² , located by the South East coast of Curaçao. Plentiful in its marine life and history (an abandoned lighthouse can be seen from a distance), Klein Curaçao is the ultimate paradise escape. A mecca for snorkeling, swimming, and sun tanning, Klein Curaçao has something to offer everyone.
Klein Curaçao is definitely worth a full day excursion, book with one of many tours that head out—we recommend the Mermaid Boat Trips, which is one of the easier rides out thanks to their boat's large size. It takes about two hours to get to the island (and about an hour to head back).
Advertisement
Prepare for one of the waviest rides you will ever encounter. If you're prone to seasickness, skip your breakfast and pack that Gravol.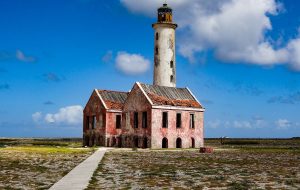 Pixabay
What To See:
1. The Marine Life
When booking with Mermaid Boat Trips, you'll not only get access to their shaded hut area, you'll also be provided with a breakfast and lunch buffet, along with snorkeling gear you can use at your leisure. It's in the breathtaking blue waters you'll get a chance to swim with sea turtles, explore a breathtaking reef, and feed some tropical fish.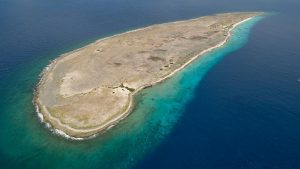 Wikimedia
2. The Wreckages
Step foot into a time capsule, as you explore the apocalyptic-esque structures that cover this island.
Advertisement
From the iconic lighthouse, to shipwrecks and abandoned homes, the island is full of awesome photo ops and history. Some even claim they've spotted a ghost, flitting between these abandoned locations.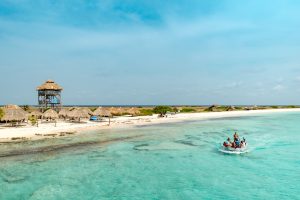 Flickr
What To Eat:
If you're taking the Mermaid tour, lunch and breakfast will be provided. If not, definitely pack some snacks and sandwiches in your bag.
What To Look Out For:
With white-sand stretching the length of the beach, it's important to pack sunscreen. The sun's rays are stronger in this part of Curaçao, thanks to the sand's extreme reflectiveness.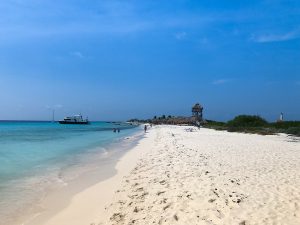 Wikimedia
We hope this guide will help you on plan your next incredible adventure to Curaçao. Happy travels.
Advertisement
This article is a contribution from one of our amazing travel writers Jemicah Colleen on her experiences traveling Curaçao. For more by Jemicah Colleen check out her stories at whatajem.com.
---
KEEP ON READING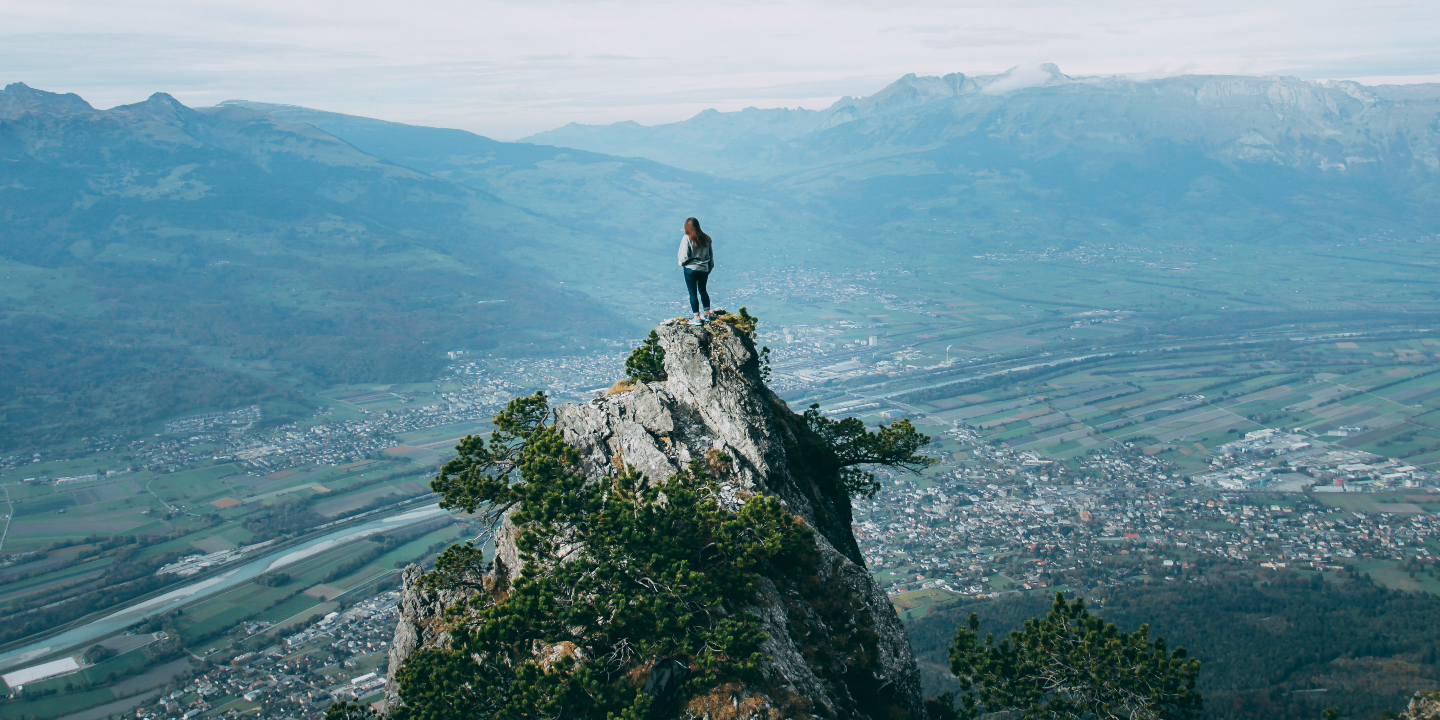 ---