The Ultimate Guide To Visiting Tokyo: Part 1
The Ultimate Guide To Visiting Tokyo: Part 1
Tokyo needs no introduction. It's the largest city in the world, a super-metropolis of culture, wonder, and memory. The bustling city is an eclectic mix of old and new; the traditional Meiji shinto shrine in the heart of Tokyo gives you a picture of the old Japan, juxtaposed against the ever-changing backdrop of skyscrapers and neon lights. It's a city full of vibrant life, bustling districts, and quirky cafes.
Here's part one of your ultimate travel guide to Tokyo. To read part two, click here.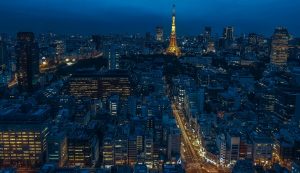 Pixabay
Quick Tokyo Facts
Currency: $1 = ¥112
Population: 9,000,000 (city proper)
Size: Largest city in the world
Transport: Suica rail card or JR pass
When To Go
Spring is a fabulous time to visit. The air is cool and dry, and the skies are clear. Hanami season ,when the cherry blossoms are at their absolute peak, falls between March and early may each year. Check the forecast here.
Autumn is also a breathtaking option, as the air becomes pleasant and cool after the hot, humid summer, and the countryside around Tokyo lights up -- reds, oranges, and yellows have never been so vivid. You haven't seen autumn until you've seen it in Japan.
In Winter, many people flock to Japan just for the powder snow season. Tokyo in the winter is crisp, dry, and beautiful.
Summer is typhoon season, seeing the most rain, and hot humid days, but there's so much to see and do in Tokyo that the weather hardly matters. Days are filled with traditional festivals, events, and activities.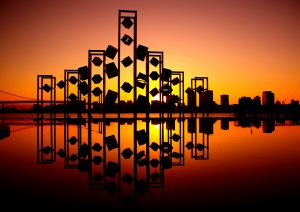 Unsplash
How To Get Around
Public transport in Japan is second to none, if a train leaves even a minute too late the whole country explodes; kidding, but it really is that good. If you're visiting multiple places in Japan, the JR Pass is the best value for money and most convenient option, but if you're staying in Tokyo you can stick to the good old prepaid Suica card. They can be picked up from the machines in any station, here's a handy guide to buying one.
Alternatives to public transport are cycling and walking, the city is enormous but there's magic and mystery to discover in every corner. Some Airbnb's also offer bicycle rental for free.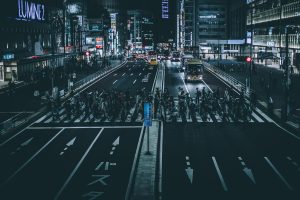 Unsplash
Where To Go
As you can imagine, this huge city packs a punch when it comes to activities, entertainment, and shopping! Here's a list of some of the very best areas to explore and adventures to be had in Tokyo.
Shibuya
Picturing bright light and the big city? That's Shibuya. Bright neon signs illuminate this bustling district of dining, shopping, and entertainment. This is where you'll find the famous Shibuya crossing.
Shibuya Crossing
One of the most famously photographed spots in Tokyo is Shibuya crossing. Every 30 seconds, a mass of pedestrians fight to get across the road before the traffic starts again.
Pro Tip: One of the best viewpoints is from the Starbucks on the 2nd floor, but you may have to wait for your chance at a spot. There are many vantage points in the area, from overpasses, bridges inside the stations, and department store windows.
On a rainy day, hundreds of colourful umbrellas can be seen bustling along; its like something out of a musical!

Pixabay Shibuya.
Hachiko Statue
Legend has it that Hachiko the Japanese Akita dog loyally waited for his master for 9 years after his death. His loyalty and adorable likeness is preserved forever in statue form. He can be found outside Shibuya station in the square.
Shinjuku
The main business district and central area of Tokyo is actually Shinjuku. Shinjuku is a hive of technicolour madness filled with major commercial centres, a plethora of restaurants and bars, and enormous department stores.
Shinjuku is also a major transport hub and houses the busiest railway station in the world -- with over 200 exits.
This neighborhood can be somewhat overwhelming, but there are a bunch of handy maps and apps to help you find your way, and of course, the locals and attendants are more than happy to help. Even outside, you could get lost for days in the mazes and alleyways that surround Shinjuku station, but you'll be loving every single second of it.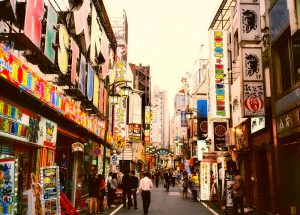 Pixabay Shinjuku.
Don Quijote
If you haven't been to the discount store Don Quijote, you haven't been to Japan. It's hard to miss, with its bright yellow facade and giant penguin beckoning you through the doors.
Here, you'll feel like you almost stepped into another world. On the hunt for the weirdest Japanese cosmetics? Fancy a discount designer handbag? Try the third floor. Need a life-size inflatable of Pikachu? Look no further. You can find anything and everything in the Don Quijote, but be warned: it's open 24 hours a day. If you enter here you may not ever leave. Many a tourist has been lost, never to be seen again. It is said the giant penguin's favourite food is the tourist!
Park Hyatt Roof Bar
The Park Hyatt is best known as the hotel from Lost in Translation, where Bill Murray stole the heart of every woman under 30 -- or is that just me? A night here will cost a pretty penny, but the rooftop bar is open to the public and boasts some of the most sublime views of the Tokyo Skyline, day or night. Treat yourself to a coffee in the daytime or a cocktail in the evening, and watch the sun dip behind the towering skyscrapers.
On a clear day, you might even be a lucky duck and catch a view of Mt Fuji in the distance.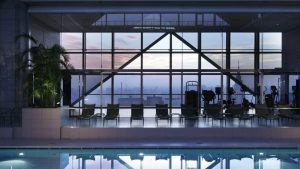 Park Hyatt Tokyo.
Yakitori Alley
Known for, you guessed it, Yakitori!
Which is basically chicken on a stick, an absolute Japanese delicacy. Wandering through the area is like stepping back in time to post-war Japan, where local residents would flock to enjoy cheap drinks and meats. For a nostalgic  vibe, cheap drinks and some of Tokyo's best street food, Yakitori alley is the way to go.
Kabukicho
Kabukicho is known as the red light district of Tokyo, full of neon lights, nightclubs, and love hotels! The nightlife here is second to none, and the perfect spot to drink a night away.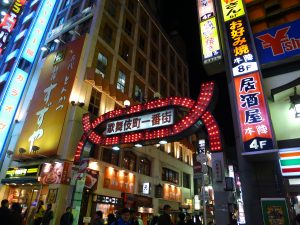 Pixabay Kabukicho.
Robot Restaurant
The robot Restaurant is hugely popular and quite gimmicky, but it stands as a must do in Tokyo and is a treat for the eyes. Who wouldn't want to see a show full of dazzling lasers, crazy decor, and massive robots?
Book here for discounted tickets.
Love Hotels
Originally created so young couples could nip off for a bit of privacy, these days they are quite the commodity. When you live in tiny apartments with doors made out of paper, privacy can be hard to come by. You can find a range of Love Hotels in every city, kitschy havens uniquely styled and themed after all sorts of random things. For example, Hotel Zebra in Ikebukuro is hard to miss, considering it is painted to resemble a giant Zebra.
Love Hotels usually charge by the hour rather than overnight.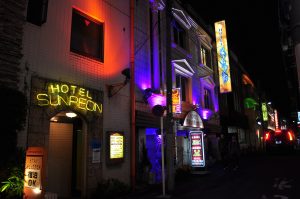 Joe Mabel/Wikimedia
Karaoke
An absolute favourite of the locals and mandatory for any visitor to Japan. Karaoke bars are everywhere, with most open until the early hours, and some even 24 hours. Head to the reception, book a room for as many hours as you wish, and party the night away with friends, beers, and heartfelt renditions of your favourite pop songs. You can order food and drinks via tablet from the comfort of your room, so you don't even have to interrupt the music.
Be forewarned: there are all you can drink (nomihodai) options widely available.
Prices vary but can be from as little as ¥200 per hour.
Golden Gai
Golden Gai is a uniquely special drinking district, where you can experience an authentic slice of Tokyo nightlife. An alley lined with the tiniest bars, some with room for only 2 or 3 bums on seats, Golden Gai gives you cosy, intimate drinking at its best.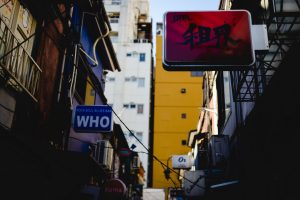 Unsplash Golden Gai.
Akihabara
Akihabara is the nerd culture center of Japan. This is the place you come to find a plethora of manga, anime, and pop culture paraphernalia, not to mention other weird and unique artefacts. This quirky neighbourhood is full of maid cafes; it's the cutest service in town, where the servers are dressed up in cosplay as maids and butlers.
Odaiba
Odaiba is actually an artificial island built in the Tokyo Bay area. By now, it's basically one large theme park. Highlights include: the rainbow-colored Palette town, complete with giant Ferris wheel; Sega Joypolis a multi-storey arcade with mini rollercoasters; the rooftop skate park H.L.N.A, with epic views over the city; and the SOHO; an incredible example of architecture and design. Odaiba also offers an incredible view of the harbour and Rainbow Bridge.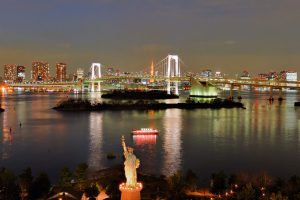 Pixabay Tokyo's Rainbow Bridge.
Asakusa
Asakusa is the home of the Tokyo Skytree broadcast tower, and one of the last remaining geisha districts in Japan -- which lies at the back of Sensoji temple. This quarter is full of atmosphere, vibes of old Japan, and delicious smells wafting from the many izakayas (bars with different varieties of snacks and beverages).
Tokyo Skytree
Towering above the skyscrapers and creating a bump in Tokyo's skyline, the Skytree is a broadcasting tower complete with a restaurant and observation deck at the top.
At the base of the tower, there's a very special shop selling unique handmade sugar lollipops in the shape of animals, made by the last remaining master of his craft. It's the perfect spot to grab a little piece of culture in Japan; these delicate treats make wonderful souvenirs.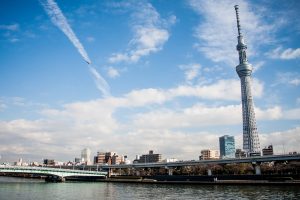 Pixabay Tokyo Skytree.
Harajuku
Harajuku and Takeshita begin as parallel streets that are filled with fun snacks, souvenir shops, and kawaii culture. Grab yourself one of the thousands of crepes on offer and head into the heart of Harajuku to experience true street style of the Japanese youth.
It gets pretty crazy around here, but there's always something new to discover around every twisting corner. Harajuku is bursting with upmarket boutiques, cute cafes, and trendy bars, as well as a whole host of shopping -- from luxury brands, to cosplay, to vintage. Dress up for the day and live the Tokyo lifestyle in Harajuku.
Shopping In Harajuku
Chicago: Its bright sign is hard to miss and this vintage heaven is an iconic Harajuku landmark.
Ragtag: a second-hand boutique with three floors worth of designer brands.
Dog: Outlandish vintage reworked clothing.
Kinji: Absolute thrift heaven.
Daiso: Daiso is the biggest of the infamous ¥100 shops. Deck out your entire apartment with souvenirs from $1 per piece!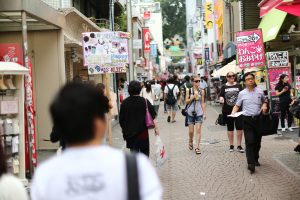 Pixabay Harajuku
Eat In Harajuku
If cute food is what you're after, prepare to eat like a princess in Harajuku, as there are more cute food stores than you can shake a glittery rainbow coloured stick at.
Anywhere Door: Ever had a shot of espresso from a waffle cone? No? Get yourself to Anywhere Door and rectify that immediately.
Dobutsuen: Animal Ice Cream Shop (どうぶつえん).
Animal Cafes In Harajuku
Japan is the home of the very first cat cafe. By now, across the whole of Japan, there are a plethora of cafe experiences to choose from -- cats, rabbits, owls, even otters! Most Japanese apartments don't allow animals, so these cafes are a welcome respite from the daily grind and have become immensely popular. It's the perfect place to wind down, cuddle up, or cry about your ex with a cup of Joe and a cute, fluffy, furry friend.
Harry Zoo Cafe: Cafe with hedgehogs, chinchillas, and otters!
Cat Cafe Mocha:If you enjoy cats and caffeinated beverages, this is the place for you.
Purikura
Purikura (photo booth) machines can be found in every arcade, usually on the top floor. Their main aim is to make everyone and anyone look extra KAWAII. Choose the style you like, big eyes and smooth skin comes as standard, and hop into a booth with all your friends. Snap your best poses, then go to town decorating them with all manner of stickers and hashtags before the time runs out.
Yoyogi Park
Sandwiched between Shinjuku and Shibuya is Tokyo's answer to Central Park. This little slice of nature sits beside one of the most bustling neighborhoods in Tokyo: Harajuku. Weekends are the best time to visit, when the park is bursting with free spirits, cosplayers, and fashionistas. Tokyoites are known for being some of the most stylish on the planet, and you'll see why if you people-watch here a while.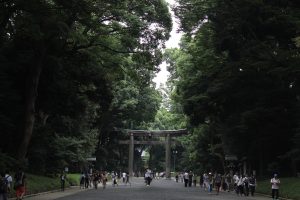 Pixabay Yoyogi Park.
Meiji Shrine
Standing in the middle of Yoyogi Park is Meiji Jingu, an impressive shrine. 
The shrines in Japan are built around Shinto, the idea that everything in nature is possessed by spirits; the very trees, rocks, rivers and mountains are all revered as animal-like spirits that bring health and goodness to their surroundings.
To give your thanks at any Shinto shrine: bow twice, clap your hands twice, make a wish, and bow again. If in doubt, copy the locals, who are more than happy to share their cultural rituals.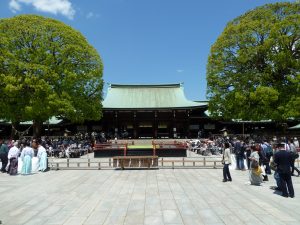 Rob Young/Wikimedia Meiji Shrine.
Chiba
Chiba is classed as its own prefecture, and it's home to one of the biggest attractions in all of Japan. Disney fans rejoice!
Tokyo Disney
Consisting of two parks, the more traditional Tokyo Disney is a mash-up of the California and Paris versions.
Tokyo DisneySea is the real star here, being the only one of its kind. Inspired by stories from the sea, each corner of the park is home to imaginative elements from a host of stories, like The Little Mermaid, Twenty Thousand Leagues Under the Sea, and the insanely popular but decidedly non-nautical Toy Story.
The attention to detail in every single element is delightful. Disney fans go crazy here, and you're out of place if you're NOT clad in matching shoes, matching outfits, wearing a pair of ears, and carrying a matching teddy bear with your entire group of friends. It's part of the fun just to see everyone dress up and enjoy themselves. At the end of each day, there's a Disney parade, and a spectacular fireworks display.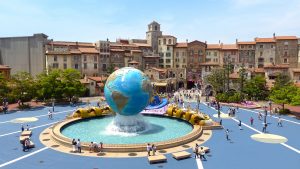 Pixabay Disney Tokyo.
DisneySea is a little more adult oriented and has the added perk that you can also buy booze. Spend a day at the park trying every wacky flavour of popcorn from curry to milk tea, or grab the awesome park hopper pass that gives you 4 days across both parks.
Park pass: ¥ 7,400
4-day Park pass: ¥22,400
This handy calendar map is the best way to check what days to go based on congestion. It's in Japanese, but it's pretty easy to figure out that blue days should be pretty pleasant and to avoid the days featuring the black box of doom!
What To Eat
A trip to Japan wouldn't be wasted even if all you did all day was dip in and out of eateries, sampling the delectable dishes on offer.
Tokyo is a world capital of food. Wake up at the crack of dawn to sample the freshest sushi at Tsukiji fish market, or dazzle your taste-buds at one of the city's thousands of restaurants. Street food is not to be missed either. Be brave, be bold, and if you can't pronounce it, it's probably delicious. Or it could be chicken cartilage. Who knows? But food roulette is a happy adventure.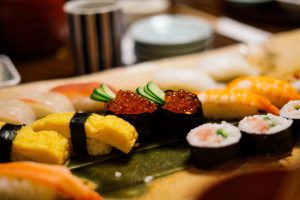 Unsplash
Nomihodai
Of all the phrases to learn as a tourist to Japan, 'Nomihodai' is the one you should commit to memory; the unadulterated binge fest known as 'all you can drink.'
The Japanese are well versed in their Nomihodai culture, and have the admirable proclivity of knowing their limits, but for most westerners, it's seen as a challenge to prove their booze guzzling capacities and either win the trophy for most functional drunk or die in a ditch somewhere by the train station.
There are a tonne of establishments offering Nomihodai for a fixed fee, usually around ¥3,000, but even the most expensive haunt will probably make for the cheapest night of debauchery in your life.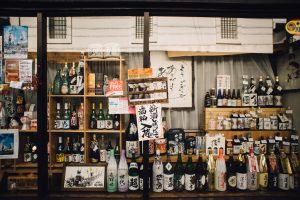 Unsplash
Izakaya
Japanese bars offering cheap drinks and snacks, Izakaya offer happy hours with nomihodai for a fixed fee.
Pro tip: Keep up the pace, and when your time is running out, order double. Westerners tend to drink a lot more than the Japanese, so the service becomes increasingly slower toward the end of your stay.
Japanese Favourite Dishes
Sukiyaki: Thin strips of beef cooked in a delicious sweet soy broth and dipped in egg. Sounds questionable? It's delicious.
Yakitori: Chicken or other meat goods fed onto a skewer and grilled.
Ramen: Famously good noodle soup. You can even find tiny stand up ramen bars in train stations. If the locals flock to it, that's a sure sign it's good.
Takoyaki: Octopus ball, kind of like a yummy ball of Yorkshire pudding with a fishy surprise inside.
Mochi: Made from pouring rice to within an inch of its life, a popular and colourful dessert.
Yaki Niku: Think Japanese BBQ. You get to pick an array of tasty meat options to cook on your own personal BBQ right at your table.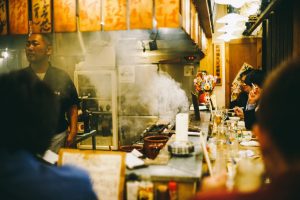 Unsplash
7/11's
For a quick snack, you're never more than a few streets away from a 7/11 or some other konbini (convenience store). Most 7/11s, Lawsons, and Family Marts are open 24/7, despite the ambiguous name.
Try the chicken from the counter in the Lawson, it's the tastiest anytime snack for only ¥100 -- articularly good when you're stumbling out of a bar trying to catch the last train home.
Where to stay
Airbnb
Airbnb is a great choice for Tokyo. You get to be in the thick of it and experience apartment life from a real Japanese standpoint.
For a more authentic experience, couch surf with a local! The Japanese are some of the friendliest and most accommodating people on the planet. You'll experience more of the real Japan by getting to know some of the locals.
Capsule hotels
Capsule hotels are an absolute must on the list of weird things to do in Japan. These establishments, which consist of many tiny bedrooms or pods, are typically found in the hottest areas of the city. They're usually a convenient hop and skip from the best bars in town.
Despite the name, they're actually rather spacious and come with everything you need for a good night's sleep: a charging outlet, a mini TV, a comfy mattress. Just no windows. Grab a wink here and sleep off that hangover.
Some capsule hotels are evening equipped with a sento (communal bath), so you can take a late night dip to help ensure a blissful night's sleep.
---
KEEP ON READING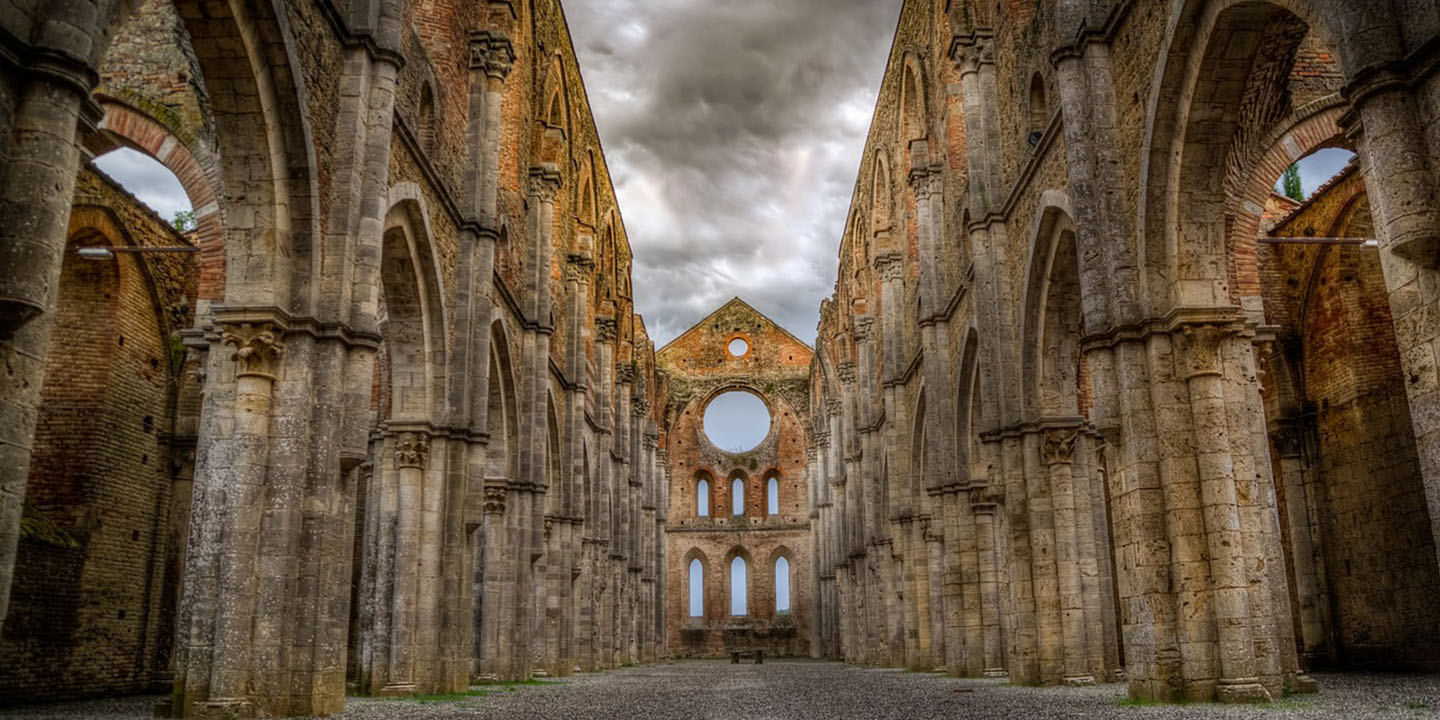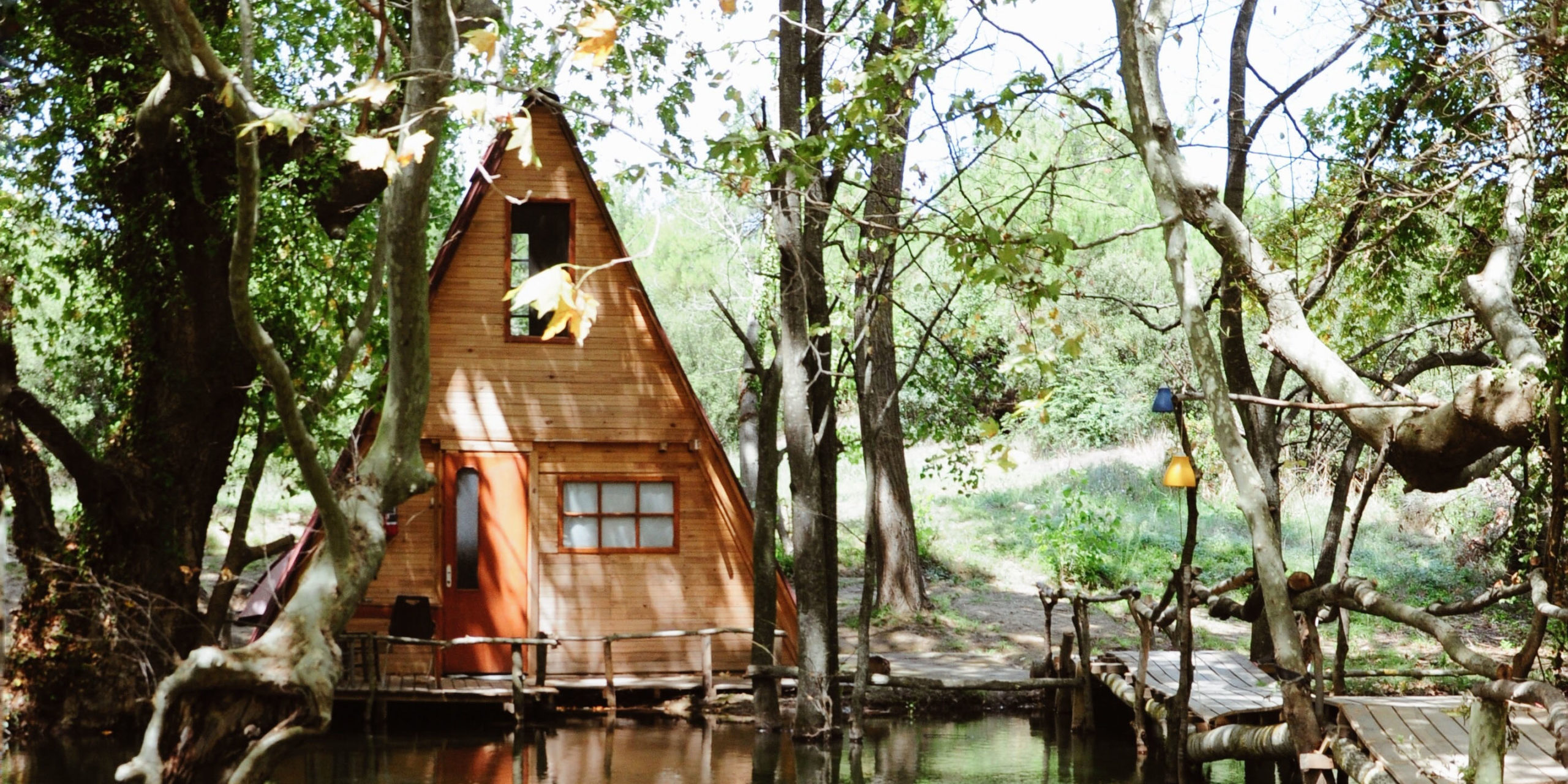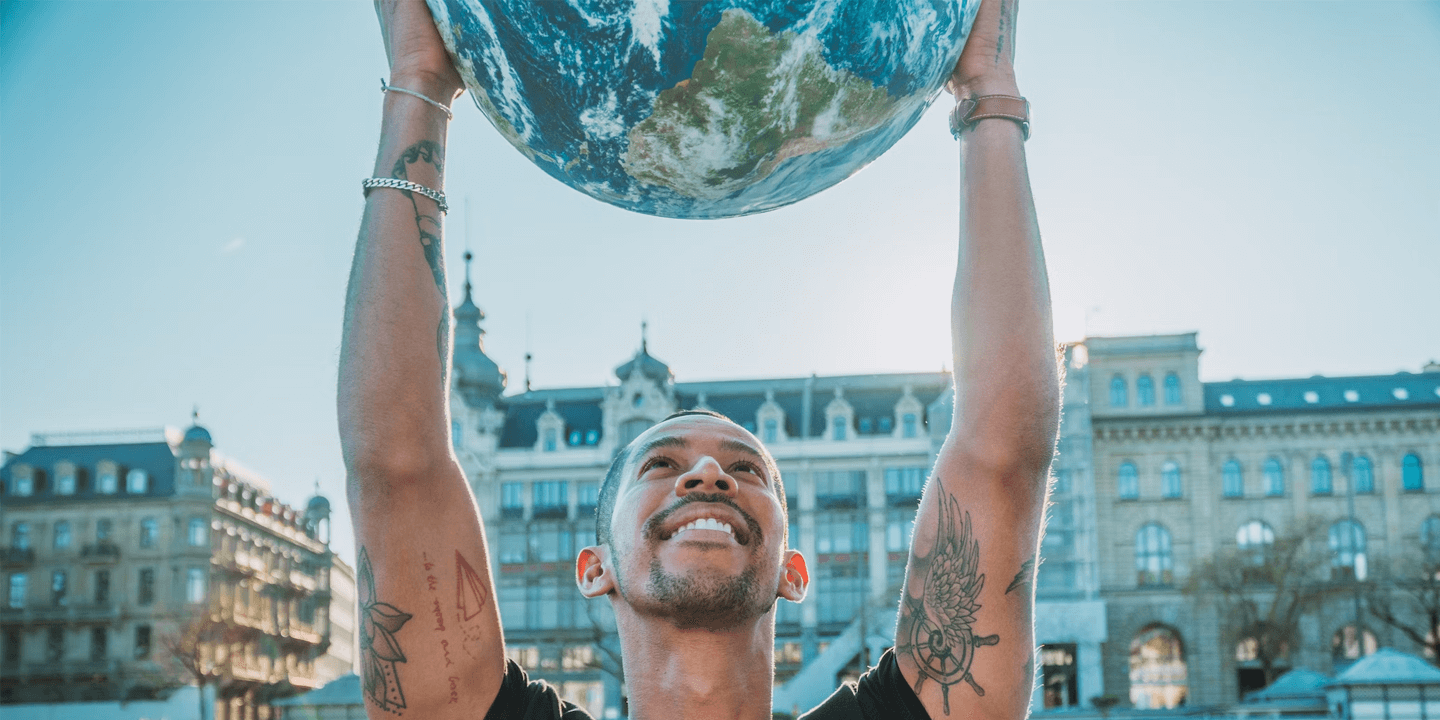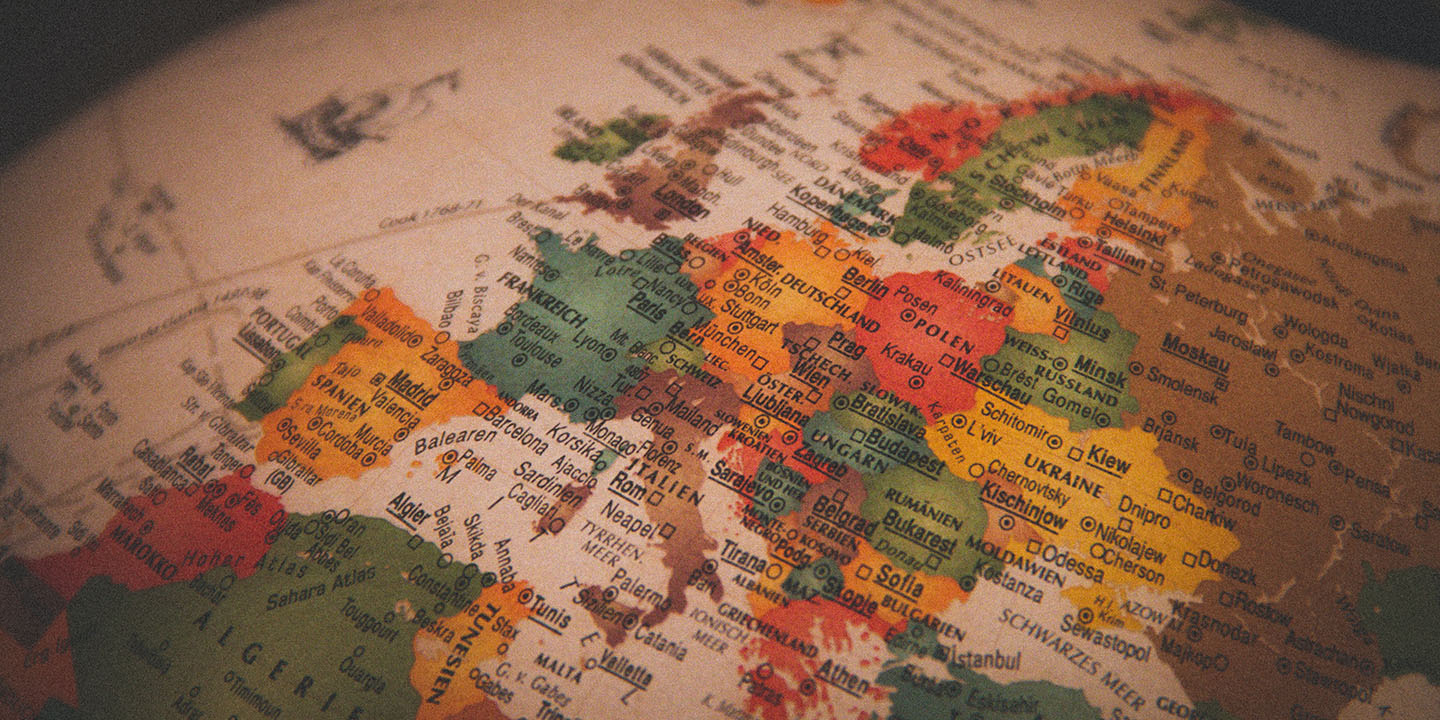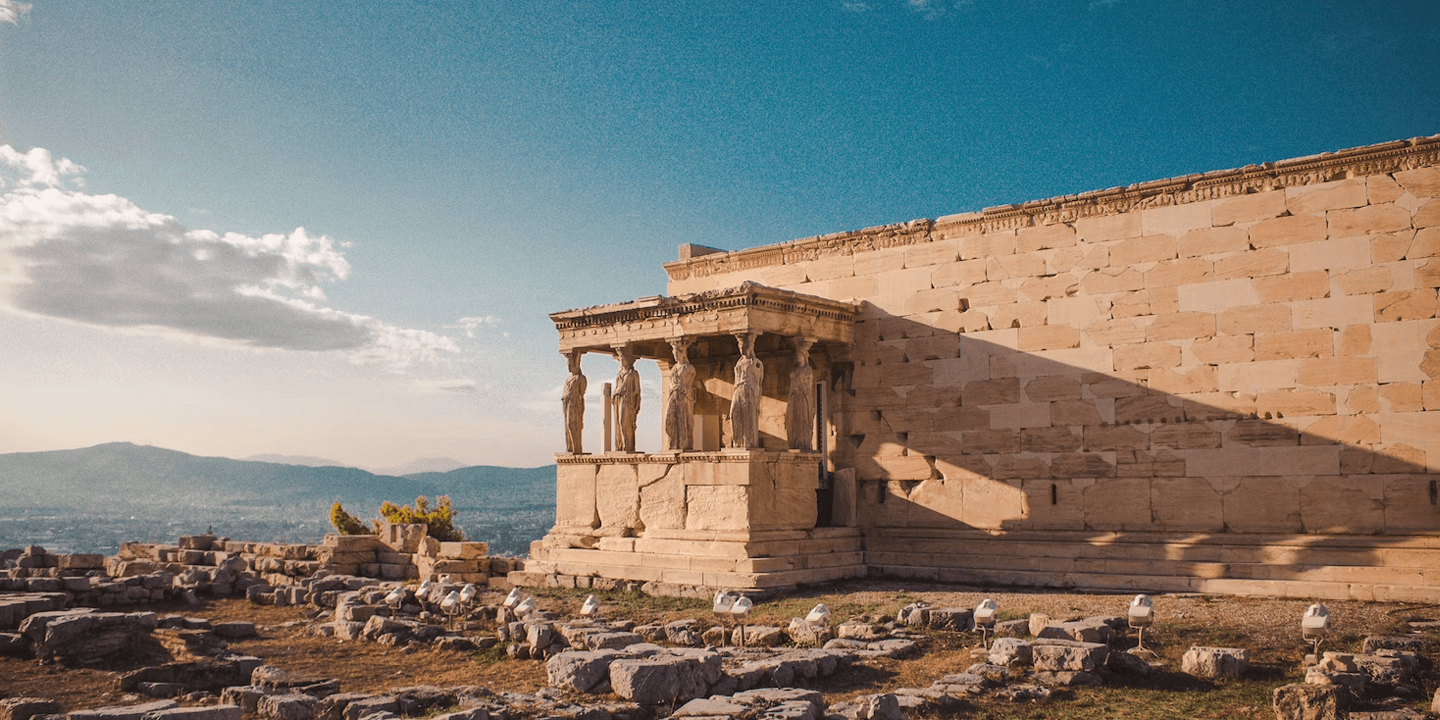 ---