When it comes to visiting Japan, Osaka always places as the runner up to the capital Tokyo and the cultural heart that is Kyoto. But Osaka really packs a punch when it comes to liveliness, variety, and the smorgasbord of delicious snacks and street food that line every corner. Osaka is famous for what it's residents put into their stomach, and there is even a term to describe their food intake habit; 'kuidaore,' which means 'eat until you drop'! or more accurately, 'eat until you fall into financial ruin'. Sounds like a challenge any food lover wouldn't want to miss, and surprisingly most of these culinary delights are light on the wallet even if they aren't light on your waistline. So, without further ado, let's delve into some of the most delectable foods on the menu in Osaka.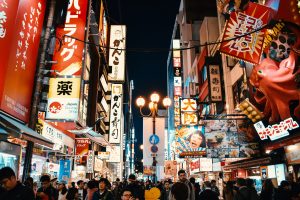 Photo by Agathe Marty on Unsplash
Quick Facts:
Language: Japanese
Currency: The primary currency of Japan is the Yes. $1 USD = ¥112 Yen.
Population: 2.6 Million
Size: Osaka is the second largest city in Japan to Tokyo and is 225.21 km²
Best Way To Get Around:  ICOCA rail card or JR pass
Main Airport: Kansai Airport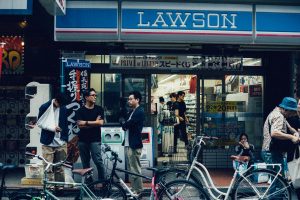 Photo by Andrew Leu on Unsplash
Food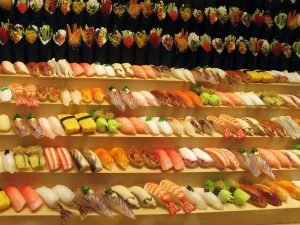 Wikimedia
Takoyaki
Street food is king in Osaka.
Advertisement
Wander down to Dotonbori in the central heart of Osaka and you'll find heaps of friendly faces behind smoking grills selling yakitori and the most famous snack in Osaka- Takoyaki, AKA octopus balls. Batter that resembles a Yorkshire pudding, is tipped into small holes in a griddle pan and a piece of octopus popped into each one.
Advertisement
The chefs quickly turn them as they cook with startling ease and ingenuity until they perfectly resemble the shape of a ping pong ball. Then they're topped with tasty takoyaki sauce, mayonnaise, aonori which is a kind of seaweed, and Katsuobushi, which is dried tuna flakes.
Then tuck in!
Advertisement
Well, maybe wait a minute if you can stand it, these things are fresh off the grill and hotter than the sun.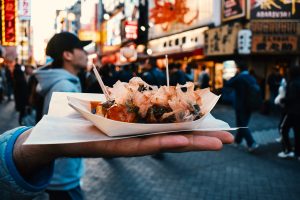 Photo by Agathe Marty on Unsplash
Okinomiyaki
You can get okinomiyaki almost anywhere in Japan, but the best kind hails from Osaka and is incredibly indulgent. Okinomiyaki is a kind of cabbage pancake, and possibly the most delicious and fun thing to eat in Osaka, as you normally get to make it yourself on a personal teppanyaki grill table.
Advertisement
Mix up your choice of yummy ingredients to create the ultimate pancake fest - our surprise favourite is mochi; add a little mochi and it makes your cheese selection seem even cheesier! The ultimate grilled cheese, I'm salivating just writing about it. Top with okinomiyaki sauce, mayonnaise and the super fun katsuobushi flakes that dance and wiggle on the grill in the heat of the hot plate.
Advertisement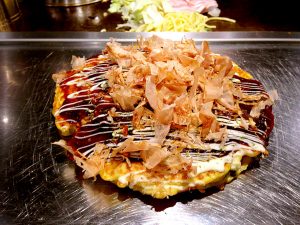 Wikimedia
Kushi Katsu
Kushi Katsu is such a coveted treat that it has an entire area dedicated to its reverence in Osaka. Shinsekai AKA 'Sin Sekai' is the place to enjoy this delicious deep fried snack. The fun never ends here, at some point a chef somewhere decided to take on the challenge to see how many foods you could pop onto a stick, dip into batter and it not be delicious, turns out very few.
Advertisement
Order by the skewer with choices from regular old chicken on a stick, to asparagus and pumpkin, then dip once into the scrumptious Kushi Katsu sauce and straight into your mouth. There are even dessert varieties to tickle your tastebuds. The chefs are a true delight and are always excited to explain to tourists how to enjoy it, and remember, NO double dipping!
Advertisement
If you're garnering silent but dirty looks from the patrons around the restaurant, you probably just double dipped.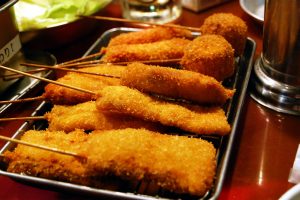 Flickr
Burgers
They might be a western invention, but there are a few Japanese establishments that really know how to create a show stopping burger. Critters burger in Shinsaibashi is a small, stylish burger bar that offers a unique set of burgers that will have your umami sensors tingling. If you find yourself over indulging on the rich Asian delicacies and need a Western fix, forget McDonald's. Freshness Burger is the way to go. It's cheap, conveniently found all over Japan, and delicious. Our favourite- the chicken burger.
Advertisement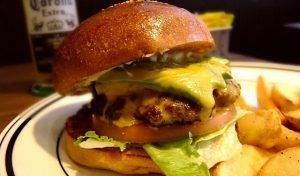 Battera
Pablo
Originally created in Hokkaido, Japan's infamous cheese tarts can now be found littered across the cities. Grab a couple of these babies to share with friends, or just eat them all to yourself as they're a little too good to share.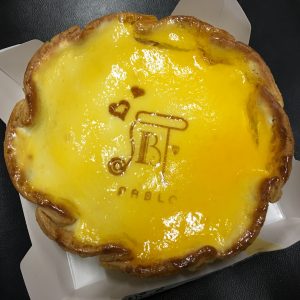 Flickr
What To See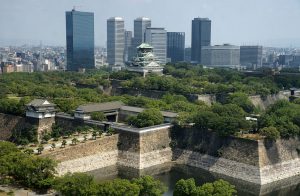 Wikimedia
Shinsaibashi
Shinsaibashi, stretching between Umeda and Namba is the shopping heart of Osaka.
Advertisement
Street stores, famous fashion labels, and awesome vintage and second hand shops line the covered shopping street that stretches through the centre of Shinsaibashi. Drifting into the side streets and back alleys, you can discover some of Osaka's best vintage boutiques and quality restaurants. You really can't run of fun things to buy in this neighbourhood.
Advertisement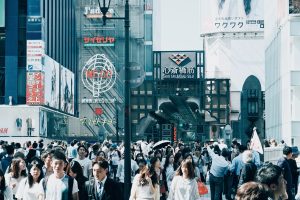 Photo by Louis Lo on Unsplash
Dotonbori
Parallel to the shopping strip is Dotonbori, the mecca of all food and drink, punctuated by extravagantly lit billboards including the famous Glico Man, gleaming proudly over the crowds that flock on the Dotonbori canal.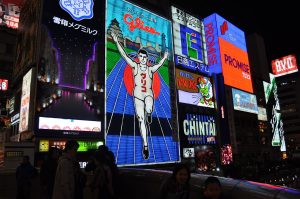 Wikimedia
As you meander through the streets, following your nose to the most delectable treats, a giant crab waves at you from the rafters, and a mean octopus glowers at you form the opposite side.
Advertisement
You'll find a plethora of restaurants and bars here offering some of Osaka's most famous foods. The atmosphere here is a true delight and the colourful area is representative of the vibrant lifestyle and food obsessed culture in Osaka.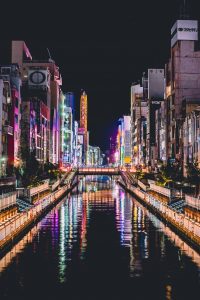 Photo by Banter Snaps on Unsplash
Restaurants In 
Dotonbori 
Of Note
Zubora-ya is a fugu restaurant, AKA the puffer fish. It is known far and wide that if not prepared correctly fugu is poisonous, but the Japanese chefs are experts in this culinary rarity.
Advertisement
If you are going to try it there really is no better place.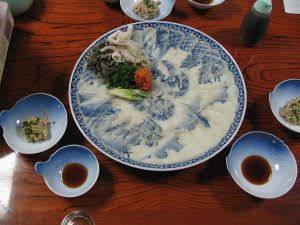 Wikimedia
Kushikatsu Daruma - An opportunity to try the many offerings of kushi katsu.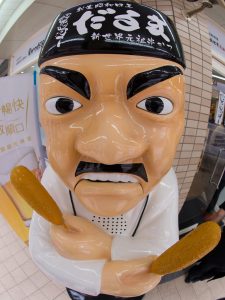 Flickr
Kani Douraku - Advertised by a giant waving crab above the entrance, Kani Douraku is hard to miss. Book in advance because the wait times can get insane.
Advertisement

Wikimedia
The Don Quijote Ferris Wheel
The Don Quijote on the Dotonbori strip is not your average Don. Already full of every item  you could possibly think up and more, this hub of crazy just got crazier by the fact that there's a giant Ferris wheel attached to the back. The wheel has actually been out of service for years, but has recently been renovated and is once again providing fun and frolics for one and all.
Advertisement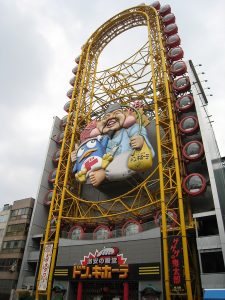 Wikimedia
Amerikamura AKA 'Ame-Mura'
As the name suggests, this district is Osaka's little version of America. Ame-mura is the hub of all things cool, quirky and 'Western' in Osaka's shopping districts. Much LIKE Harajuku in Tokyo, Ame-mura is the place to spot stylish young people parading about their unique sense of fashion.

Advertisement

A jaunt through this area on a evening is sure to give you a vibrant experience of culture, with musicians, designers and dancers constantly putting on a show in the busy streets. Y

ou'll know you've reached Ame-Mura when the street lamps start resembling oddly dressed mannequins on stilts.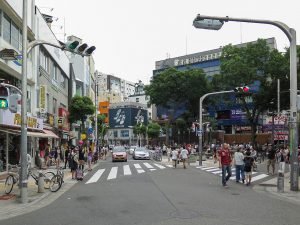 Wikimedia
Shinsekai AKA 'Sin Sekai,'
Shinsekai AKA 'Sin Sekai' is the place to enjoy a nostalgic atmosphere reminiscent of pre war Japan that lies south of the main strip. It was developed in the pre war era as a hub for food vendors and ambiguous activity.
Advertisement
The area was built to mirror the hedonistic lifestyles of Western cities. The North side imitating Paris, complete with the quirky Eiffel Tower inspired, Tsutenkaku Tower. It costs ¥700 for entry to the open air deck but entrance to the shop inside the base is free of charge.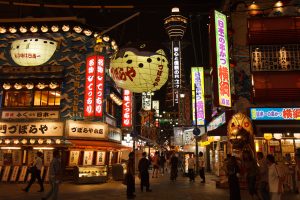 Flickr
The South side is a darker representation of Coney Island in New York.
Advertisement
Shinsekai exists in a constant cycle of indulgence with some restaurants open 24 hours 7 days a week. People say New York City is the city that never sleeps but that doesn't give enough credit to Osaka. Wandering around here, you almost feel stuck in a time loop, with days full of street lights and enticing smells, walking around can be as addictive as the tasty treats.
Advertisement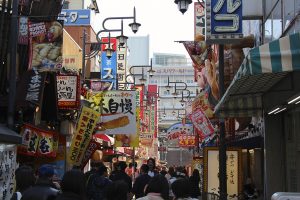 Wikimedia
SpaWorld
To add to the 24 hour hype of Shinsekai's restaurant quarter, set just off the main street and almost in disguise is SpaWorld.
Multiple floors of pure hot spring baths in which to pop off your shoes and relax with friends. The upper floors are Eastern and Western themed and are gender separated, though they alternate every month.
Advertisement
The middle floor is a hub of hot stone saunas inspired by countries around the world, get hot and sweaty in the Turkish Hamam, before shocking your bloodstream into life with a blast from the Iceland Cold Wind room.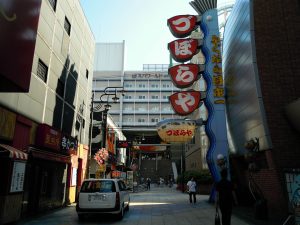 Wikimedia

The roof is an amalgam of thrill seeking Water Park and refreshing rooftop hot pools.

Advertisement

The inside water park has some of the most adrenaline pumping water slides in the country. The formidably named 'Pinnacle Burn,' whips you out of a flashing light tunnel before sling shotting you up a giant ramp. The website description aptly describes it as, 

'slide and climb and fall down'!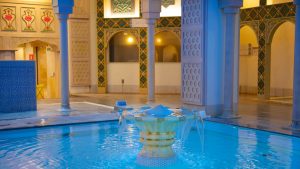 Gaijinpot

From the roof pools you have an impeccable view of the Tsutenkaku Tower and Osaka stretching out into the distance.

Advertisement

At night it turns into a spectacular show of neon lights and steamy fun, with jacuzzi style baths and snack bars to enjoy with all genders. It costs 

¥1,200 for an all day pass, in some months they run specials with tickets costing a fraction of the price. For another ¥800 you get access to the saunas with robes provided.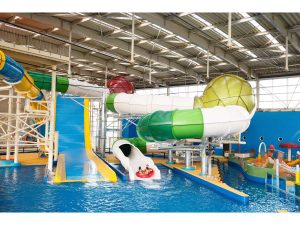 Jalan
Entertainment & Theme Parks
The Osaka Bay Area is another Western style entertainment area of Osaka.
Advertisement
It has stretching views of the Inland Sea and is home to the possibly the most exciting thing to do in the entirety of Japan: HARRY POTTER WORLD and Universal Studios Japan. Excuse the enthusiasm, I may need to have a little lie down.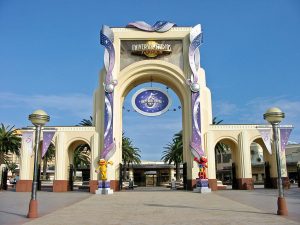 Wikimedia
Universal Studios Japan (USJ)
Set out on its own personal island, Universal Studios Japan is the Japanese version of its US counterparts.
Advertisement
Each corner of the park is dedicated to popular films, famous American restaurants and streets of souvenir shopping with all of your favourite characters.
Potter fans rejoice, Hogwarts is real and you can apply for your wizard pass here at Klook.com.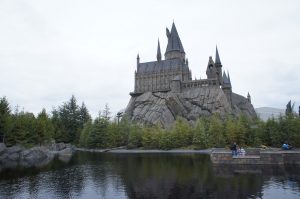 Flickr
Purchasing tickets in advance is super easy, you don't have to queue for admission, missing out of those precious minutes running for the fast pass to Hogwarts. You can also scan the barcode from your phone at the turnstiles in the park, one more tree saved.
Advertisement
Most of the attractions in USJ are in Japanese, so it's easier to skip the immersive experiences (for those of us who don't speak Japanese) and just enjoy the rides. The design of the park is impeccable and it's hard not to spend up an entire day just snacking, shopping, and enjoying the attractions. Harry Potter and the Forbidden Journey is considered as the best dark ride in the world, it is also one of the longest, so keep those sick bags at the ready.
Advertisement
Don't miss the Hollywood Dream ride at the entrance to the park, a popular one with all the tourists and occasionally runs backwards! It costs around ¥7,000 for adults and ¥5,000 for kids.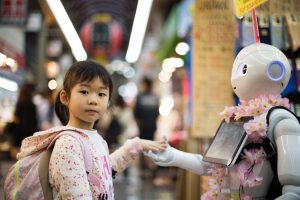 Photo by Andy Kelly on Unsplash
Osaka Aquarium Kaiyukan
Kaiyukan is one of the best aquariums in the world, and for Japan it is also one of the biggest. It hosts 15 enormous tanks, each themed around a different area of the Pacific Rim.
Advertisement
It's also home to one of the most majestic and beautiful creatures on the planet, the Whale Shark. The huge, ethereal creatures are huge and can only be found in certain areas of Asia. The tourist industry is sadly doing a wonderful job of destroying their natural migration patterns.
Advertisement
Each of the 15 tanks houses a plethora of oceanic wonders, from penguins to sea otters, floating and swirling around on their backs; playing with tiny pebbles and flexing their whiskers at the onlookers. The Kaiyukan is a world of tranquility, with beautiful orchestral music gently wafting through the corridors to give you the sense that you just stepped into a Ghibli movie, surrounded by a world of natural wonder we can never fully appreciate.
Advertisement
Tickets cost ¥1, 200 for kids and ¥2,300 for adults.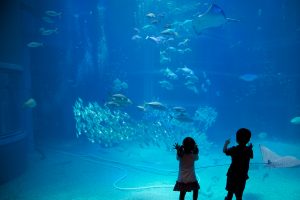 Flickr
Tempozan Ferris Wheel
Japan loves a good Ferris wheel, and of the two in Osaka, Tempozan is the more grounded one that doesn't cast a curse upon your romantic relationship. It does however grace you with incredible views of Osaka Bay, the mountainous vista of the North and the magnificent Akashi Kaikyō Bridge that connects the mainland of Osaka with Akashi Island. The coloured lights of the Ferris wheel predict the weather forecast for the following day, so you can plan a rainy afternoon at the aquarium or a sunny picnic in the Rokko mountains as you rise serenely to the top of the wheel.
Advertisement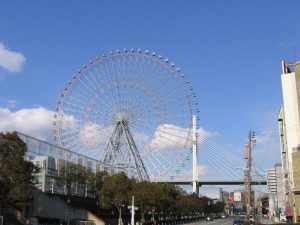 Wikimedia
Hep 5 Ferris Wheel
The Hep 5 building is in the shopping district of Umeda, home to the ginormous electrical goods store Yodobashi camera, and about 30,000 other department stores. The Hep 5 sticks out of the clustered skyline with the areas most recognizable symbol: a huge, bright red Ferris wheel on its rooftop.

Advertisement

Take the elevator up to the top floor of the building to find the entrance. Legend has it that if you ride the Ferris wheel as a couple you're destined to break up soon after, so maybe just hop in with a friend. It costs 

¥600 adults and is free for kids.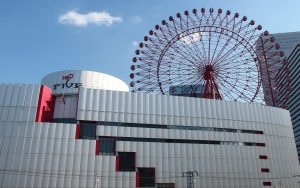 Wikimedia
Parks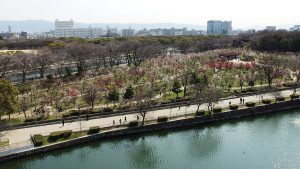 Wikimedia
Osaka Castle Park
Osaka castle is one of the prettiest castles in Japan, with its traditional mint green roof tops and glinting gold trim.
Advertisement
Its elegant facade can be viewed from multiple angles throughout the park, and is especially lovely in Sakura season when the cherry blossom trees frame its five storeys. People flock in the hundreds to the area to enjoy cherry blossom viewing parties in the  spring; surrounding impressive viewing spots along the river and of the castle. For the rest of the year it's still pretty spectacular and an awesome spot to grab a few beers and a bento from the konbini for a fun packed afternoon in the park with pals.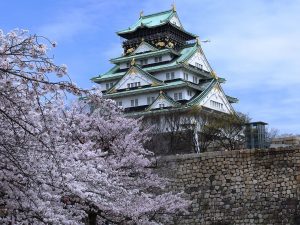 Wikimedia
Minoh Park and Onsen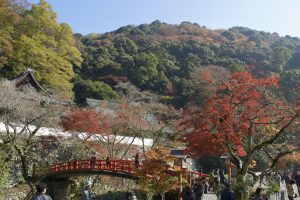 Flickr
Minoh Waterfall
Just a little outside of the city of Osaka, nature quickly begins to reign supreme; with the rock mountains casting their spell in the North and juxtaposing against a city full of indulgence and modern conveniences.
Advertisement
Just outside Minoh station, a picturesque hiking path winds up through the trees and up the mountain. It's absolutely breathtaking in the fall season (begins mid November), when all the trees burst into a thousand hues of yellow and red. The momiji (maple leaf) is a famous Japanese treat, and many shops selling momiji tempura line the base of the walk.
Advertisement
Momiji tempura tastes like a crispy and sweet leaf, which is exactly what it is; but it's super cute and delicate and something you can only try fresh in Japan. Halfway up is a delightful little red shrine bridge that stretches across the river between the kaleidoscopic trees.
Advertisement
At the end of the track is the star of the journey - Minoh Falls, a cascading waterfall that careens down the mountainside and gathers in a little pool at the base, creating the Minoh River. In the autumn it can get pretty hectic with crowds amassing to see the spectacular colours and the waterfall, but for the rest of the year it's a tranquil place to escape the hustle and bustle of the city and serves as a reminder that old world Japan still exists in these quaint little corners of the land.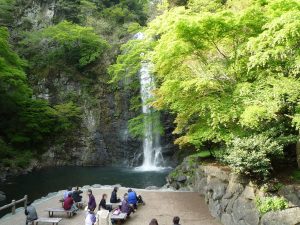 Wikimedia
Minoh Onsen
Set inside a hotel located in the heights of Mino Quasi National Park, the onsen boasts an open air sky bath that provides million dollar views out over Osaka and stretching towards the ocean.

Advertisement

 

Inside the complex is a restaurant floor offering over 150 options from Osaka favourites to western delights. You'll be provided with an electronic bracelet at the entrance that records all of your purchases so you can dump your belongings in the changing facility and enjoy frolicking through the entire area in your Yukata (cotton kimono) fancy free. Entrance fee including a Yukata rental is ¥1,580 on weekdays and ¥1,980 on weekends and holidays.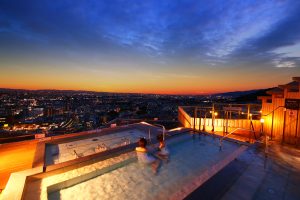 Osaka-Info
Where to Stay

Osaka is a whole lot cheaper to stay in than Tokyo, and the choice of accommodation is endless.

Advertisement

For budget accommodation 

Hostel64 is our top pick for a hostel with a bit more privacy and a large common room, it's also conveniently located right in the heart of Shinsaibashi. Sun Village Takamatsukuri is a cheaper option close to Osaka Castle park and on the doorstep of the JR city loop line.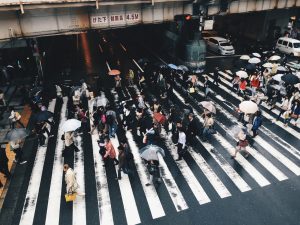 Photo by Tiplada Mekvisan on Unsplash
If you have trouble finding any of these cool places please check out this map that we have marked to help you along your way. Happy travels.
This article is a contribution from one of our amazing travel writers Becky Coe on her experiences traveling Tasmania. For more by Becky Coe check out her photos at https://becky-alice-coe.format.com/.
---
KEEP ON READING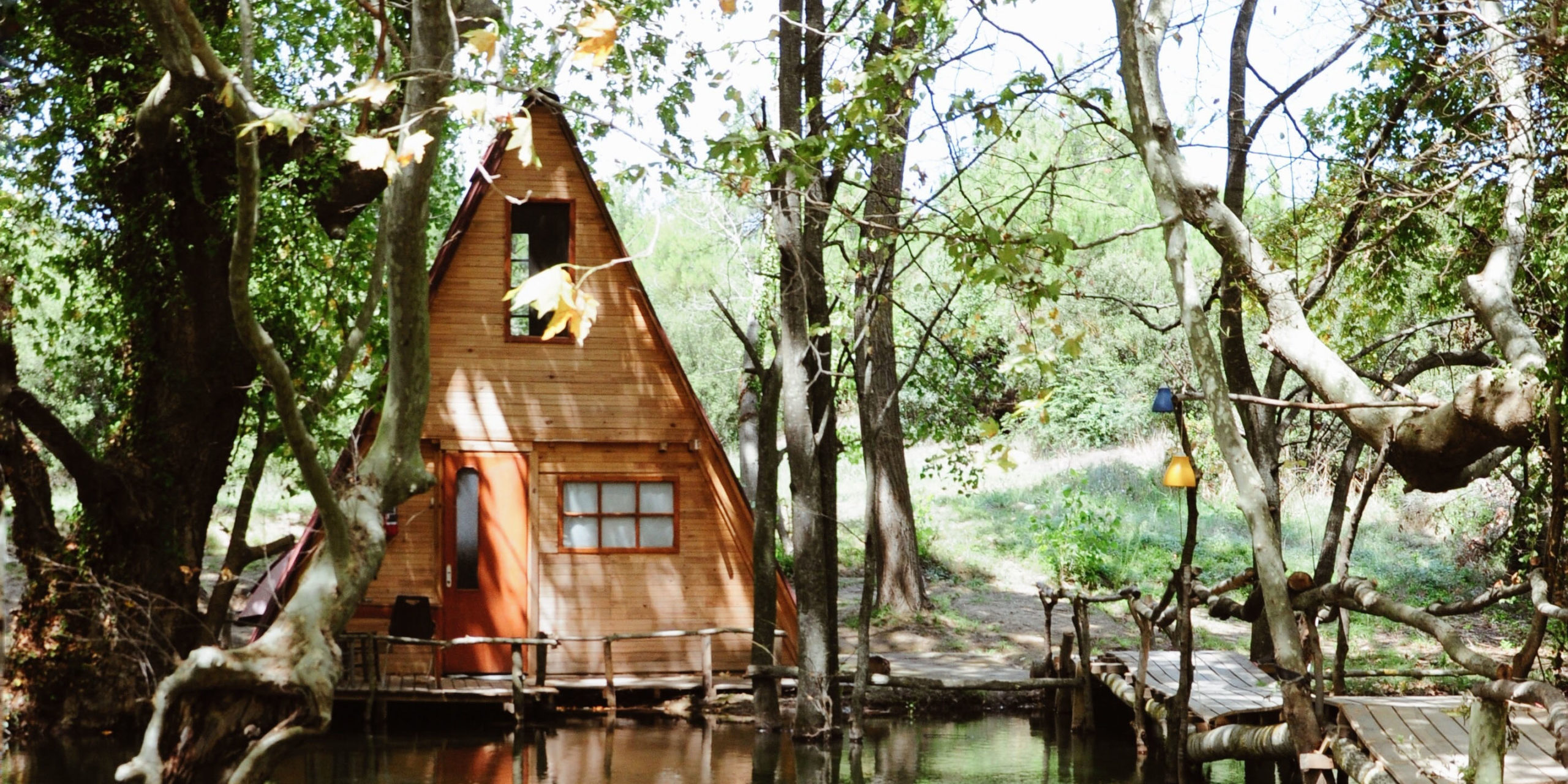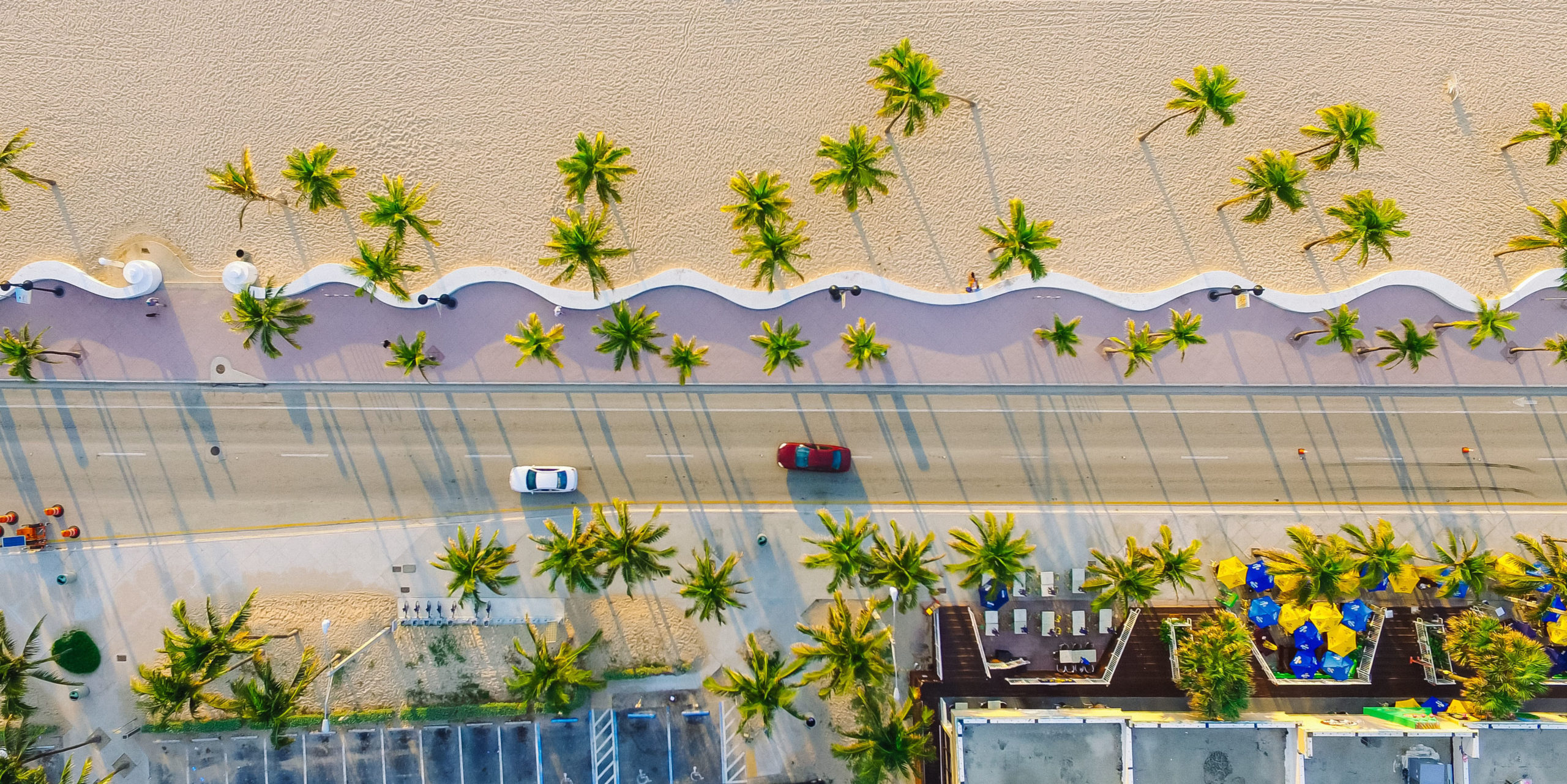 ---