20 Countries Most People Have Never Heard Of
There are at least 195 countries in the world -- and that's not counting all the breakaway states that may or may not actually exist, depending on whom you ask. So it's a rare person who's capable of naming every recognized nation. It would take so much dull repetition and memorization to learn all of them that the accomplishment would be more sad than impressive.
But if you're looking for an adventure that's out of the ordinary, if you long to go places none of your friends have ever ventured, to appreciate sights, sounds, and tastes most travelers never dare… then you might be interested in this list.
These are 20 countries most people have never heard of.

Unsplash
South America
1. Guyana
Population: 783,000
Area: 83,000 sq mi
Language: English
Guyana is one of three South American nations along the northeast coast of the continent that most people have never heard of. (You can read about the other two below.) Given that Guyana is the only South American country where English is the most widely spoken language, you would think American travelers would have discovered it by now.
But maybe Guyana's obscurity is a good thing; it is most widely celebrated for its untouched jungles, home to all manner of exotic wildlife -- jaguars, Black Caiman crocodiles, bird-eating tarantulas, and playful giant otters.
If you're really looking to test yourself, visit Guyana for a jungle survival tour. That which doesn't kill you...

Pixabay Boating in Guyana.
2. Suriname
Population: 558,368
Area: 63,252 sq mi
Language: Dutch, English dialects, local languages
Just to the west of Guyana, you will find Suriname, the smallest country in South America.
The (sparse) population is mostly concentrated along the coastline, since the Amazon jungle covers the majority of the interior.
With over one third of the country taken up by nature reserves, Suriname is another ideal destination for outdoorsy types. You can book guided boat or helicopter tours into the jungle, or to remote beaches where you may just get to see the mating of the leatherback turtles.
But don't expect excursions here to be cheap: Suriname has seen little tourism as yet, so infrastructure is fairly poor. That means an outing can cost as much as you would pay in the U.S. or Europe -- maybe even more.
Suriname is also not recommended for pregnant travelers, since Zika virus remains a concern here.

Pixabay Sunset in the jungle of Suriname.
3. French Guiana

Population: 296,711
Area: 32,253 sq mi
Language: French
Alright, I'm kind of cheating here. French Guiana technically isn't a 'country'; it's an overseas department of France. But it's a seldom-discussed destination nonetheless.
French Guiana is just to the west of Suriname, the third of the obscure South American trio. Like the other two, its population is heavily concentrated along the Atlantic, though it has many navigable waterways that can ferry you into the Amazon.
French Guiana was originally used as a penal colony by France -- sort of analogous to how the British Empire sent its criminals to Australia. These prisons (called bagnes) were notoriously unpleasant. If you care to see for yourself, you can still visit several of them today.

Pixabay The lush rainforest of French Guiana.
Africa
4. Guinea-Bissau
Population: 1,815,000
Area: 13,948 sq mi
Language: Portuguese
One of the reasons most people have never heard of Guinea-Bissau is that it is both dangerous and difficult to visit (visas are fairly expensive and hard to come by).
Violent crime is distressingly common, the police are neither empowered nor inclined to do their jobs, and few western countries have any diplomatic presence here -- which means there's really no one to help you if you get into trouble.
Political turmoil has also been a hallmark of this small West African country's history; no elected president has ever completed his term without being overthrown.
To the extent people have heard of Guinea-Bissau, it's in the unfortunate context of drug smuggling. Cartels have taken to using this country as a transit point for shipping cocaine from South America to Europe. Some observers have gone so far as to describe the country as Africa's first narco-state, but in reality drug kingpins are too busy on their grind to mess with tourists or locals who pose no threat to them.
While only the boldest travelers will make it to Guinea-Bissau, the Bijagos Islands just off the coast do reportedly offer good fishing and wildlife watching. They are described as quiet and unmolested by the few who have made the trek.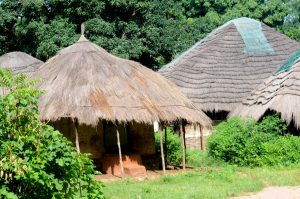 Pixabay A village in Guinea-Bissau.
5. Burkina Faso
Population: 20,107,000
Area: 105,900 sq mi
Language: French, local dialects
Although the landlocked Burkina Faso is little-known and seldom visited, it has historically been one of the safest countries in West Africa, even despite its poverty. Sadly, major terrorist attacks carried out by Al-Qaeda since 2016 have marred that reputation. (Al-Qaeda is targeting Burkina Faso because the country is actively involved in fighting that terrorist group in Africa.)
In safer times, one of Burkina Faso's major draws is art -- particularly music. It's kind of the unofficial heartland of the West African music scene, hosting numerous festivals including the International Festival of Hip Hop Culture, and the Jazz Festival. The country also plays host to the Pan-African Film Festival.
There is also plenty of natural beauty to take in. Local guides lead camel riding tours into the desert, and you can even stay the night if you like.
Despite the concerns about terrorism, the people of Burkina Faso in general are famously friendly and respectful toward foreigners, and violent crime is pretty rare.

Pixabay A mural in Burkina Faso.
6. Benin
Population: 10,872,000
Area: 44,310 sq mi
Language: French, Fon, Yoruba
Bordering Burkina Faso to the south, Benin is a similarly under-appreciated African destination. If its northern neighbor sounds too risky for you at the moment but you still want to visit West Africa, Benin may be a good option. These days, it's one of the safest countries in the region.
Benin is rich in both history and natural beauty.
It was once the seat of the mighty Dahomey Kingdom, the ruins of which still dot the landscape. The old Dahomey capital, Abomey, is a UNESCO World Heritage Site, and well worth your time if you're interested in history or nifty palatial architecture.
Benin was also the birthplace of Voodoo, and the practices of that religion remain an integral part of life here. (It is, in fact, still the national faith.) If you're interested in learning more, consider visiting the Grand Marché (Great Market) in the city of Cotonou. It has a whole section dedicated to selling the essentials of Voodoo -- everything from skulls to animal skins to tree bark. On the other hand, you may be better off trying one of the less well-known 'fetish markets' as they're called; you shouldn't have trouble finding one.
In centuries past, Benin was a focal point of the transatlantic slave trade. In the coastal city of Ouidah, you can retrace the steps slaves took to the ocean (Route des Esclaves). At the end of the trail, the Door of No Return memorializes those who were sold into bondage and shipped across the sea to the New World, never to return.
On a happier note, you'll find plenty of wildlife in the National Parks that sprawl across the hilly northlands of the country.

Photo by Fanick Atchia on Unsplash Bopa, Benin
7. Togo
Population: 7,965,000
Area: 21,925 sq mi
Language: French, local languages
To go to Togo? To Togo to go! (I couldn't resist. I need help.)
Located just to the west of Benin, Togo is an even narrower country. But its relatively short strip of Atlantic coastline is famous for lovely white sand beaches. Further north, rolling hills are an open invitation to hikers and day trippers -- though few actually make the journey.
Even further north, you'll find one of the least visited UNESCO World Heritage sites: Koutammakou. This is not one location, but a 50,000 hectare region, the home of the Batammariba people, whose eye-catching cylindrical mud homes -- some of which rise to multiple storeys -- are truly wondrous to behold.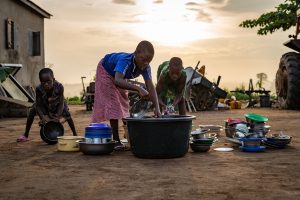 Unsplash Children in Lome, Togo.
8. The Gambia
Population: 2,051,000
Area: 4,127 sq mi
Language: English, Mandinka, other local languages
This isn't a Gambia; this is The Gambia.
The smallest nation on the African continent, it's also one of the most bizarrely shaped. The Gambia is an enclave, surrounded on three sides by the country of Senegal, and on one side by the Atlantic Ocean. The reason for this unusual configuration is that The Gambia is built around the river of the same name. The result is a narrow snake of a county that follows the river as far inland as any boat can take you.
Perhaps the most famous attraction here is James Island -- also known as Kunta Kinteh Island. As you might guess from the name, this is one of the real life settings of Alex Haley's Roots. Visitors can take a boat and tour the island.
The Gambia also offers many wildlife excursions, allowing guests to get up close and personal with monkeys, baboons, and crocodiles. (Don't get too up close and personal with the crocodiles.)

Pixabay It's thirsty work being a monkey in The Gambia.
9. Equatorial Guinea
Population: 1,221,490
Area: 10,830 sq mi
Language: Spanish, French, Portuguese
Located on the Atlantic coast of Central Africa, Equatorial Guinea is the wealthiest country on the continent by income per capita. It owes this distinction to its oil reserves.
You might think wealth and solid infrastructure would make Equatorial Guinea relatively popular with tourists. You would be wrong; estimates from 2015 ranked it as the sixth least-visited country on Earth. There are a number of possible reasons for this.
Firstly, Equatorial Guinea is a small country, relatively unknown in the west. Secondly, it has no UNESCO World Heritage sites and has not generally courted tourism. Thirdly, its wealth makes it expensive to visit, comparable to Europe or the U.S. Fourthly, it's a repressive dictatorship and consistently rates as one of the most corrupt countries in the world.
Equatorial Guinea has had the same president, Teodoro Obiang, since 1979, and he has been accused of stealing at least half a billion dollars from his own people. Sadly, little of the country's oil wealth has made it into the hands of ordinary citizens.
If you do visit, be sure to avoid discussing politics; Obiang is not a man who takes insults lightly. And travel as part of a group in order to avoid entanglements at military checkpoints.

Pixabay The shore in Bata, Equatorial Guinea.
10. São Tomé and Príncipe
Population: 199,000
Area: 386 sq mi
Language: Portuguese, local languages
São Tomé and Príncipe is a small maritime nation off the west coast of Central Africa. It consists of two archipelagos, each collected around the two main islands that give the country its name. São Tomé and Príncipe are about 140 miles off the mainland, and about 90 miles from one another.
This is truly undiscovered territory; these islands welcome only about 13,000 guests per year. Those who have made the trip describe it as a laid back, friendly, largely forested nation with a number of unusual nearly vertical peaks and volcanic plugs towering above the trees.
The climate is tropical and consistent, generally in the 80-90°F range, although nights can be cooler. If your idea of a dream vacation is lying on a pristine beach, utterly undisturbed, São Tomé and Príncipe may prove restorative.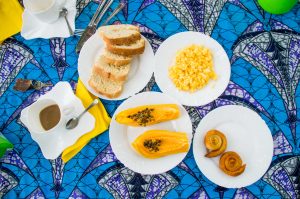 Unsplash Breakfast at an ecolodge in São Tomé and Príncipe.
11. Gabon
Population: 1,979,000
Area: 103,347 sq mi
Language: French
Back on the mainland of the African continent, on the Atlantic coast, to the south of Equatorial Guinea, lies Gabon. Gabon is relatively stable, prosperous, and sparsely populated. Stunning biodiversity and natural beauty are what make Gabon stand out.
Gabon is another destination that comes most highly recommended to lovers of the great outdoors. Great effort has been expended to preserve the country's rainforests and savannahs, which is evident from the abundance of national parks on offer.
In Ivindo National Park, for example, you can see chimps, gorillas, and even elephants, as well as some truly breathtaking waterfalls.

Pixabay A gray parrot in Gabon.
12. Lesotho
Population: 2,203,000
Area:  11,720 sq mi
Language: English, Sesotho
Lesotho is landlocked and surrounded completely by South Africa. It is a high-altitude nation, founded when its people fled from their enemies into more mountainous regions. It is the only country on earth that is, in its entirety, no less than 1 km above sea level. For this reason, it has earned the nickname 'The Kingdom in the Sky.'
It should therefore come as no surprise that skiing and snowboarding are popular tourist activities in winter. In the summer, you can have your pick of alpine hikes. When you combine the terrain with the fact that Lesotho is relatively safe, you get an adventure traveler's paradise.
On the other hand, the climate can be pretty extreme. In summer, it's fairly hot and you will want to bring plenty of sunscreen. In winter, the high altitude means temperatures can plummet -- and central heating is not a universal feature of life here.

Pixabay Camping in the Sani Pass of Lesotho.
13. Eswatini
Population: 1,093,000
Area: 6,704 sq mi
Language: Swazi, English
Eswatini may be better known by its other name -- Swaziland. It is a landlocked country bordered by Mozambique and South Africa.
Eswanti is perhaps most famous for its national parks and big game hunting (which is legal in certain areas). For those who wish to admire animals rather than kill them, Hlane National Park has zebras, elephants, lions, wildebeest, impalas, and white rhinos.
Eswatini is also home to a number of remarkable Stone Age sites, and there is evidence of human habitation here up to 200,000 years ago. The Lion Cavern is the oldest known iron mine, with evidence humans were using it as early as 40,000 BC. Ancient people coveted the iron as a pigment for their cave art and other decorative works.  

Pixabay Lunch time for this zebra in Eswatini.
14. The Comoros
Population: 850,000
Area: 719 sq mi
Language: Comorian, French, Arabic
The Comoros is an island nation off the east coast Africa in the Indian Ocean, north of Madagascar. Comprised of three main islands, it is one of the poorest nations on Earth, and one that few westerners will have heard about.
To say The Comoros has experienced political instability is like saying the Beatles were a little bit famous. There have been at least 20 coup attempts here since the mid-70s, and the people have suffered as a result.
On the main island of Grande Comore, the biggest attraction is Karthala, the crater of a great volcano. You can hike to the top and camp out if you like. You may also be able to spot some dolphins off the coast.
Although The Comoros is the third-poorest nation in the world, visiting is not as cheap as you might expect; since it is an island nation, virtually everything has to be imported, raising the cost of most goods.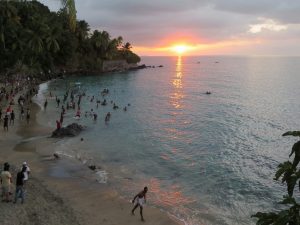 David Stanley/Flickr
Europe
15. Moldova
Population: 3,350,000
Area: 13,068 sq mi
Language: Romanian, Russian
Landlocked between Romania and Ukraine, Moldova is a beautiful country, but likely not the first that comes to mind when you think of European destinations. There's a certain ambiguity to Moldova: many Moldovans consider themselves ethnically Romanian, while others consider themselves Ukrainian or Russian. And, of course, many consider themselves simply Moldovan.
The country's industry is largely agricultural, facilitated by its rich mineral deposits and rolling steppes. One of the big attractions for tourists is Moldova's great history of wine production; you'll find the vino here surprisingly cheap given its high quality, and a wine tour wouldn't be a bad idea at all.
Moldova is also celebrated for its medieval monasteries, which are done up in the traditional Orthodox style. The capital, Chisinau, dates back to at least the 15th century, though much of its surviving architecture is from the 19th century.
In a way, Moldova is two countries you may not have heard about for the price of one, since part of its territory is effectively separate and independent. The eastern region of Transnistria is de facto its own country, though traveling in this region may prove difficult.

Pixabay Lavender fields of Moldova.
16. Andorra
Population: 77,281
Area: 180 sq mi
Language: Catalan
The reason why you may not have heard of Andorra is simply because it's very small, one of Europe's string of microstates. And unlike, say, Liechtenstein, it doesn't have the benefit of an especially silly name.
The Pyrenees Mountains nestle Andorra between France and Spain. Unlike other less well-known countries, Andorra has a thriving tourism industry, attracting around 10 million guests annually -- about 129 times its population. In fact, tourism provides about four-fifths of the tiny country's income.
Apart from duty-free shopping and no-questions-asked banking, Andorra's greatest attraction is its ski resorts, such as Vallnord and Grandvalira.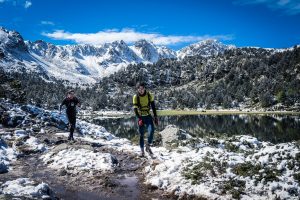 Unsplash Andorra is celebrated for its slopes.
Asia
17. Kyrgyzstan
Population: 6,019,000
Area: 77,202 sq mi
Language: Kyrgyz, Russian
Of all the Stans, Kyrgyzstan is perhaps the least well-known in the west, though it has much to offer the daring, nature-loving traveler. Actually, the British Backpackers Society named Kyrgyzstan the 5th best adventure destination in 2018, though they noted that it remains a well-kept secret.
Kyrgyzstan's most famous attractions are Lake Issyk Kul and the Tian Shan mountains, both of which lure hikers and lovers of the great outdoors. The mountains, in fact, surround by lake, which is an impressively large reservoir. The north shore is a bit of a tourist trap, but the south shore is further off the grid.
The Kyrgyz culture has a nomadic flavor, and the Kyrgyz people are renowned horsemen, dating all the way back to the time of Genghis Khan. So if you're interested in trying horseback riding, this could be the right place to do it!

Unsplash The mountains and lakes of Kyrgyzstan.
18. Brunei
Population: 417,200
Area: 2,226 sq mi
Language: Malay, English
The tiny Sultanate of Brunei is located on the north side of the island of Borneo in Southeast Asia. As small as it is, it might be even less well-known were it not fabulously wealthy on account of its oil and natural gas deposits. These resources have made the Sultan of Brunei one of the richest men in the world, with an estimated net worth in excess of $40 billion.
If you love decadence -- and if you don't, why are you in Brunei? -- check out Istana Nurul Iman. With over 1,800 rooms, it is the largest palace in the world. Unfortunately, this is where the Sultan lives, so it's only open to the public three days of the year. But hey, maybe you'll get lucky!
Brunei is also reputed to have excellent scuba diving, as there are extensive reefs just off the coast.

Pixabay A junk passes in front of a mosque, Brunei.
19. East Timor
Population: 1,167,242
Area: 5,950 sq mi
Language: Portuguese, Tetum
Just northwest of Australia, East Timor (also known as Timor-Leste) is the newest country in Asia, having broken away from Indonesia in 1999. Perhaps this is why it's one of the least-visited countries in the world, meaning you can have a true off-the-beaten-path excursion here. But the flip-side, of course, is that this country was not built for tourists.
Cliffy, covered in steamy jungles, and punctuated with charming villages, East Timor is definitely an adventure. It has also started to win a reputation as one of the best diving destinations in the world.
If you're a coffee lover, you'll also find some of the best java in the world right here in East Timor.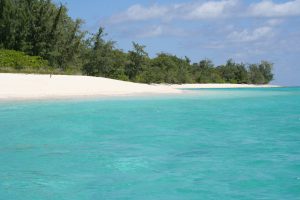 Pixabay Jako Island, East Timor.
Oceania
20. New Zealand
Okay, we know you've heard of New Zealand. But apparently people have made a habit of leaving New Zealand off maps recently, so we thought we'd give them a shout out. Roughmaps loves you, Kiwis!

Pixabay
---
KEEP ON READING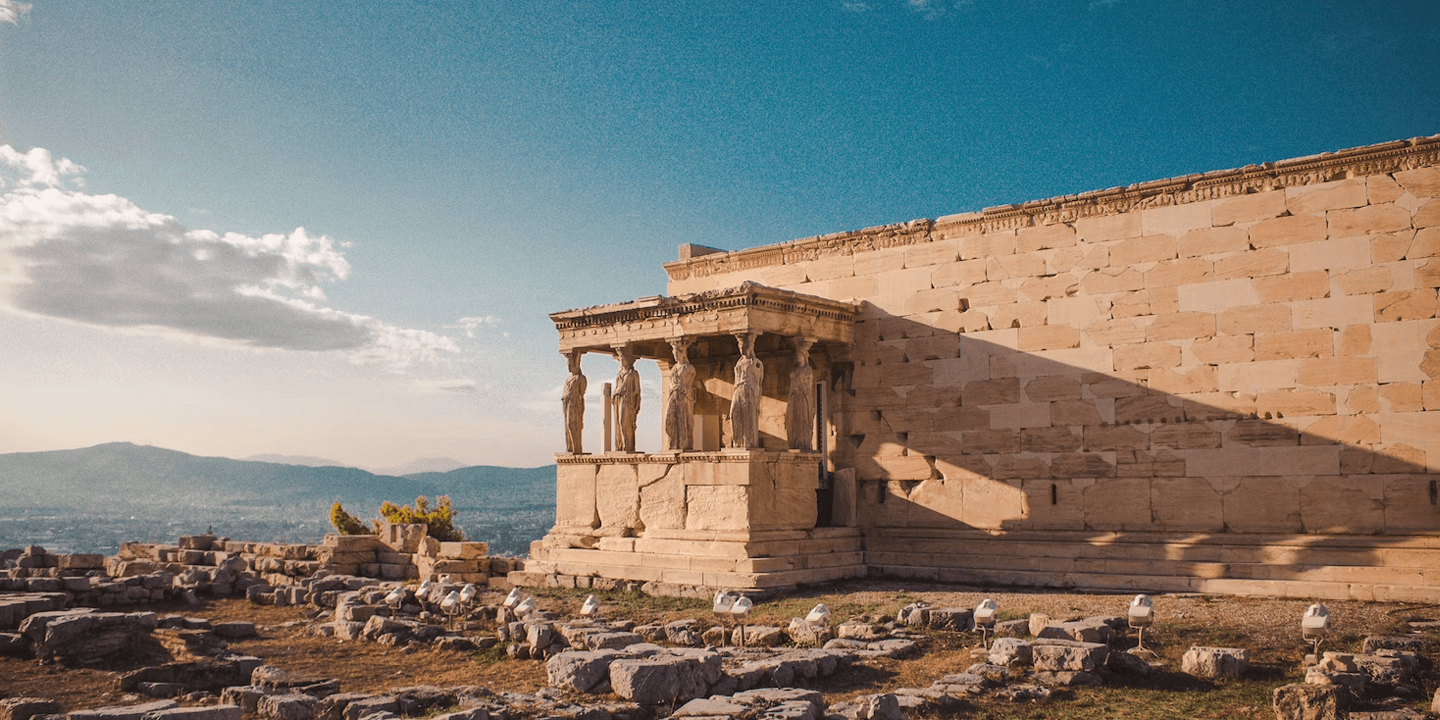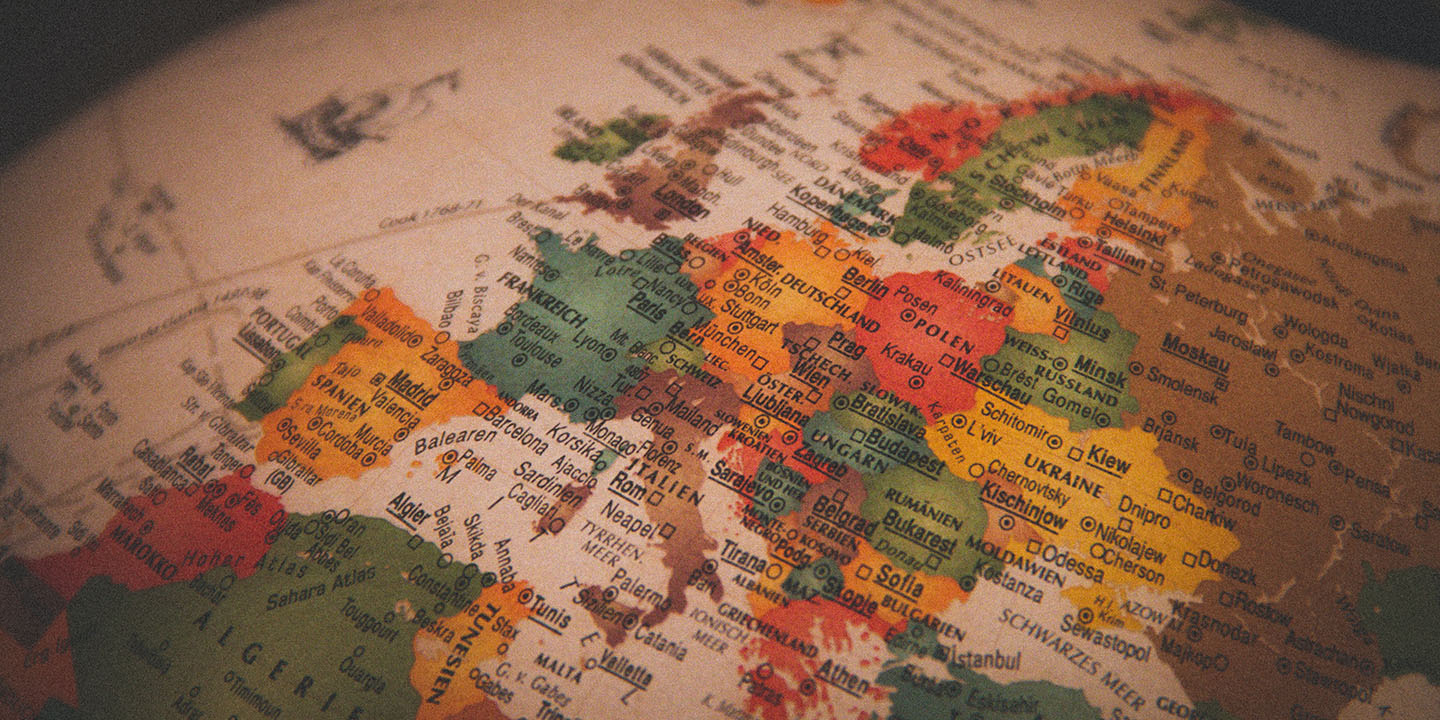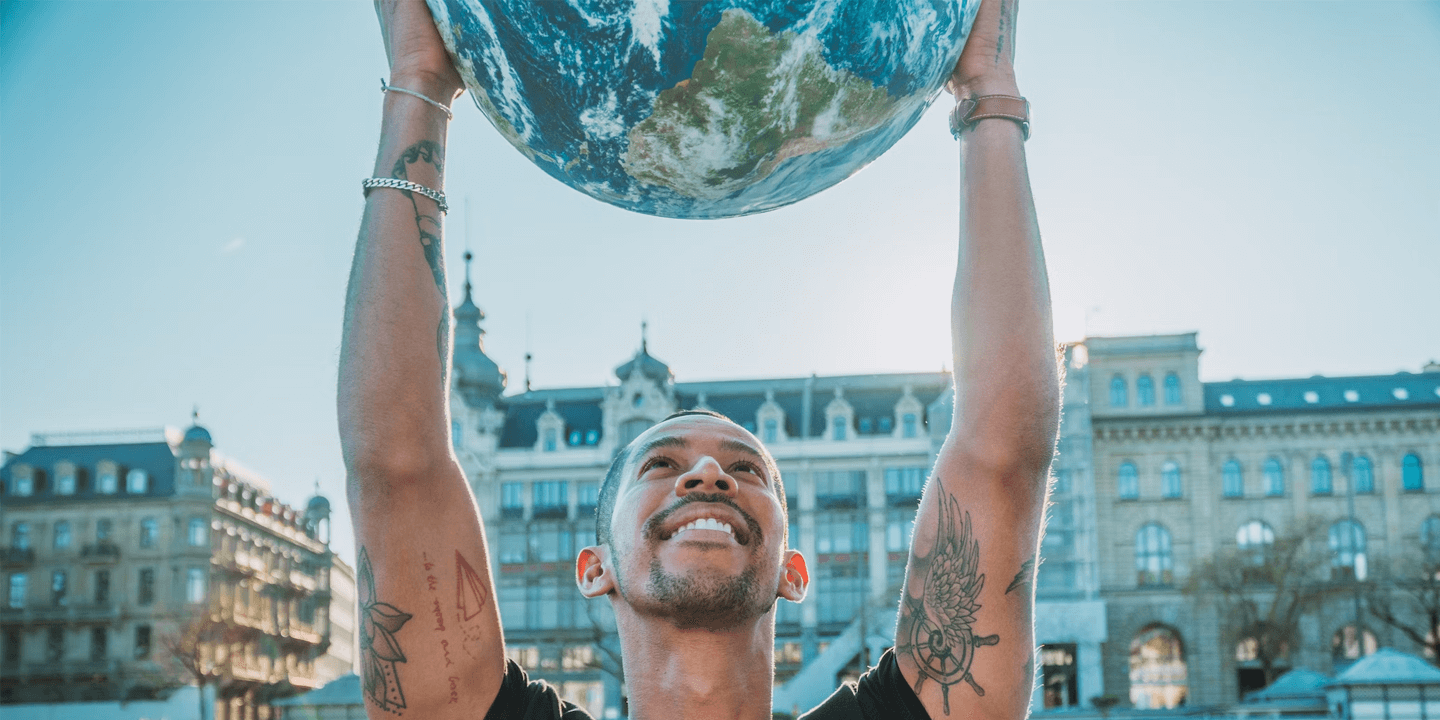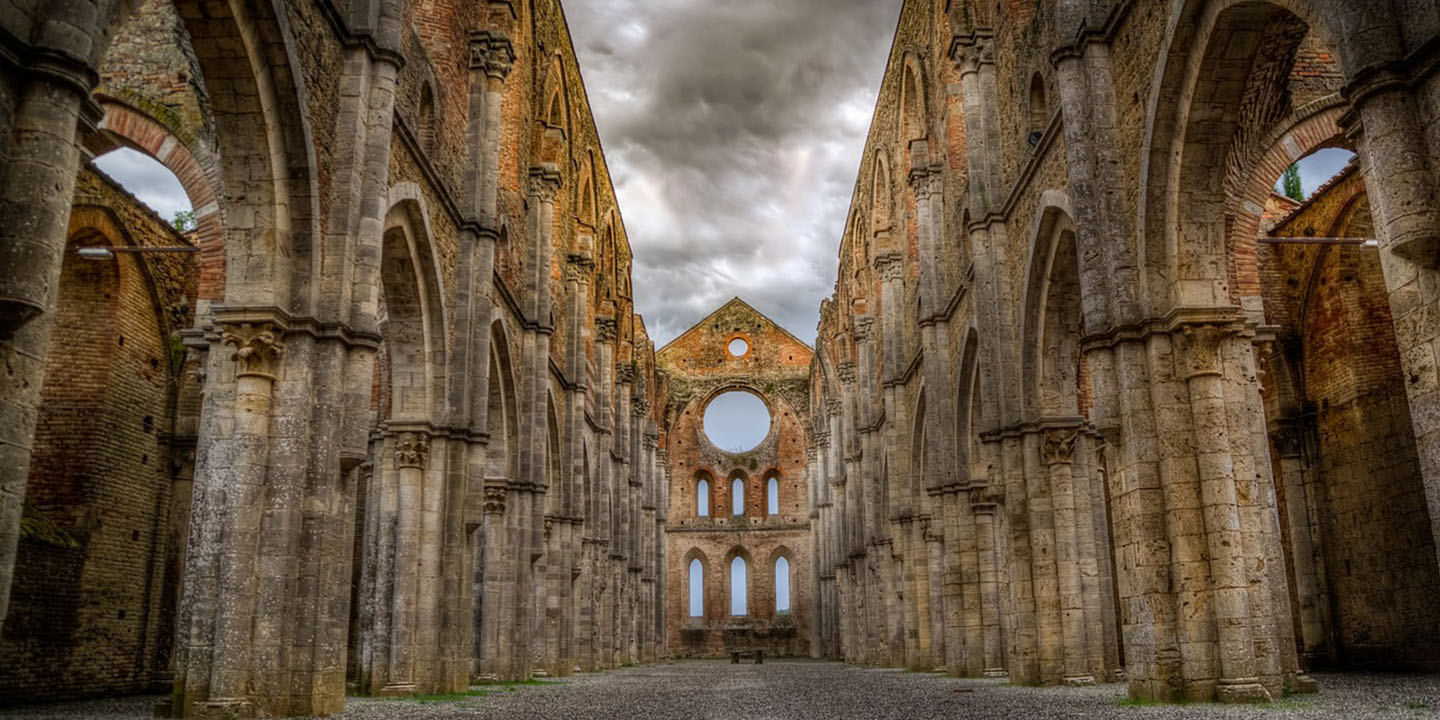 ---