The Best Things To Do In Basque Country, Spain
What are the best things to do in Basque Country? Where to begin!
Basque Country is a definite change of pace from the rest of Spain. It's an autonomous region with its own distinct culture and language. The food and wine are both highlights, as is the geography -- rocky promontories, coastal cliffs, and tempting beaches.
Between the food, the history, and the landscape, Basque Country will certainly enchant you. Let's take a look at 15 attractions and activities you won't want to miss.
Basque Country: Fast Facts
Capital: Vitoria-Gasteiz
Population: 2,189,543
Area: 2,793 square miles
Major cities: Bilbao, San Sebastián, Barakaldo
Languages: Basque, Spanish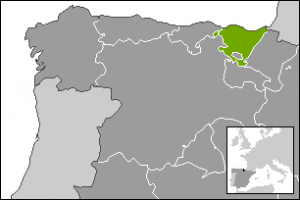 Wikimedia The autonomous Basque Country within Spain
15. Take a wine tour
As we said, sampling the fare is easily one of the best things to do in Basque Country.
The ideal place to begin is the city of San Sebastián. The excellent Devour San Sebastián offers 'the Ultimate Pintxos & Wine Tour' in the evenings. It's a three-hour gastronomic tour de force that will take you to six family-owned bars. You'll get to try plenty of wine and pintxos (snack dishes) made in authentic Basque style.
It's a great way to orient yourself and (literally) take in the flavors of the region.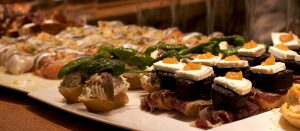 Katina Rogers/Flickr The pintxos are waiting for you...
14. Basque Coast Geopark
Once you've filled your tummy and slept off your jet lag, you'll want to take in some of the natural beauty of Basque Country. For that, you should head to the UNESCO-designated Basque Coast Geopark.
It's not a park per se, but an 89 square kilometre area that has been singled out for its geographic significance. From the rugged, rocky coast of the Bay of Biscay, the geopark will take you inland through rolling hills.
The towns of Zumaia, Deba and Mutriku are all within the park.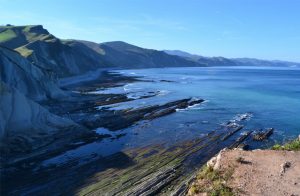 Euskaldunaa/Wikimedia Flysch and Algorri beach on the Basque coast
13. Getaria
Getaria drips with history.
It's a seafaring town on the Basque coast, renowned for its maritime credentials. (The town's most famous son is Juan Sebastián Elcano, who circumnavigated the earth alongside Magellan). Walk the cobblestone streets, then pop into a restaurant to enjoy some freshly caught fish with a bottle of white wine.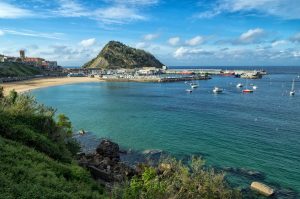 Felipe Gabaldón/Flickr Getaria, a gem of the Basque coastline
12. Museo Guggenheim Bilbao
The Museo Guggenheim Bilbao has plenty of artwork inside it, but the building is a work of art itself. This triumph of modern architecture played a major role in revitalizing the biggest city in Basque Country. You'll find treasures from great masters, newer works, as well as concerts and activities here.
Check the website and see what's on offer at the Museo. You won't be disappointed.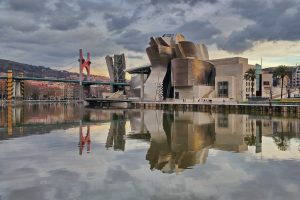 Image by The Museo Guggenheim Bilbao is one of the city's most famous buildings
11. Playa de Zarautz
If there's one Basque beach locals would recommend, it's probably playa de Zarautz.
In the first place, the beach is plenty long and devoid of rocks, meaning you'll be able to find a comfortable patch of sand, even though this is a popular hangout spot. There are also plenty of places to eat and drink in the town of Zarautz, all within walking distance. Finally, the surf is reliably excellent, making this the ideal beach both for experienced surfers and those eager to learn.
The result is a beach bum's dream come true.
Stop by on your way to or from Getaria, which is just up the coast.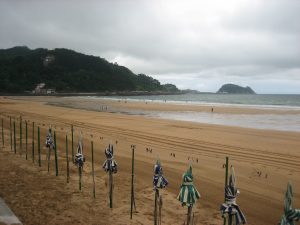 19 minutes/Wikimedia Playa de Zarautz, admittedly not on its best day
10. San Sebastián electric bike tour
It's fortunate there are so many high quality tours in Basque Country, because there's so much to see and do (and eat). One of the best is Go Local San Sebastián, which offers electric bike tours of the city of the same name. San Sebastián is ideal for biking due to its interconnected network of bike lanes, and Go Local have created the perfect tour to showcase the city's vibrant neighborhoods and hidden jems.
There are morning and afternoon tours departing from central locations.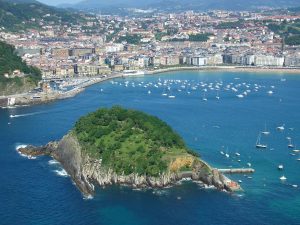 Nigel Swales/Flickr San Sebastián: one of Spain's most beautiful coastal cities
9. Bilbao historical tour
As beautiful as San Sebastián is, you'll want to leave eventually and go check out Bilbao, the biggest city in Basque Country.
Locals and fans of the Bilbao often describe it as their favorite little city in the world (little being a relative term). It's certainly one of the best to take a walking tour; in an hour or three, you can get an overview of 700 years of Basque history.
Secret Bilbao is the best tour company in the city. It's run by Miguel, who leads guests on award-winning curated tours through the food, fashion, architecture, and history of the old city.
Whatever your interests, Miguel can point you in the right direction with all the charm befitting an ambassador for such a splendid town.
Take a look at the different tours Miguel offers here.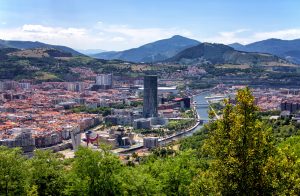 Photo by Yves Alarie on Unsplash Bilbao: a perfect city to explore on foot
8. La Cuchara de San Telmo
We would be remiss not to mention some Basque Country restaurants specifically by name. In San Sebastián, La Cuchara de San Telmo is one of the best pintxo bars that's easy to miss. It's sort of tucked away near the San Telmo museum, but it's worth finding if you're in the area.
All the pintxos here are made to order rather than displayed on the counter (which is the typical order of business). You'll appreciate the freshness, but word to the wise:
call ahead. This bar is tiny and the secret is starting to get out.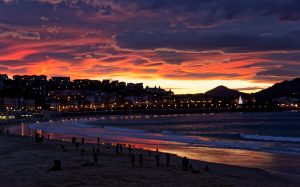 Photo by François DALLAY on Unsplash San Sebastián at sunset
7. Ätakontu
Fashion is a big thing in Basque country, so you'll want to buy a unique piece of clothing or two to remember your trip. In the old town of Bibao, you'll find Ätakontu, an independent clothing store. They particularly enjoy putting raptor heads on their t-shirts and long-sleeves.
Everything sold here is locally designed and produced from organic cotton. Best of all, it's not mass-produced, so you won't bump into hundreds of other people wearing the same thing. This is a great place to buy a souvenir as unique as Basque Country itself.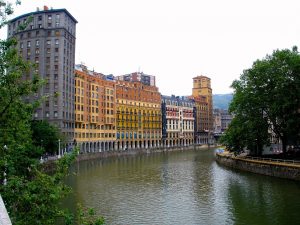 Image by Scenic Bilbao
6. Casa Rufo
We have to highlight another excellent restaurant in Bilbao. Casa Rufo is another hidden gem in the back of a deli in the old town. Pintxos are great, but after a while, you might start to get sick of snacking. Casa Rufo has you covered. This is a legit steakhouse, so come ready to eat some beef. The surroundings are quaint, and the service is personal. You'll really feel like you've been invited into someone's personal home -- someone who is a professional chef, that is!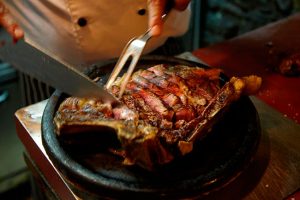 Casa Rufo Try the steak at Casa Rufo
5. Anillo Verde
'Anillo Verde' means 'green ring'. It's an apt name for this collection of parks that circle the Basque capital of Vitoria-Gasteiz. This green belt has totally revitalized the outskirts of the city.
The 833 hectares of parkland is interconnected, making it ideal for hikers and bikers who want to explore the natural beauty of Basque Country.
To learn more or to plan your itinerary, click here.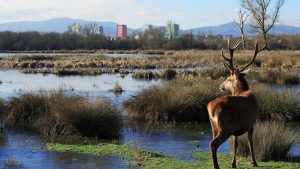 The City of Vitoria-Gasteiz A shot of the Anillo Verde
4.  Catedral de Santa María
This is another must-visit when you're in Vitoria-Gasteiz. The 13th-century Catedral de Santa María dominates the skyline of the city. It seems to be in a constant state of renovation, but you can still take a tour for €10 or so. The building has a fascinating history, from its underground catacombs to the spire -- which affords panoramic views of the city.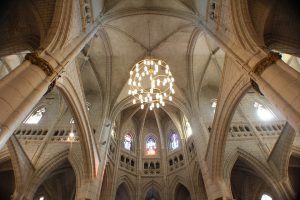 Catedral de Santa María
3. Artium
While you're in Vitoria-Gasteiz, you should also check out Artium, the museum of modern art. Artium showcases Basque creators, as well as Spanish and foreign artists in its galleries. You'll find everything from painting to sculptures to interactive exhibits. For the kids, there are also hands-on activities and even occasional concerts. Check out scheduled exhibitions here.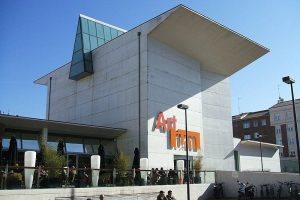 Wikimedia Artium, Vitoria-Gasteiz
2. San Juan de Gaztelugatxe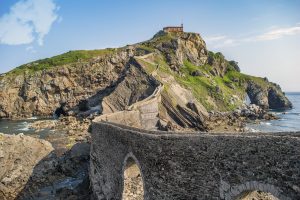 Image by San Juan de Gaztelugatxe
1. La Concha beach
La Concha isn't just the best beach in Basque Country; it might be the best beach in Europe.
The strand is located in downtown San Sebastián, a perfect crescent seaboard within walking distance of all the fabulous food and drink we've been raving about. Even if urban beaches aren't your thing, the backdrop, string of seaside resorts, and easy access will win you over.
Just make sure you consult the tides before you visit; they determine just how much beach there is for you to enjoy, after all.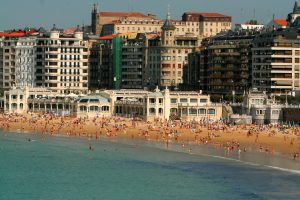 Image by La Concha: Europe's best beach
---
KEEP ON READING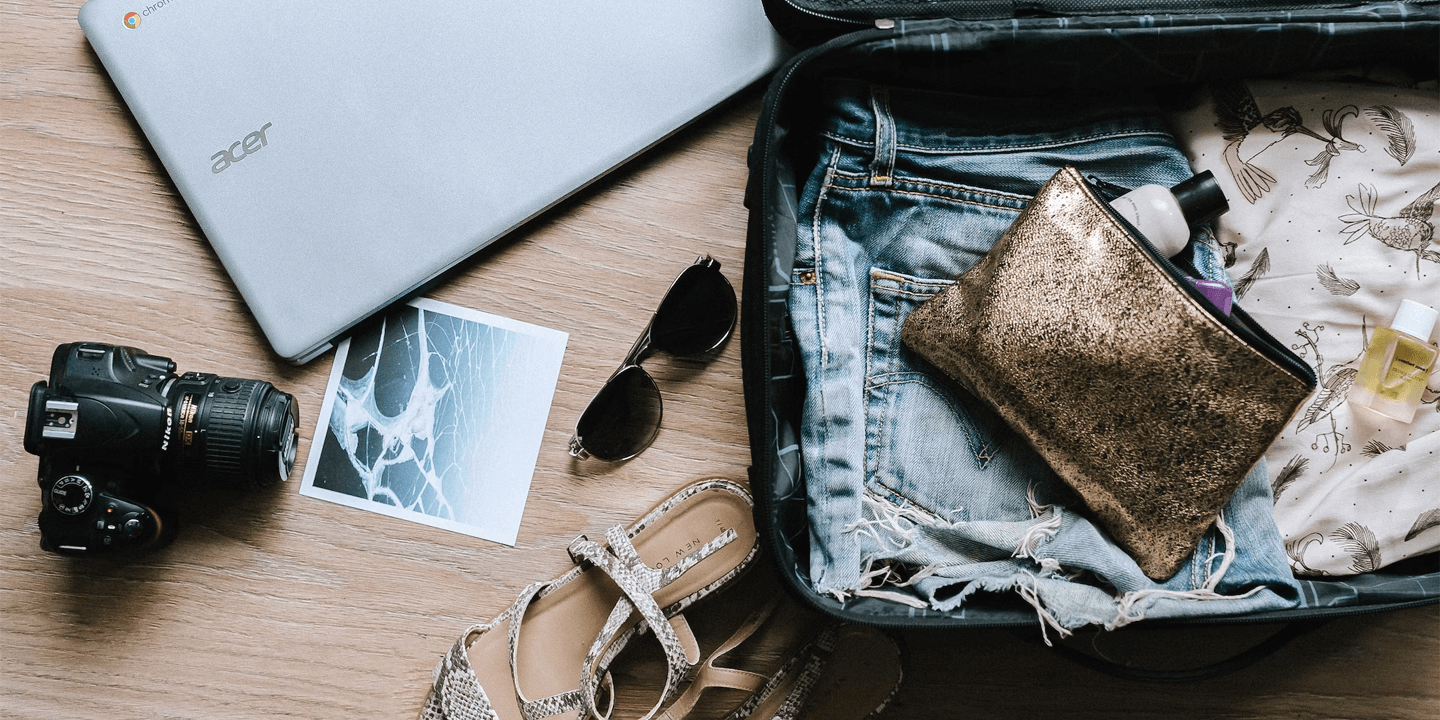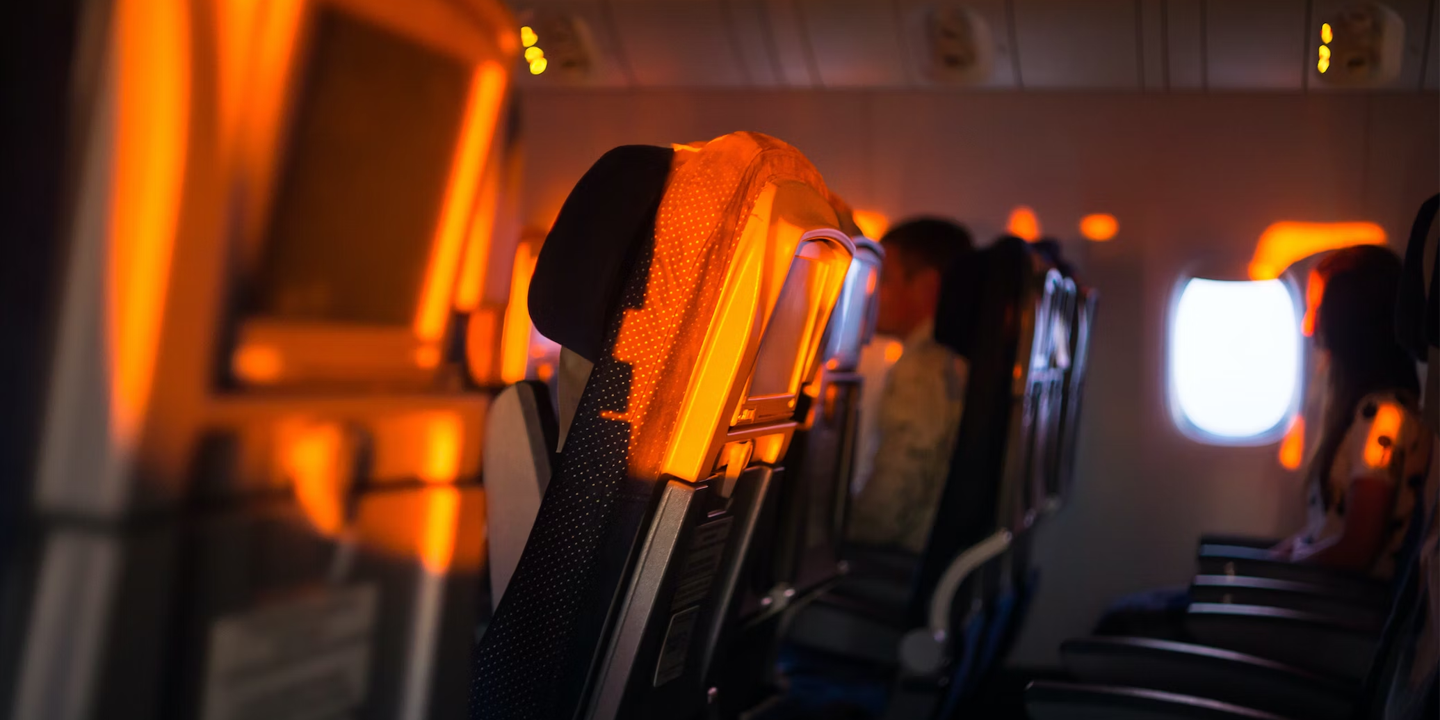 ---