The Ultimate Guide to Visiting Singapore
For a long time, Singapore was overlooked as a tourist destination, but no more. Thanks to the attention it has gotten for being the most expensive city in the world and for its starring role in 2019's blockbuster Crazy Rich Asians, more and more travelers are adding this subtropic paradise to their bucket list.
Just off the southern tip of Malaysia, the Republic of Singapore is a fully sovereign island city-state and a global economic powerhouse. A melting pot of Asian, Indian, and Western cultures, Singapore has become as cool a place to touch down as New York or Paris. Cosmopolitan, eclectic, and fast-paced, you could throw pretty much any adjective at Singapore and it would stick—anything except boring, that is.
Even though this energetic nation is no bigger than the average US city, there's so much to do here that it's easy for first-time visitors to feel overwhelmed. To that end, we've compiled the highlights. Read on for the best places to eat, what to see, and how to make the most of your trip in our ultimate travel guide to Singapore.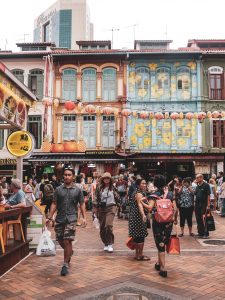 Photo by Ilham Wicaksono on Unsplash
The basics
Language: English, Malay, Mandarin, and Tamil
Currency: The Singapore dollar (SGD)
Population: 5.6 million
Size: 721.5 km(2)
How to get there
Flying into Singapore's modern Changi Airport is one of the highlights of the trip. We're not saying you should spend a week here, but you could. There's a free movie theatre, a butterfly garden, and a breathtaking indoor fountain (we wrote about it here). Also, like the rest of Singapore, there's a lot of really good food. Alternatively, you could drop down into Kuala Lampur and take the train or drive, getting to see some of the coastal landscape of Malaysia on your way.
Most tourists, unless you're planning an extended stay, probably do not need to acquire a visa, so you're good to book your flight, pack, and go.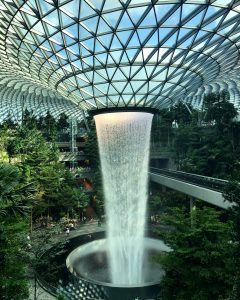 Photo by Siva Gnanaparan on Unsplash
Where to stay
There is no end of options for places to stay once you land in Singapore, and accommodations run the gamut from very modest to extremely upscale. Home to one of the most exclusive hotels in the world (Singapore's signature skyline diva, the Marina Bay Sands Hotel), if you have the cash to spend there are scores of luxurious hotels and boutique B&B's. For those seeking less posh headquarters, hostels and vacation rentals via Airbnb abound.
You can even get a room in one of the few remaining traditional villages on the outskirts of the urban center to get a sense of how the peasants have lived here for centuries.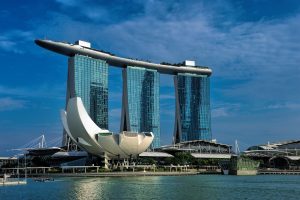 Image by tk tan from Pixabay
What to see and do
Gardens by the Bay
If you only had a few hours to spend in Singapore, Gardens by the Bay would be the one stop you absolutely have to  make. A national landmark, it's difficult to describe in words the wonder of this fantastical ode to tropical plantlife. The towering vertical gardens, called Supertrees, pictured below are lit up at night and can be seen from all over the city. The Skyway that winds between them gives you a stunning view of both the park and the Singapore skyline.
Indoor conservatories, like the Flower Dome and the Cloud Forest, are home to thousands of species of tropical wildlife. It really is like something out of a fairy tale.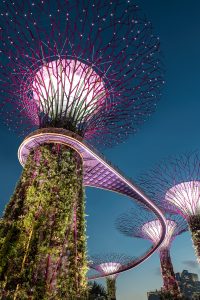 Photo by Hu Chen on Unsplash
Sentosa Island
Sentosa Island is like a one-stop-shop for amusement. Home to Universal Studios, a water park, and an aquarium, it's impossible to experience everything the island has to offer in one day, or even one week. Get your heart racing on the zipline at the Mega Adventure Park, or plummet through the jungle on the Skyline Luge. This is also the site of the Merlion, a 37-meter-tall sculpture of a half-lion, half-mermaid with an exquisite view of Singapore's Marina Bay, opposite.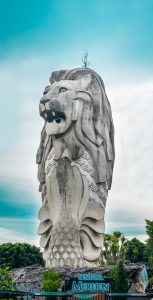 Photo by Steven HWG on Unsplash
Kampong Glam
This is Singapore's hipster depot, an area peppered with the brightly colored storefronts that distinguished the historic downtown landscape, now gentrified to cater to the iced barley tea and shopping whims of the modern traveler. There are places to eat, try on sneakers, and stock up on Korean beauty products. One day here is enough to keep your Instagram feed stocked for a month.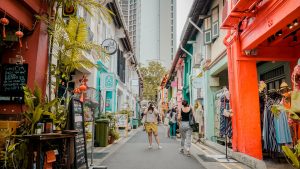 Photo by Bna Ignacio on Unsplash
Singapore Botanic Gardens
But RoughMaps, you're saying, we already saw some gardens. What could be so special about these? For starters, this gorgeous sprawl of verdant green is 160 years old and a UNESCO World Heritage Site. It's a great place to bring a date, with romantic archways spanning the meandering paths. And even if you're not an avid botanist, it's impossible not to be floored by the sight of over 1000 orchid species growing in one lush space.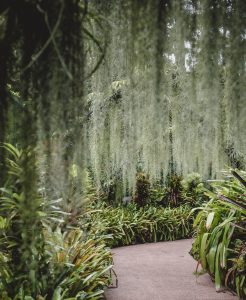 Photo by Annie Spratt on Unsplash
Haw Par Villa
Built by the brothers who invented Tiger Balm, the herby salve for anything that ails you, the Haw Par grounds are an eclectic journey through Chinese mythology and history.
Hundreds of sculptures dot the villa in tableaus depicting Chinese morality tales; our personal favorite is the Ten Courts of Hell (you might want to leave the kids behind for this one. Dubbed Singapore's "weirdest theme park," it's an eyeful, and a fun—and free—way to spend the afternoon.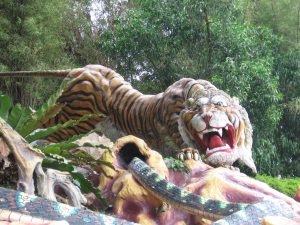 Wikimedia
Marina Bay Sands SkyPark
One thing Singapore is famous for is the ultra-wealthy lifestyle some of its more fortunate inhabitants enjoy. The best way to get a taste of that, and a view of the futuristic skyline to boot, is to spend a day floating in the 490-foot-long infinity pool perched atop the Marina Bay Sands Hotel.
The striking silhouette of this hotel is what most people think of when they think of Singapore, and for the rest of your life, you'll have bragging rights to one of the most luxurious experiences in the world. It makes a sensational selfie, too—just make sure you don't drop your phone in the water.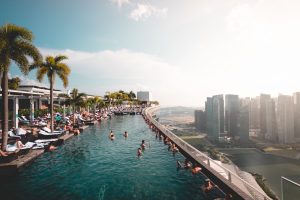 Photo by Will Truettner on Unsplash
Paranakan Museum
We chose this over the National Museum because of its collection of local history and artifacts. Don't get us wrong—the National Museum is definitely worth a visit as well, but if you're curious about traditional Singaporean life, then this is the museum you're looking for. The term Paranakan is complicated, but in its simplest version means "born of" and refers to the peoples of Malay and mixed heritage who coined the melting-pot style culture that makes Singapore culture one-of-kind. Here you'll see how the mixing of different artistic styles turned into a style of its own.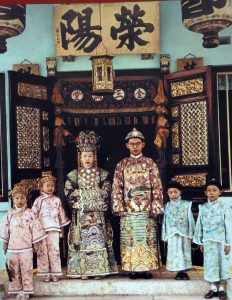 Photo by Will Truettner on Unsplash
The Southern Ridges
Perhaps the only place in the world where you can walk among the treetops of a rainforest.
The Singaporeans have been conscientious custodians of the natural parkland; 47% of the island is still covered in flourishing nature. Get out of the hustle and bustle of the streets and cruise along under the clouds on bridges that cover part of a five-mile-long hike.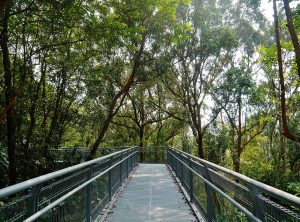 Wikimedia
Clarke Quay
Restaurants, entertainment, and night clubs; you can find it all here at this coastal fun zone  adjacent to Fort Canning. This is one place to sample those novelty takes on dining and drinking that other Asian cities, like Tokyo, do so well. For instance, Holey Moley is a bar-slash-mini golf course where you can hit it off with other tourists over a round of putting.
One warning though; the oversized cocktails might mess with your aim and make it impossible to score a hole in one.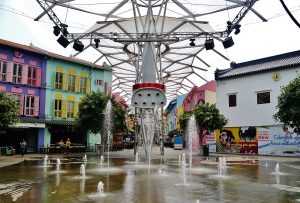 Wikimedia
Manekineko Orchard Cineliesure
Does the term "K box flagship" mean anything to you? It will, after spending a night crooning to pop hits in one of the 80 private suites at this karaoke mega-lounge. Karaoke is almost like a religion in Asia, where people gather together to imbibe and pay homage to one of the greats. Britney Spears, Christina Aguillera, Selena Gomez—the Manikineko has over 150,000 songs on its roster, and each room is equipped with enough lights and disco balls to make you feel like a superstar.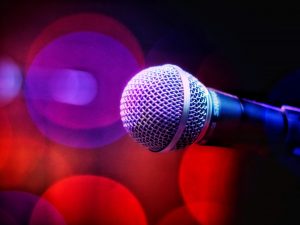 Image by Simoneph from Pixabay
Shopping
The locals joke that shopping is the unofficial national sport, and in such an affluent nation, how could it not be?
Even if you don't want to spend your nest egg on Hermes, it's worth wandering architecturally stunning Orchard Road to see and be seen, or to drop in on Little India to pick up goods you'd normally have to travel to Delhi to buy. Holland Village is home to a lot of artisanal boutiques, or drop into the City Hall Marina Bay Shopping Center to stock up on basics.
Image by Jason Goh from Pixabay
Others sites worth visiting: the Asian Civilizations Museum, the Singapore Zoo and Night Safari, Sri Marriaman Temple, the Buddha Tooth Relic Temple and Museum, and Fort Canning.
What and where to eat
Whether you travel on a big budget or a frugal one, prepare to spend at least half your dough on food.
Anthony Bourdain considered it a mecca for anyone who travels to eat, and Singapore's mashup of cultures promises the best food in the world. Everywhere you turn, there's something to tempt your palette; we've tried (the keyword here is "tried") to narrow our travel menu suggestions down to the absolute essentials.
Hawker food
Sprinkled through Singapore are havens of multicultural food, clusters of stalls that make up the hawker centers which are a rich part of the island's culinary scene. Insiders will tell you to reserve a seat at a table before you order with a packet of tissues (sold at the entrance), but with so many good dishes to try we usually end up forgoing the tables and hopping from one stall to the next, scarfing down small plates of chili crab, chicken rice, and noodles.
Tourists favor the gargantuan Maxwell Center and East Coast Lagoon Food Village, but if you want to eat where the locals do, Old Airport Road, Lau Pa Sat, and Simpang Bedok are good places to start.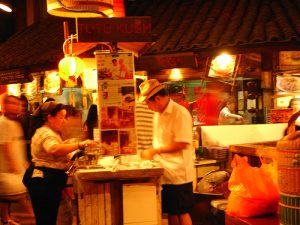 Wikimedia
Hidden bars
Venture behind a nondescript door in the back of a restaurant or store and you might stumble upon one of the city's dozens of secret speakeasies. At one time a closely kept secret, these days anyone with a bit of street savvy—and the ability to Google it—can pop into Employees Only or The Secret Mermaid and enjoy a bespoke cocktail with other covert denizens of the night.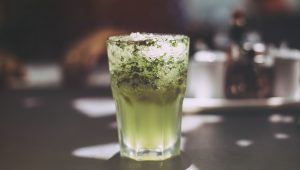 Image by Free-Photos from Pixabay
Tian Tian Chicken Rice
Nowhere else in the world can you enjoy a Michelin-starred meal for less than $5.
More complex than its name suggests, Chicken Rice is the Malay national dish and, when done well, one of the best meals you'll have in your whole life. Succulent chicken pieces laid on a bed of nourishing, perfectly fragrant white rice; the Malay have been making this dish for thousands of years and elevated it to something that exceeds the sum of its parts. If you're going to eat this meal just once during your trip (you'll undoubtedly want to repeat the experience), this is the place to eat it.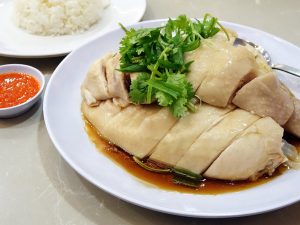 Image by Jason Goh from Pixabay
Paranakan Cuisine
Distinctive of Singapore, Paranakan cuisine is the food developed by the people of mixed Malay and Chinese descent who call the island home.
Rich and spicy and nicknamed "Nyonya food" after the grandmothers who are its true masters, some of the typical ingredients include cooking include coconut milk, laksa leaves, lemongrass, and tamarind. You can try many of its dishes on the cheap at the hawker centers, or shell out for a high end multi-course Paranakan meal at Candlenut; it's worth it.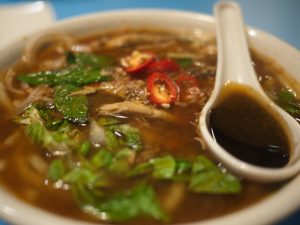 Image by Melvin Chia from Pixabay
Haji Lane
Anthony Bourdain ate here when he visited for his show, and you should too. An alleyway lit up with psychedelic murals, it's best to visit Haji Lane at night, when you can enjoy outdoor seating at one of the many restaurants, groove to live music, and feast your eyes on the colorful storefronts while you dig into your meal.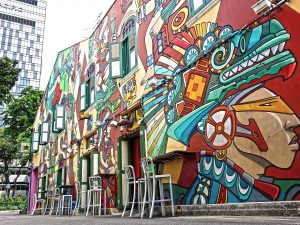 Image by Jason Goh from Pixabay
Chinatown Food Street
There's a lot to see and eat in Singapore's Chinatown, but if you're short on time you should head straight to Food Street. A hawker center in its own right, this picture-perfect street is lined with tables and bright red chairs, the stalls on either side emanating rich, wonderful smells.
It's a good spot to try some stingray, slurp a million different takes on noodles, and to feast on Peking duck if you have a few friends in tow.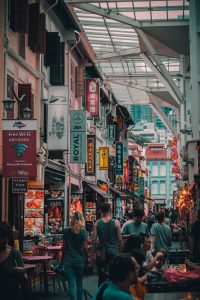 Photo by Lily Banse on Unsplash
Nasi Lemak
Coconut rice, a bit of fried chicken, a slice of cucumber and some chili sauce; this is a well-rounded plate of comfort food and a Malay home-cooking favorite. Walking through the downtown core, you're going to pass any number of stalls with "nasi lemak" in the name. They're all good, but if you want a sure thing, try the local chain Ponggol Nasi Lemak.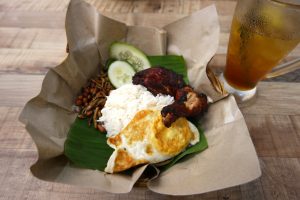 Jen Batler
Sambal Stingray
Didn't know you could eat this enchanting sea creature? You can, and it's delicious. It's uncommon to find stingray on the menu outside of South-east Asia, so if you're in Singapore you've got to try it. Typically sold by the wing, grilled, and slathered with the chili paste sambal, you can find this local delicacy at BBQ street stalls and upscale restaurants alike.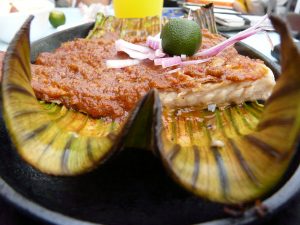 Wikimedia
Laksa
There are three dishes you can't leave Singapore before eating: chicken rice, chili crab, and laksa, a spicy noodle soup. Incorporating native ingredients, laksa is one of those dishes that, though copied, never tastes quite right anywhere else in the world. Thick noodles in a coconut-based curry are topped with prawns, bean sprouts, and other amazing things depending on the chef's creative flair. These bowls of piquant goodness are available at stalls all over the city.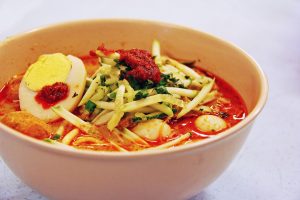 Image by Sharon Ang from Pixabay
Dessert
Singapore's sweets are as colorful as its tropical plant life. First up is Ice Kachang, a shaved ice concoction doused with flavored syrups and heaped with toppings.
Another must-try is Tang Yuan (literal translation: soup ball), glutinous rice dumplings stuffed with filling, floating in sweet syrup. And you've never seen a more literal take on the ice cream sandwich than the local favorite, Rainbow Ice Cream Bread, which is a block of vanilla ice cream wrapped in a slice of colorful bread.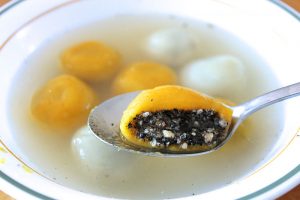 Wikimedia
5 Travel Tips
Singapore is a first-world stop on the map, so you don't have to worry about much when you travel there. Nonetheless, here are a few insider hints that'll make your trip as enjoyable as possible.
1. Consider the climate
Singapore is hot and humid pretty much the entire year, and you should avoid going in June or July when the heat is off the charts and many of the locals go on holiday.
Pack light and bring a compact umbrella or a rain jacket—it is the subtropics, and tropical monsoon downpours can break out unexpectedly.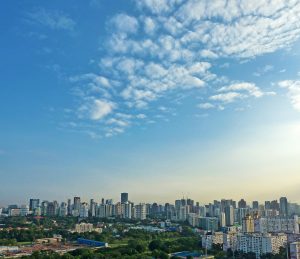 Image by Jason Goh from Pixabay
2. The early bird... you know the rest
Many of the attractions listed above are tourist magnets, so if you want to avoid the crowds, head out early. If you can grab a ticket online beforehand and line up ten minutes or so before they open, it's the best way to have the Botanical Gardens or the Merlion to yourself and to beat the heat.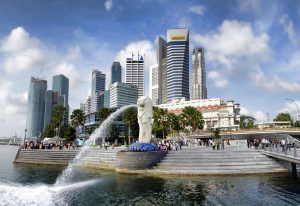 Image by Graham Hobster from Pixabay
3. Be fine, but don't get fined
Singapore is uncommonly safe and clean for a big city—but there's a reason for that. Police are vigilant about people littering, spitting, or otherwise cluttering up the pristine streets.
Follow your common sense and be respectful of your surroundings, and you won't have any inconvenient tickets to pay before you head home.
Image by PublicDomainPictures from Pixabay
4. Venture outside the city limits
There are a lot of amazing islands that are just a bumboat ride away, like Pulau Ubin, where lagoons and beaches await. It's also close enough to the mainland that you could devote a few days of your vacation to Kuala Lampur, which rivals Singapore in terrific food and space-age skyscrapers.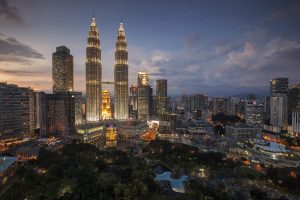 Pixabay
5. Hitch a ride
Though Singapore is very walkable, there's so much to do that you'll want to get ferried around some of the time. Get a public transit map and an EZ-Link Pass and use public transit.
It's fast, cheap, and adorable, and will get you anywhere you want to go.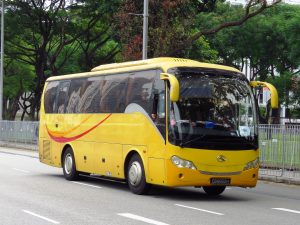 Image by Arulonline from Pixabay
---
KEEP ON READING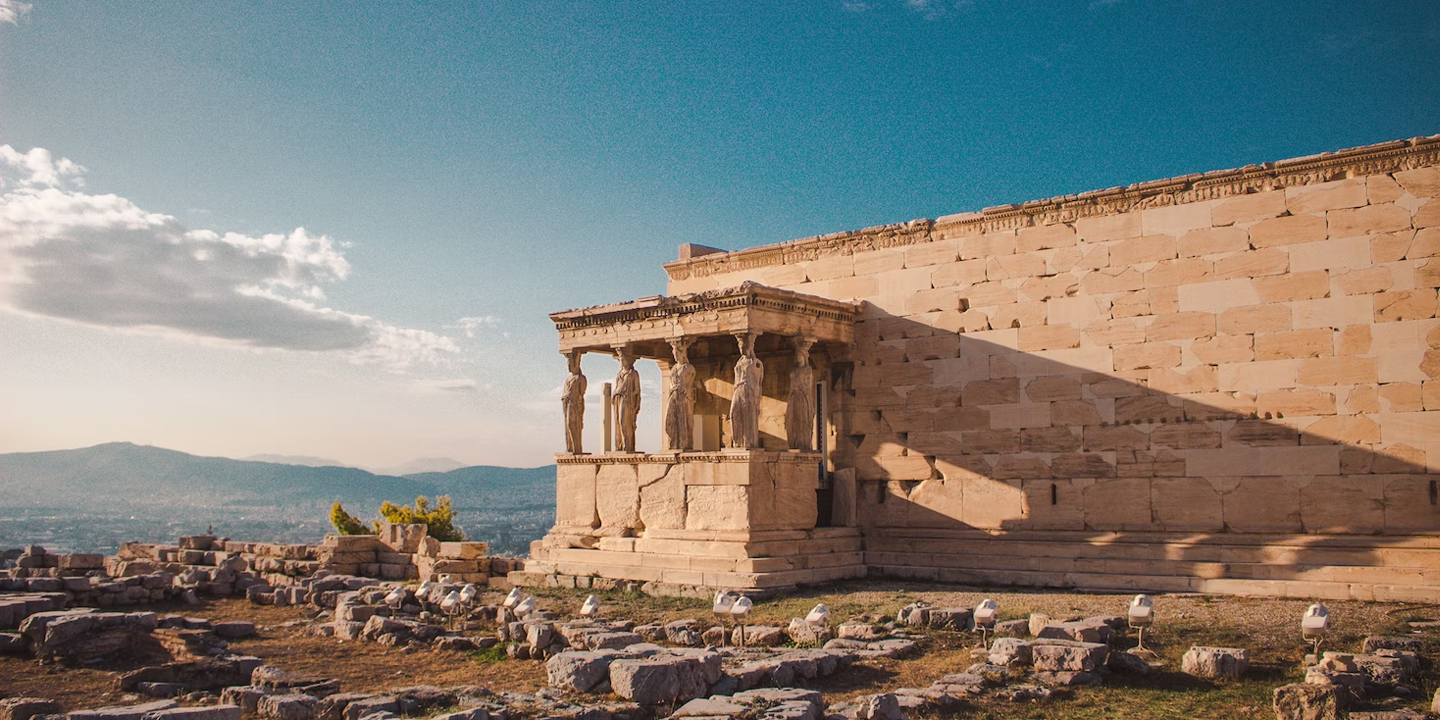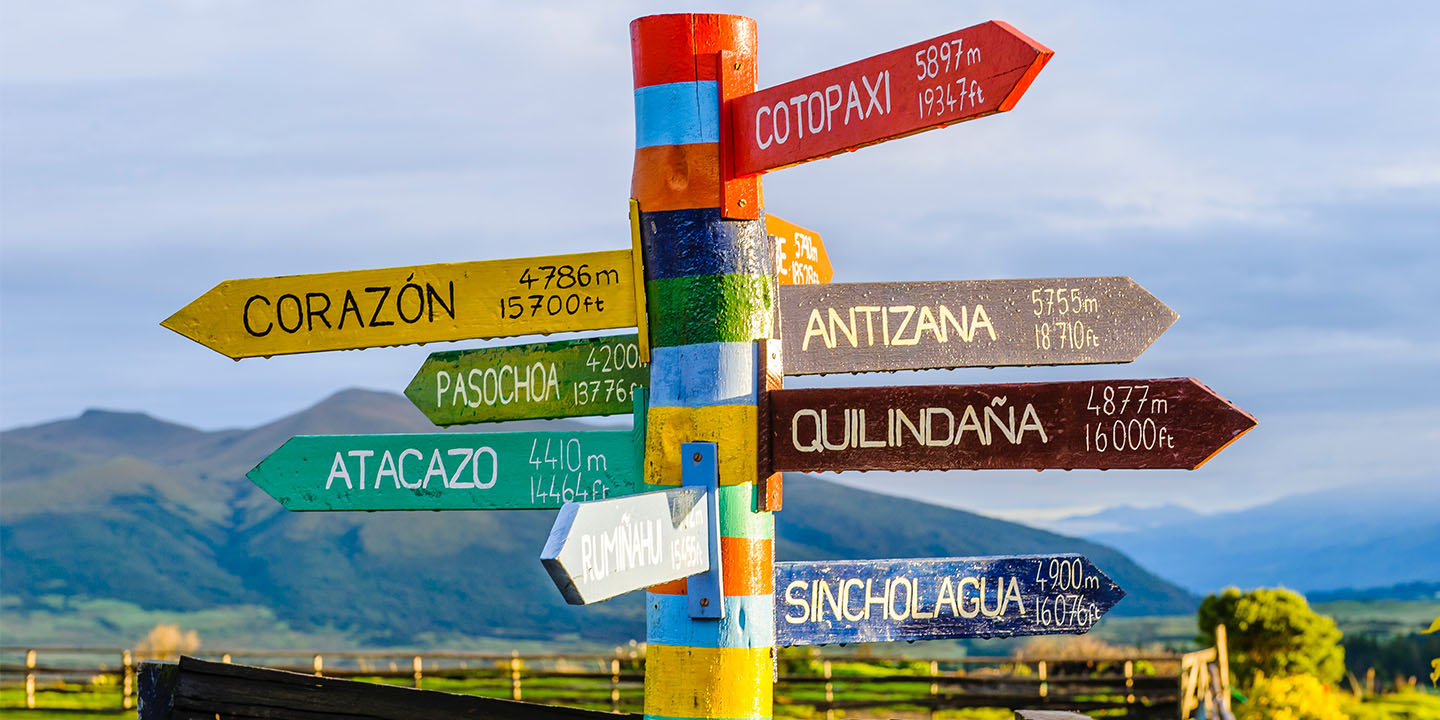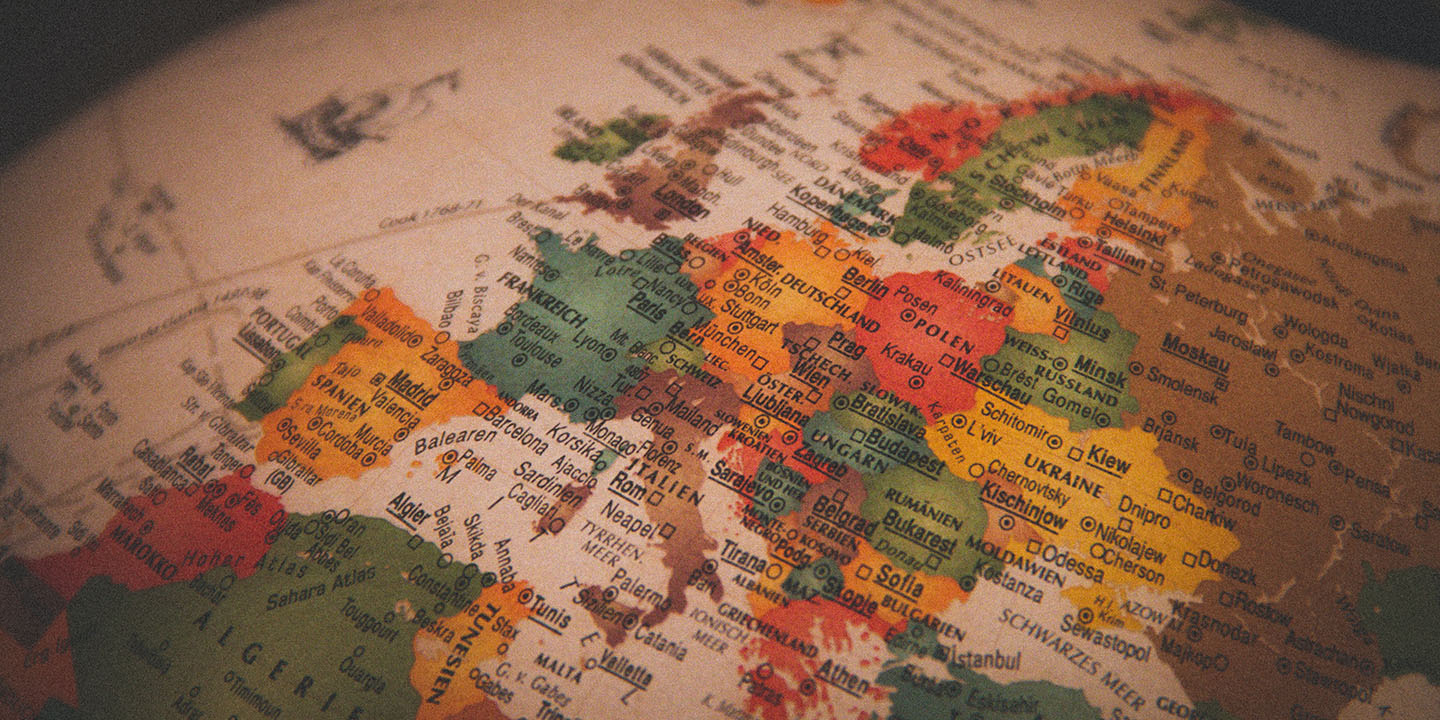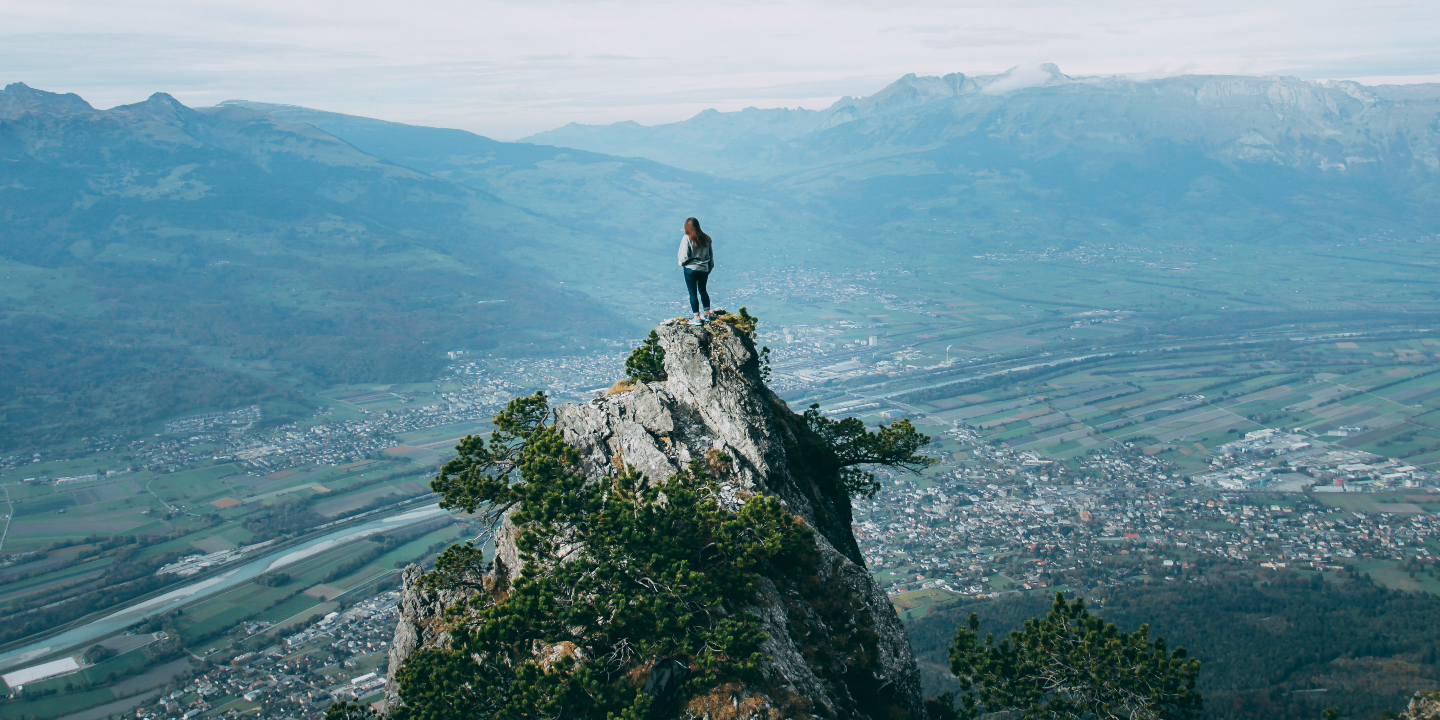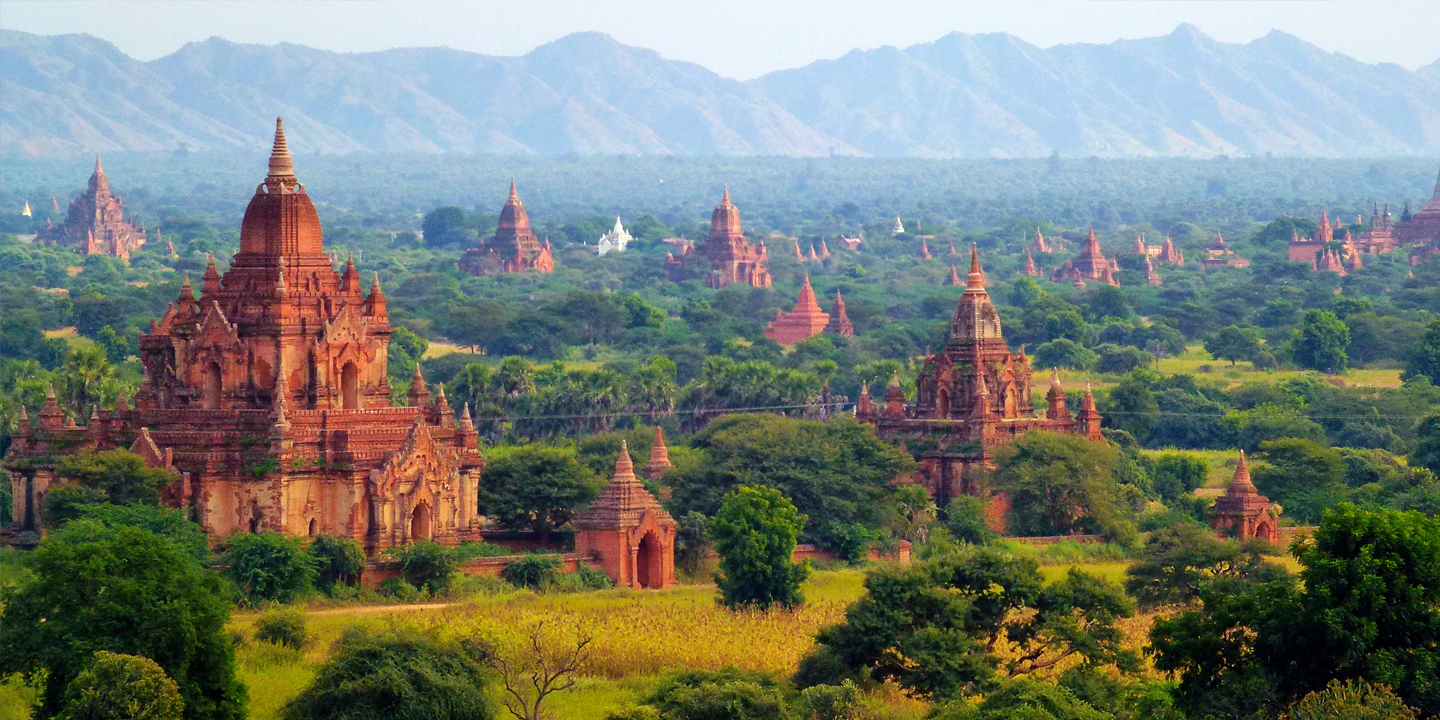 ---