The Cheapest Michelin-Starred Restaurants Around The World
A Michelin star is the holy grail in every chef's quest to be better than the rest. For diners, it's a guarantee that you're in for a treat. Sure, you could drop $600 on the tasting menu at Masa—but the restaurants on this list prove that you don't have to spend a month's rent to eat the most amazing food. Here's our list of the cheapest Michelin-starred restaurants around the world.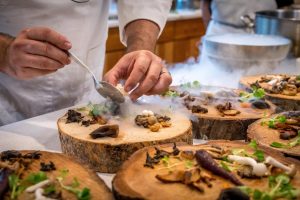 Photo by ELEVATE from Pexels
---
40. La Gaichel in Eischen, Luxembourg
Price of a two-course meal: $44.70
Take a scenic drive from Luxembourg and you'll stumble upon this restaurant in a traditional family hotel with a tennis court and stone terrace. Like the hotel, the food is traditional French gourmet, with mousse de canard (duck mousse), fondue savoyarde (cheese fondue), and tarte au citron (lemon tart) all featuring prominently on the menu.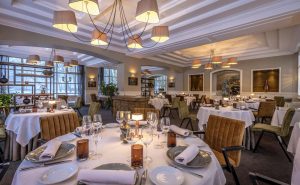 Image / La Gaichel
39. Sinne in Amsterdam, Netherlands
Price of a two-course meal: $44.70
A boutique resto in Amsterdam serving modern Swedish fare, Sinne is high concept but still affordable. It takes delicacies like veal tartare and Dutch fowl and turns them into artful dishes that are a feast for the sense—which is in keeping with the restaurant's motto of "come in and taste, see, smell, and feel".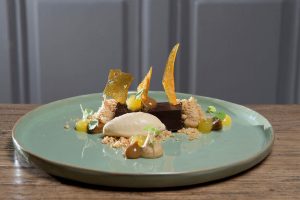 Image / Sinne
38. Tian in Vienna, Austria
Price of a two-course meal:

Advertisement

 $42.40
Vegetarians rejoice—at this Michelin starred restaurant the fare is meat-free and fabulous. The eight-course tasting menu takes humble ingredients, like red cabbage and potato, and elevates them into tasty morsels that will have your tongue singing.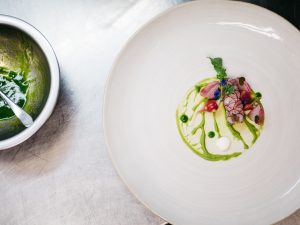 Image / Tian
37. Mee in Rio De Janeiro, Brazil
Price of a two-course meal: $42.10
The first luxury Asian restaurant in Brazil chose the Copacabana Palace as its home. Two Michelin stars promise that the food is as decadent as its surroundings. The menu takes guests on a trip around Asia, with spicy Thai salad, Vietnamese crab, and creative cocktails like a duck-infused Bloody Mary.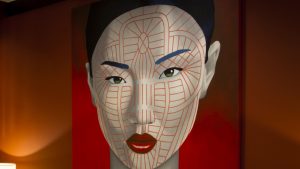 Image / Mee
 

36. Le Pilori in Écausinnes, Belgium

Price of a two-course meal: $41.30

Dinner at the foot of a castle—does it get any more chic than that? Le Pilori's menu boasts all the finest French dishes, but you might have to wait on a reservation to try them—the restaurant is only open one weekend per month throughout the year. 
Photo by Yente Van Eynde from Pexels
35. Premiere in Athens, Greece
Price of a two-course meal:

Advertisement

 $40.10
From a splendid balcony with a view of the Acropolis, Premiere is the place to eat in Athens. Michelin describes the experience as "fresh ingredients, capably prepared; simply a good meal". The delicious Mediterranean fare is paired with unique Greek wines.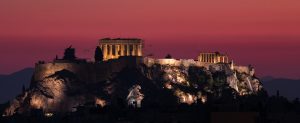 Unsplash
34. Greenhouse in Dublin, Ireland
Price of a two-course meal: $40.10
Contemporary Irish cuisine with a farm-to-table philosophy fuels this little gem on the Emerald Isle. Prided as the "best lunch in Dublin," the menu features hand-dived scallops, line-caught pollock, and milk-fed lamb. With ingredients so carefully sourced, it's no wonder the restaurant has earned two Michelin stars.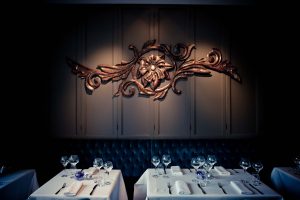 Image / Greenhouse
33. Atelier Amaro in Warsaw, Poland
Price of a two-course meal: $38.80
"Where nature meets science" is the tagline of this enigmatic restaurant in Warsaw. The menu for this one remains deliberately mysterious.
Chef and owner Wojciech Modest Amaro like to source ingredients daily and creative new takes on Polish cuisine on the fly. As a result, you never know what will be brought to the table—but rest assured it will be good.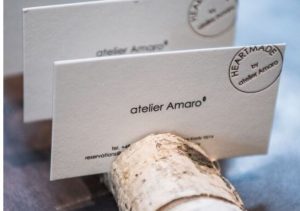 Image / Atelier Amaro
32. Alma in Lisbon, Portugal
Price of a two-course meal: $37.80
Portuguese cuisine that incorporates global influence and ingredients is the signature of this fine dining establishment in Lisbon. Opened nine years ago, Alma was awarded its first star early, and then another a few years later. If chef Henrique Sa Pessoa keeps upping his game he'll no doubt get a third, in which case Alma might no longer be one of the cheapest Michelin-starred restaurants around.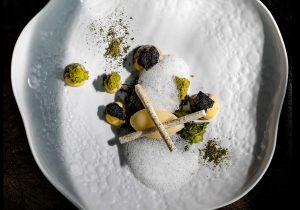 Image / Alma
31. La Riva in Lai, Switzerland
Price of a two-course meal:

Advertisement

 $32.30
With the atmosphere of a family restaurant and mountains all around, this cozy place is serving up French and Swiss fare. Fresh ingredients are prepared into gem-like dishes of classic fare made modern. It's the perfect place to eat before or after hitting the slopes.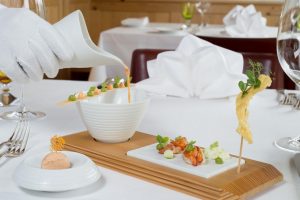 Image / La Riva
30. Stazione di Posta in Rome, Italy
Price of a two-course meal: $32.10
The way the modern, artsy dining lounge looks now, it's hard to tell that it used to be an active slaughterhouse. The restaurant serves un-fussy Italian home cooking that's just plain good. Think rustic lentil soup with ricotta dumplings, and perfectly al dente pasta in pork ragu.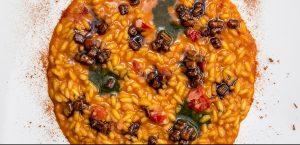 Image / Stazione Di Posta
29. La Vara in New York City, USA
Price of a two-course meal: $32.00
Neighborhood fave La Vara packs big taste into a tiny footprint. Appropriately, the 30-seater in Brooklyn serves small plates: Spanish tapas with Jewish influences. The bites might be tight, but they're cooked to perfection. Fried artichokes, noodle paella, and morsels of suckling pig are just some of the treats on the Michelin star's menu.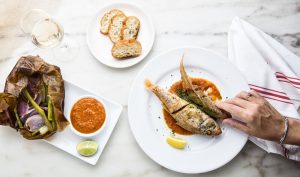 Image / La Vara
28. Strandlodge in Winterswijk, Netherlands
Price of a two-course meal: $31.50
"Think global, eat local" is the motto of the colorful eatery. Strandlodge serves country cuisine with the chef's creative flair, taking its inspiration from what the local peasants have been eating for centuries. Tuck into an extra-special experience by ordering the "surprise menu," instead of a la carte.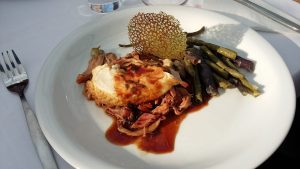 Image / Strandlodge
 

27. Cookies Cream in Berlin, Germany

Price of a two-course meal:

Advertisement

 $28.70

With a name that conjures images of a futuristic ice cream bar, Cookies Cream is anything but. The elegant kitchen in Berlin treats diners to sensational vegetarian cuisine that defies being limited to a region or category. Irreverent and fun, the culinary team focuses on pushing the boundaries of taste by way of unlikely taste pairings such as cauliflower with peanuts, Szechuan pepper, and banana. And, oh wait, they do have ice cream: celery and apricot-saffron are two popular flavors.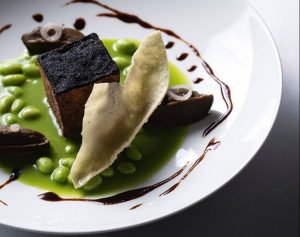 Image / Cookies Cream
26. Antiqvvm in Porto, Portugal
Price of a two-course meal: $28.70
The moody dining room at Antiqvvm looks like a place movie stars would have frequented in the sixties, clinking glasses and nibbling between witty asides. The menu takes local ingredients and makes them truly shine, especially when it comes to seafood.
Delicacies like blue lobster with yuzu and curry, and codfish tongue with cured egg are clues to how this restaurant earned its place in the Michelin hall of fame.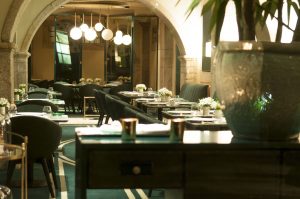 Image / Antiqvvm
25. Florian Maison in San Paolo d'Argon, Italy
Price of a two-course meal: $28.70
This restaurant hiding in a boutique hotel in northern Italy is hailed for its serenity and comfort. The hearty fare the region is known for, like homemade pasta in a ragu, is done to perfection here. The tasty gourmet dishes prepared by the kitchen are as beautiful as they are delicioso.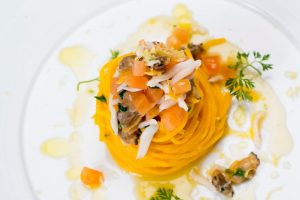 Image / Florian Maison
24. Costes Downtown in Budapest, Hungary
Price of a two-course meal: $28.10
Putting a Hungarian spin on modern gastronomy is this stately restaurant in Budapest. Though the cuisine here is elevated, it still resembles its inspiration, which comes from humble food served by Hungarian grandmothers at home.
You won't leave Hungary hungry.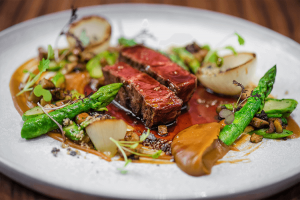 Image / Costes Downtown
23. Field in Prague, Czech Republic
Price of a two-course meal: $27.80
Field is bold both in image and philosophy—its logo contains a sharp scythe, and chef Radek Kašpárek describes his own cooking as "stubborn". They have a ten-course tasting menu and an a la carte menu which lists only the raw ingredients. What the chef does with them remains a mystery until your meal is served—according to the restaurant, "we are not afraid of letting things take their course".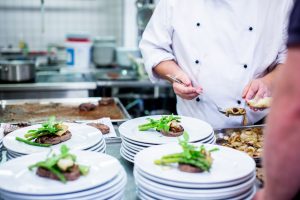 Photo by Rene Asmussen from Pexels
22. The Ninth in London, UK
Price of a two-course meal: $26.80
This romantic, broody dining room served the best French cuisine in London at prices so good you won't have to go dutch with your date. Daring takes on food from the Riviera include razor clam ceviche, slat-baked roe deer, and a tart tatin with rosemary ice cream.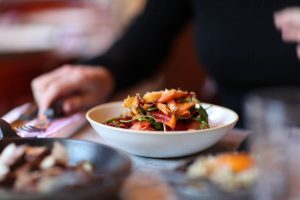 Image / The Ninth
21. Band of Bohemia in Chicago, USA
Price of a two-course meal: $26.00
Taking the gastropub to another level is what this Chicago restaurant is excelling at. A roster of craft beer compliments the menu, which includes creations like saffron fettuccine and short ribs served with waffles. Aside from the brews, the chef says his dishes are inspired by childhood snacks, fast food chains, and cuisine from his travels.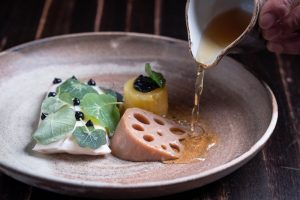 Image / Band of Bohemia
20. Tail Up Goat in Washington DC, USA
Price of a two-course meal: $26.00
It calls itself a Mediterranean bistro, but what this cheekily-named resto does really well is combining that cuisine with one that's more local. Spanakopita rubs shoulders on the menu with Carolina gold rice and maple sugar-rubbed pork.
It's the best of both worlds.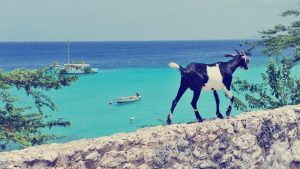 Image / Tail Up Goat
19. Esquina Mocoto in São Paulo, Brazil
Price of a two-course meal: $24.50
One of the best restaurants in Brazil, Esquina Mocoto succeeds by taking the São Paulo dining scene back to its roots. An open kitchen and a small dining room with a pared-down staff—sometimes the chef is also your server. The food is exquisite, locally-sourced, and celebrates all things Brazil.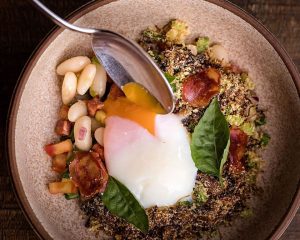 Image / Esquina Mocoto
18. Bistro Racine in Braine-le-chateau, Belgium
Price of a two-course meal: $22.90
The Michelin guide describes the food here is "delicate, free of superfluous frills and rich in full flavors". Paired with a great wine list and top value for money, and you have a perfect dining experience where you'd least expect it—in a small town an hour outside of Brussels. The food is a unique mix of classic and unexpected—where else can you find duck ravioli and chowmein on the same menu?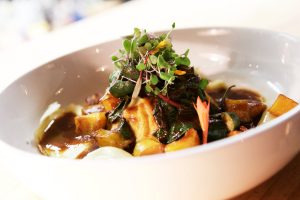 Image / Bistro Racine
17. Vintage 1997 in Turin, Italy
Price of a two-course meal:

Advertisement

 $22.90
The food at Vintage 1997 looks more like art than like something to dig into with a fork, and it tastes as good as it looks. On first impressions, the menu is very traditional Italian, with dishes like tuna chateaubriand and potato gnocchi. It's the execution that makes it great, and the reason why people rave about this surprisingly cheap Michelin-starred restaurant.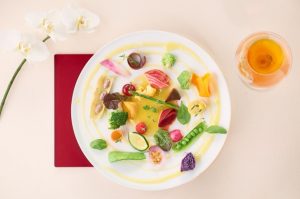 Image / Vintage 1997
16. Le Pousse-Pied in La Tranche-sur-Mer, France
Price of a two-course meal: $22.90
Seasonal fare prepared with care and just a hint of innovation is the humble philosophy behind this recent addition to the cheapest Michelin-starred restaurants. Grilled salmon with new asparagus and lemon-butter jus is just an example of the menu offerings, which change seasonally and never has more than four items on it.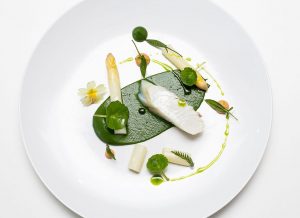 Image / Pousse Pied
15. Fritz's Frau Franzi in Dusseldorf, Germany
Price of a two-course meal: $22.40
This whimsical restaurant was awarded its first Michelin star less than a year after it opened (some chefs wait for decades). The decor keeps it cool and trendy, and the cuisine is equally meant to delight. The most popular dish here is a pork belly that's slow-roasted for 36 hours, served with mashed potatoes, fried mushrooms, and mushroom gravy.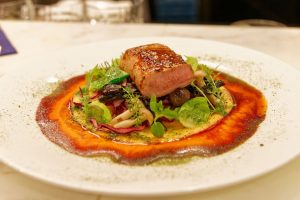 Image / Fritzs Frau Franzi
14. Tuju in São Paulo, Brazil
Price of a two-course meal: $22.40
Chef Ivan Ralston created Tuju not to champion any specific cuisine over another, but to take food-lovers on a journey. With each dish he incorporates his own creative takes on ingredients and technique, delivering an eating experience that transcends location and expectations.
To that end, the menu contains surprises like cold peanut soup, cassava mochi, marinated mackerel, and chocolate pie.
Image / Tuju
13. Ten-you in Kyoto, Japan
Price of a two-course meal: $21.40
This modest tempura restaurant doesn't even have a website. The serene interior is minimalist, hinting that the whole point of being here is to enjoy the food. At Ten-you, the kitchen makes magic by tossing local, seasonal produce and seafood in an ultra-light batter, and then frying it in cottonseed oil. The result is the tastiest tempura in the world that you can get for a mere $20.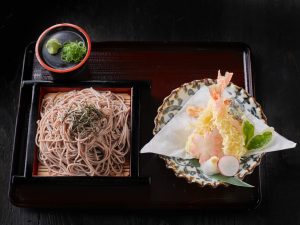 Pexels
12. The Coach in Marlow, UK
Price of a two-course meal: $21.10
A British pub with a Michelin star that's cheap to boot? We're so there. It doesn't get any more classic than this: rotisserie quail with haggis and turnip, fish fritters with pease pudding, and a scotch egg that's served with bisque. Anyone who still claims that British food is bland is just plain wrong—or maybe they just need to visit The Coach.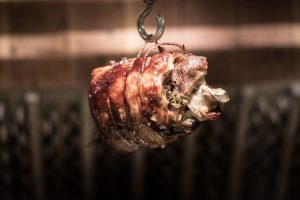 Image / The Coach
11. King in Macau, Macau
Price of a two-course meal:

Advertisement

 $18.60
This Cantonese restaurant in an unassuming commercial building is always busy—but if you show up without a reservation, they'll still make room for you. Even more famous than its amazing service is the wonderful food. Chef classics like baked pigeon grace the menu alongside an unrivaled variety of dim sum.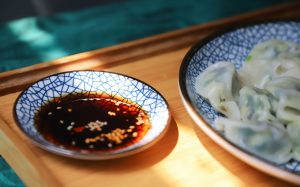 Photo by Buenosia Carol from Pexels
10. Al's Place in San Francisco, USA
Price of a two-course meal: $18.00
As one of the best cities for food in America, it's surprising there aren't more San Francisco restaurants on this list. Al's Place is dishing up the tasty-but-healthy food the city is known for but still manages to keep an attractive price point. The creative menu plays all over the map, with ingredients like dukkah, bagna cauda, vadouvan almonds, and nori tostones.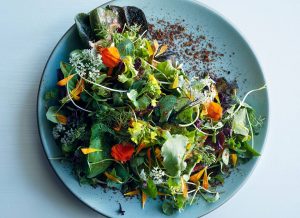 Image / Al
9. L'Antic Moli in Castell, Spain
Price of a two-course meal: $16.60
A visit to L'Antic promises cutting edge Spanish food at a bargain. Pioneering the Slow Food movement in Spain, the chef is fusing new techniques with the same food Spanish grandmothers love to cook. Even though the entrées sound humble—"Rice with mushrooms, peas, leek and garlic with grilled prawns"—they're anything but.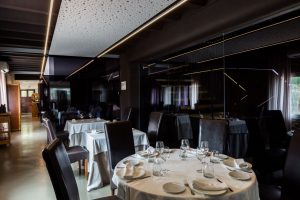 Image / L
8. Lao Zheng Xing in Shanghai, China
Price of a two-course meal: $14.60
The oldest restaurant in the city holds the triple distinction of also being the best and the cheapest. It's all about old-school Chinese fare centered around a peculiar local ingredient: river shrimp. The restaurant serves hundreds of plates of these tiny shrimp every day, fried to perfection.
Adding a bit of spice to the meal is the fact that its Michelin star scoop created quite the stir.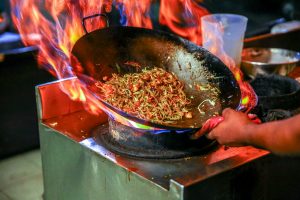 Photo by Prince Photos from Pexels
7. Three Coins in Taipei, Taiwan
Price of a two-course meal: $13.00
In a lot of ways, Three Coins is like every Chinese restaurant you've ever been to—a huge dining room decorated in red and gold, a picture menu, and seemingly endless ways to eat duck. However, in this case, every element is done with total elegance and zest. It's the kind of place you bring your whole family for a feast.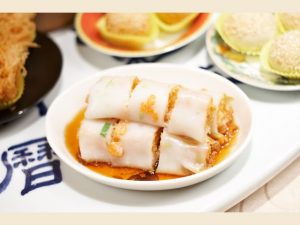 Image / Three Coins
6. Ginza Ibuki in Tokyo, Japan
Price of a two-course meal: $12.70
The artistry and attention to detail in Japanese cooking is no secret, and Ginza Ibuki is one of the best places to experience it. Serving up small dishes that look like art, this is the destination for anyone who wants to challenge their definition of what sushi can be.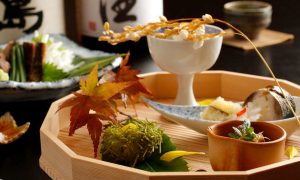 Image / Ginza Ibuki
5. Jay Fai in Bangkok, Thailand
Price of a two-course meal: $12.00
A street stall on one of the busiest roads in backpacker central, Bangkok, is feeding the hungry masses amazing Thai food. But don't take the Michelin guide's word for it—trust the long lines that form there no matter what time of day it is. People come from all over to chow down on the stalls congee, curries, and outstanding crab omelets.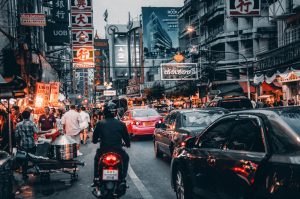 Photo by suzukii xingfu from Pexels
4. Chugokusai S.Sawada in Osaka, Japan
Price of a two-course meal: $9.70
It's somewhat ironic that one of the cheapest Michelin-starred restaurants is a place selling Chinese food in Japan. Chugokusai's Hong Kong-trained chef, Sawada Shuhei, treats foodies to Eastern comfort food classics, like crispy chicken, stir-fried vegetables, and fist-sized shrimp shumai.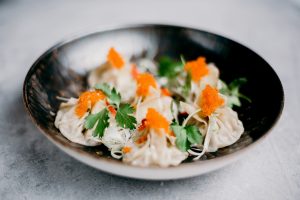 Photo by cottonbro from Pexels
 

3. Hamo in Seoul, South Korea

Price of a two-course meal:

Advertisement

 $7.10

Korean bibimbap might just be the perfect food, and Hamo is rocketing the meal in a bowl to new heights of deliciousness. The dishes here draw on centuries of cuisine wisdom from the Joseon dynasty, creating home-cooked food that's anything but homely. The restaurant's signature bibimbap is a cloud of steaming rice heaped with toppings like pork belly and egg, accompanied by side dishes in a rainbow of tastes and textures.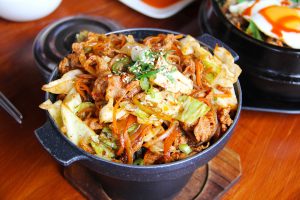 Pixabay
2. Tim Ho Wan in Hong Kong
Price of a two-course meal: $3.80
"Hong Kong's Best Dim Sum" has the Michelin star to back up its lofty claim. The star of the chain's menu is its famous BBQ pork steam bun. The milky bun with a glazed top is stuffed with savory-sweet char siu, succulent barbecued pork that's flavored with Chinese spices and sticky red sauce. And with prices like this, you could buy a baker's dozen without breaking the bank.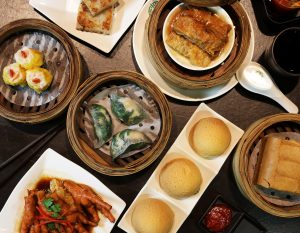 Image / Tim Ho Wan
1. Liao Fan Hong Kong Soya Sauce Chicken Rice & Noodle in Singapore
Price of a two-course meal:

Advertisement

 $2.20
We've written about how good the food is in Singapore (check out our ultimate guide to visiting the city, in which Liao Fan gets a mention). Is Liao Fan the best? It is according to Michelin, which awarded the hawker stand with a star back in 2016. Since then, the Malaysian chicken rice spot has opened two more locations to accommodate fans of its super tasty—and super cheap—dish.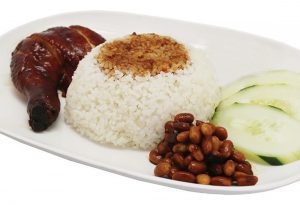 Image / Liao Fan Hawker Chan
---
KEEP ON READING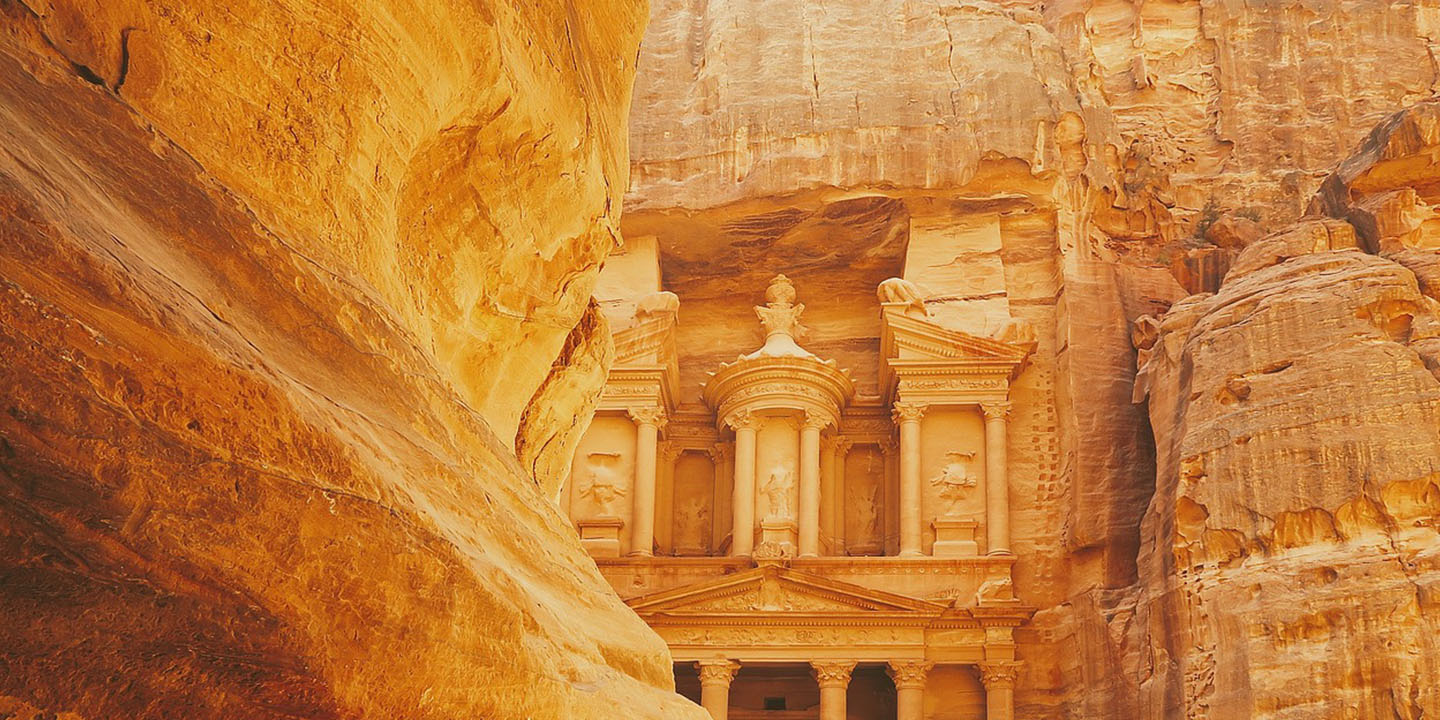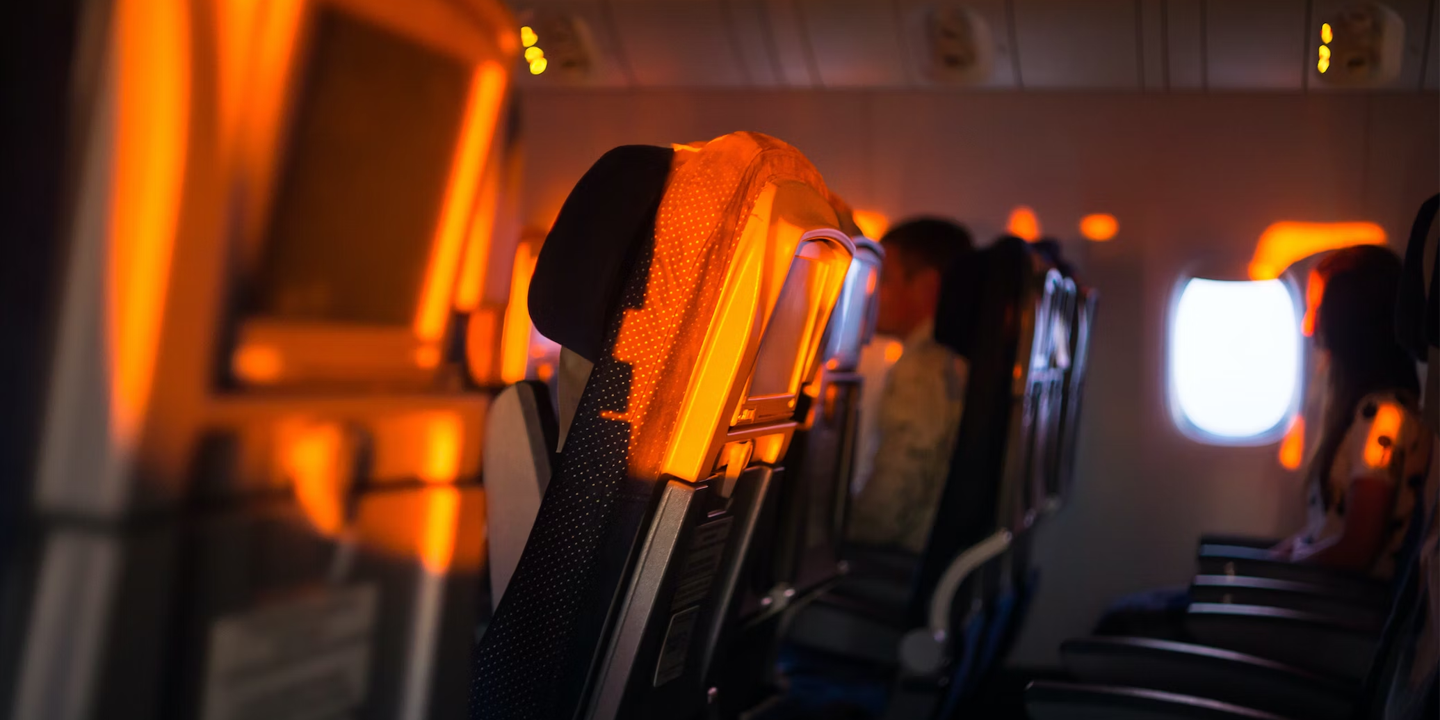 ---