Go Wild: The Least Visited National Parks In The US, Ranked
The USA has some of the most variegated terrain in the world, but we tend to take it for granted. Mountains, wetlands, forests, canyons, and deserts -- there's almost more natural beauty inside the country's borders than anyone can absorb in one lifetime. Luckily, the States has 61 federally protected national parks where visitors can enjoy beautiful views, cozy up to local flora and fauna, and be surrounded by untouched wilderness. 
California has the most national parks with 9, followed by Alaska, with 8, then Utah and Colorado with 5 and 4 respectively. The Grand Canyon, Yosemite, and Yellowstone are among the most visited. However, as much as we should support these protected areas by visiting them, some sites are now suffering from overcrowding.
One of the reasons we love to visit them is to escape civilization for a while; but what kind of escape is it if you're bumping shoulders with other hikers in the Everglades? Not all parks suffer from this problem, however. Avoid the crowds and commune with nature, and only nature, by heading to one of these least-visited national treasures instead. Some of them may be closer than you think.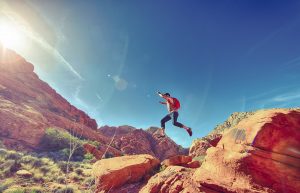 Image by stokpic from Pixabay
---
30. Wind Cave National Park, South Dakota
Annual visitors: 656,397
Fun fact: The caves are said to "breathe," from the fact that changes in atmospheric pressure due to weather cause air to pull in and out of them.
When prospectors found that this cave system was devoid of valuable minerals, they began developing it for tourism as early as 1890. In 1892, when the caves opened, tourists originally explored the caves by candlelight—a frightening idea when you consider one of the cave's distinguishing features is wind. Inside, the caves have interesting mineral formations like Moonmilk and Helictite "cave popcorn". Outside, the surrounding plains are home to one of the last four free-roaming bison herds in North America.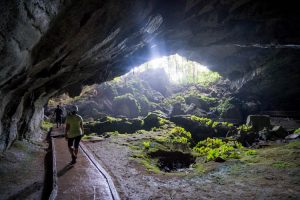 Wikimedia
29. Petrified Forest National Park, Arizona
Annual visitors: 644,922
Fun fact: Theft of the petrified wood that distinguished the park is a continuing problem.
The colorful striations of the badlands are one of those wonders that make you appreciate what an artist nature can be. Other than the Painted Desert, the colorful terrain of this park also includes the semi-desert steppes, and its namesake, a display of petrified stumps and trunks from trees that existed 225 million years ago. This is one national park where you can't camp overnight, but during the day it's a great place to tour via hike, bike, or motorcycle, especially if you want to recreate that Ease Rider vibe.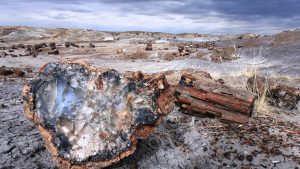 Image by Jill Mackie from Pixabay
28. Glacier Bay National Park and Preserve, Alaska
Annual visitors:

Advertisement

597,915
Fun fact: Due to it being inaccessible by roads, most of the park's visitors arrive on cruise ships.
This park, accessible by air or boat and straddling the US-Canada border, is an ideal nature-watching hotspot. It's home to hundreds of species that thrive in its subarctic climate, including timber wolf, coyote, moose, black-tailed deer, red fox, beaver, lynx, otter, mink, wolverine, and mountain goat. Hiking, mountaineering, and camping are all wonderful ways to spend time with the epic terrain studded with glaciers, from which the park takes its name.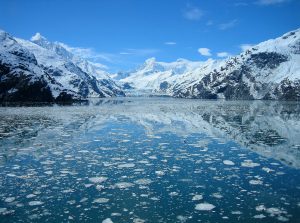 Image by David Mark from Pixabay
27. Denali National Park and Reserve, Alaska
Annual visitors: 594,660
Fun fact: In the language of the Athabascan people native to the region, Denali means "the high one".
The star attraction here is Denali, the tallest mountain in North America.
Covering more ground than the entire state of New Hampshire, the snow-capped peak soar above plains that are covered in a breathtaking array of wildflowers during the warmer months. Besides the mountains, the hiking trails, and glaciers, one of the most interesting sights here is the "Drunken Forest," so-called because routine freezing and de-freezing of the permafrost under the trees have caused them to lean at all angles.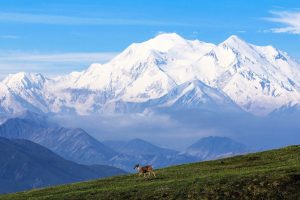 Image by skeeze from Pixabay
26. Mesa Verde National Park, Colorado
Annual visitors: 563,420
Fun fact: Much of the destruction of this archeological site is due to humans breaking down walls to allow light into areas they thought might reveal hidden treasures.
A UNESCO World Heritage Site, this park is unique on the list for being distinguished by manmade wonders instead of natural ones.
Over 600 cliff dwellings, former home to Paleo-Indians who lived here around 7,500 BCE, are built into the terracotta-hued rock. The dry desert air is to thank for preserving them so well; in some cases, it seems like they would be move-in ready today. Main attractions include the Cliff House, Spruce Tree House, and Fire Temple, all of which can be accessed on the guided tour, a fairly easy two-hour hike.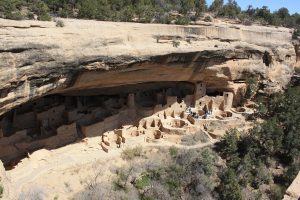 Image by fordidea from Pixabay
25. Mammoth Cave National Park, Kentucky
Annual visitors: 533,206
Fun fact: Discoverers are still finding connections to other cave systems in the area via almost impassably narrow tunnels.
This cave system is the longest known in the world, and has several staggering underground features, like the Rotunds room, a large naturally-formed circular cavern, and the Limestone Labyrinth, which sounds like it should have its own reality competition show.
Though not the cutest, the Mammoth Caves are also home to an endangered species of shrimp, the blind albino Kentucky cave shrimp, which dwells in the tepid pools fed by the water that drips down the rocks from the forest above.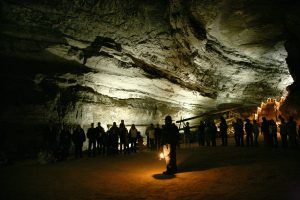 Wikimedia
24. Lassen Volcanic National Park, California
Annual visitors: 499,435
Fun fact: Lassen has 14 permanent snowfields nestled within its heights.
Thanks to its position on top of the volatile Gorda Plate, there's a lot of ongoing volcanic activity happening at Lassen Peak, though none of it as destructive as a full eruption. Hot springs, mud pots, and fumaroles emitting stinky gasses are the main attraction here, along with scenic hiking along the trails, which have a stunning view of Mount Shasta.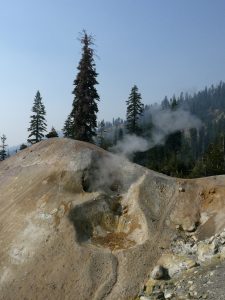 Image by ArtTower from Pixabay
23. Redwoods National Park, California
Annual visitors: 482,536
Fun fact: The Smith River that flows through the park is the longest undammed river in California.
Strolling through the massive redwood trees of this old-growth forest is akin to a spiritual experience. After mass deforestation during the Gold Rush and later during World War II, when the need for timber was high, the untouched wilderness of the Redwoods Park is especially rare and precious; 96% of the trees that originally covered 2 million acres in California have been logged. You can't camp inside the park, but you can stay nearby and explore on horseback, by kayak, or on hiking trails that venture to the area's natural splendors, like Fern Canyon.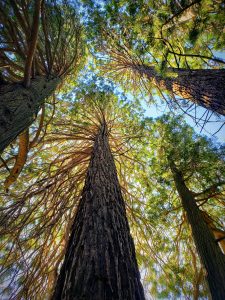 Image by ThreeMilesPerHour from Pixabay
22. Biscayne National Park, Florida
Annual visitors:

Advertisement

469,253
Fun fact: Locals call Columbus Day long weekend, during which the area is a draw for boaters, "the most dangerous weekend of the year," due to the high frequency of boating accidents.
This park encompasses Biscayne Bay off the southern shore of Miami, and protects a portion of the Florida reef, barrier coral reefs that are endangered. The islands, such as Elliot Key, are actually coral formations covered with a thin layer of topsoil. The bay is host to marine life like manatees, mollusks, and countless species of rainbow-hued fish. There is a campground, and kayaking, snorkeling, and scuba diving are all popular activities.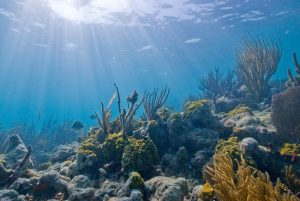 Wikimedia
21. Carlsbad Caverns National Park, New Mexico
Annual visitors: 465,912
Fun fact: Originally explored by Jim White, who descended the caves on a rickety ladder when he was only a teenager.
One of the definitive features of this cave system is the whimsical names of the formations given to it by its young first explorer, Jim White. The Queen's Chamber, Hall of the White Giant, and Lake of the Clouds can now be accessed by even unseasoned spelunkers. The site has over 110 different caves to explore, some of which have only been recently discovered. A popular spectacle unique to these cave is the Bat Flights, when at dusk the cave's bat population takes to the air en masse.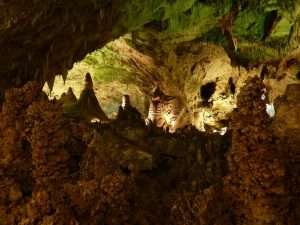 Image by Martin Str from Pixabay
20. Great Sand Dunes National Park, Colorado
Annual visitors:

Advertisement

442,905
Fun fact: Geologists believe the entire park was once submerged under an enormous lake.
South of the equally majestic Rio Grande National Forest, this one is a must-visit for Star wars fans. The rolling landscape looks exactly like Tatooine, but here, sandboarding and sandsledding are more popular activities than lightsaber battles. The park has the tallest dunes in the country, with the tallest, Star Dune, reaching 750 feet at its summit. The dunes are cradled in the Sangre de Cristo mountain range and offer excellent hiking terrain.
Image by David Mark from Pixabay
19. Big Bend National Park, Texas
Annual visitors: 440,091
Fun fact: This area is a goldmine for archeologists, who have found tons of dinosaur bones and sea fossils here.
Cliff-like canyon walls cut a stark backdrop to the Chihuahuan Desert, where the Rio Grande river meanders slowly on its inexorable path. The park, spanning nearly one million acres, is home to dozens of natural wonders, including waterfalls, balanced boulder overhangs, and cool wildlife like cougars and Mexican wolves. Backpackers and hikers love the area for its challenging terrain; another popular way to explore the area is via a river tour up the Rio Grande.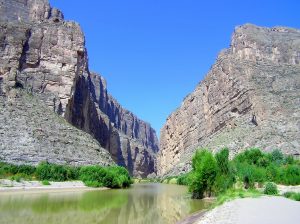 Image by David Mark from Pixabay
18. Channel Islands National Park, California
Annual visitors: 366,250
Fun fact: Signs of human habitation on the islands date back to 35,000 years BCE
Off the California coast, this archipelago of five islands is a chance to step back in time and see the West Coast as it used to be. The ocean surrounding the islands is a prime hangout for sea lions, and whales can be spotted migrating at certain times during the year.
Favorite activities for visitors include camping, diving, and kayaking through the sea cave dotted throughout the park.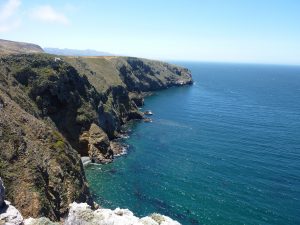 Image by benstorm from Pixabay
17. Kenai Fjords National Park, Alaska
Annual visitors: 321,596
Fun fact: Enormous glaciers grind the bedrock into a substance known as rock flour, which appears as a milky substance in the waters around the park. 
Alaska has eight national parks, each of them worth visiting for the beauty of their incredibly, untouched wilderness. Kenai, being close to Anchorage, is one of the more accessible, and many cruise lines use its headquarters in Seward as a launch point. The geography here is stark, with massive glaciers, fjords, ice fields, and mountains.
Despite the rough terrain and cold temperatures, lots of animals thrive here, sea lions, orca whales, otters, and adorable puffins among them.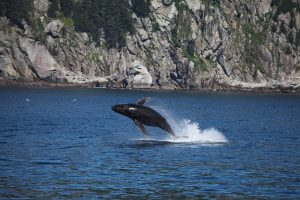 Image by skeeze from Pixabay
16. Black Canyon of the Gunnison National Park, Colorado
Annual visitors: 308,962
Fun fact: The Ute Indian tribe avoids the canyon out of superstition that it's a cursed place.
If crowds aren't your thing, skip the Grand Canyon and come here. The steep black cliffs diving into the swift-moving river below are a sight both ominous and awe-inspiring. Advanced hikers and rock climbers are drawn to the canyon, and anyone with the nerve to try the trails will see the leftover rails of the Black Canyon Line, part of the train route that crossed through an area originally thought to be impenetrable.
The isolated terrain makes it great nesting territory for birds, and several species of owls and hawks make their homes here.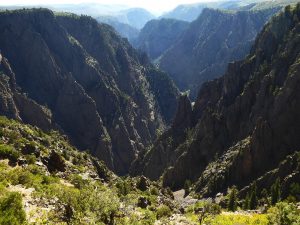 Image by misterfarmer from Pixabay
15. Voyageurs National Park, Minnesota
Annual visitors: 239,656
Fun fact: The national park, due to some bureaucratic oversight, waited 80 years to be made and official national park in 1971.
A campers paradise, this lush forest is interrupted by dozens of waterways casting the serene sound of rippling streams throughout. In the summer visitors can munch on handfuls of the blueberries, raspberries, and strawberries that grow naturally here. This is an ideal destination for fishing, kayaking and canoeing, camping, and in the winter; snowmobiling.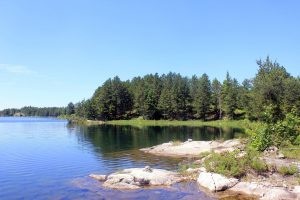 Image by Yinan Chen from Pixabay
14. Pinnacles National Park, California
Annual visitors: 222,152
Fun fact: Until the Indiana Dunes took over, this was the US's newest national park, established in 2013.
Hikers and birdwatchers never want to leave this place, with its endless hiking trails lined with wildflowers.
High up in the mountains, you have a good chance of sighting eagles, falcons, and condors. There's also a very cool cave system to explore, formed by the giant boulders hanging over the canyons.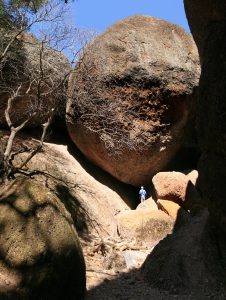 Wikimedia
13. Guadalupe Mountains National Park, Texas
Annual visitors: 172,347
Fun fact: Has the most diverse population of large mammals among all the parks, with elk, javelina, gray fox, American black bear, coyote, bobcat, striped and hog-nosed skunk, badger, sixteen species of bat, mule deer, and cougar.
If you're the type who believes in going the extra mile for a spectacular view, this park has got you covered. After hiking through mountains in the midst of the Texan desert sprawling for miles around you, you'll reach Guadalupe Peak. If you time it right, you'll get there at sunset, when the entire sky catches fire in hues of fuschia, orange, and red.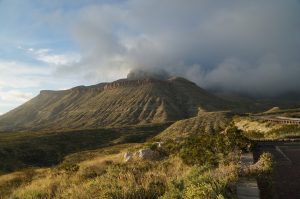 12. Great Basin National Park, Nevada
Annual visitors:

Advertisement

153,094
Fun fact: Here you can pass under one of the oldest limestone arches in the world, the Lexington Arch.
This one is a surprise, since it hits all the hallmarks of well-known wonders like that of Yosemite. Ancient forests, snow-capped mountains, and pristine hiking trails await those who visit. At night, due to the lack of light pollution, countless stars are visible and it's a favorite of photographers who want that perfect shot of the Milky Way.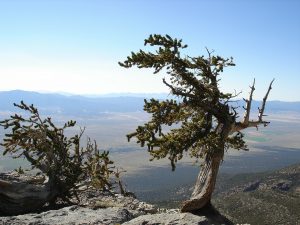 Image by David Mark from Pixabay
11. Congaree National Park, South Carolina
Annual visitors: 145,929
Fun fact: The forest is home to the tallest and largest pine trees in the world.
If the 170-foot old-growth trees aren't enough to get you here, perhaps the synchronous fireflies are. In early summer, the nighttime forests light up with fireflies pulsing their glow on and off at the same time.
It's also a UNESCO biosphere reserve to protect its delicate wildlife and bird populations. This is a great substitute for California's Redwoods National Park, if you don't want to fly to the West Coast.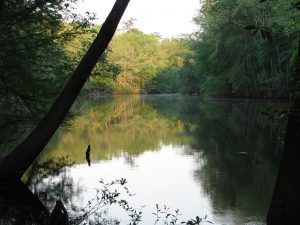 Wikimedia
10. Virgin Islands National Park, U.S. Virgin Islands
Annual visitors: 112,287
Fun fact: There are two colonial ruins to explore, the Reef Bay Sugar Factory and the Annabel Plantation.
A lot of people forget, or don't know, that the US encompasses several Caribbean islands under their protectorate. If you consider the cost of travel, it's no big shock that this is one of the least visited, but it is a good one to note. If you prefer snorkeling coral reefs to strapping on hiking boots, then this is the national park for you.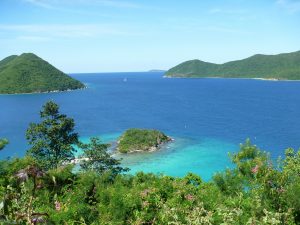 Image by Fiona from Pixabay
9. Wrangell-St. Elias National Park, Alaska
Annual visitors: 79,450
Fun fact: Mineral-rich, the park used be pickings for prospectors mining for gold, copper, dolomite, azurite, and malachite.
It's difficult to wrap one's mind around just how big this park is, at over 13 million acres. A third of it is covered in glaciers, which visitors can get up close and personal with, crawling through crystal blue ice caves. Mount Wrangell, from which the park takes its name, is one of the world's largest active volcanoes, and some days you can see smoke billowing from its peak.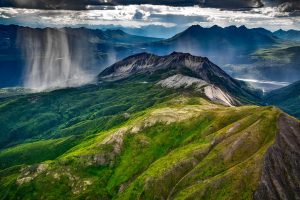 Image by David Mark from Pixabay
8. Dry Tortugas National Park, Florida
Annual visitors: 56,810
Fun fact: Numerous shipwrecks from the islands former life as a refueling station lie under the waves and make scuba diving here a real adventure.
These coral islands close to the Florida Keys are rife with tropical beauty. Aquamarine water laps sandy white beaches. The park is home to 300 species of birds, and the aquatic wildlife is even more diverse; all you need is some snorkeling gear to see it for yourself. The park was established to preserve not just the ecosystem, but also the unfinished fortress, Fort Jefferson.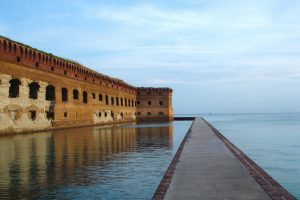 Image by David Mark from Pixabay
7. Katmai National Park and Preserve, Alaska
Annual visitors: 37,818
Fun fact: Home of the annual Katmai Fat Bear Week Competition. This year's winner was a brown bear named 435 Holly.
One of the most isolated parks on this list, Katmai is only accessible by plane or by boat.
One of the most visually stunning experiences out there, a "flightseeing tour" takes visitors over the mountains to see wonders like the crater lake in the Mount Katmai summit. The broad plains,  which are swampy during much of the year due to their position on top of Alaskan permafrost, are home to huge herds buffalo.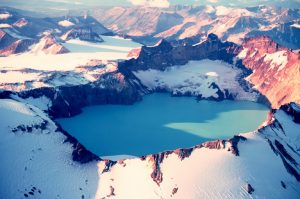 Image by skeeze from Pixabay
6. North Cascades National Park, Washington
Annual visitors: 30,085 
Fun fact: The park has to close often throughout the winter due to frequent avalanches.
The numerous craggy mountains here make the North Cascades a popular draw for mountaineers and rock climbers. It's also great terrain for hiking and biking, and there are several developed campgrounds available for visitors. Even if you're not the sporty type, the incredible views of glaciers will keep you busy. You might even spot one of North America's most elusive animals: the wolverine.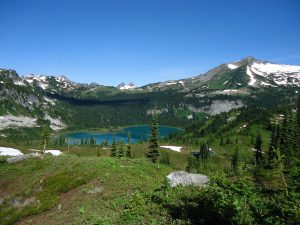 Image by carolynhasemail from Pixabay
5. National Park of American Samoa, Samoa
Annual visitors: 28,626 
Fun fact: Park rangers are at constant war with the feral pig population that threatens the other animals on the island.
Spread across three islands and home to several unique species of bats, birds, and reptiles, this park offers a look back to what the explorers must have felt like when they discovered the new world. Exotic flora and fauna, volcanic mountains, and beaches that give way to coral reefs and sea caves make this a natural wonderland. The island also offers homestays with native Samoan villagers to get an immersive experience of island life.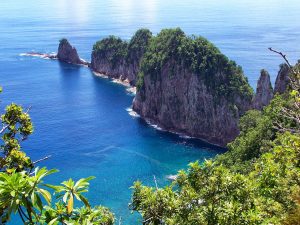 Image by David Mark from Pixabay
4. Isle Royale National Park, Michigan
Annual Visitors: 25,798 
Fun Fact: A great way to see more of the park is to book passage on a ferry.
Aside from its main attraction, Royale, this park encompasses hundreds of islands spread throughout Lake Superior. Lynx, caribou, and wolves inhabit the area and it's not uncommon to see moose swimming from one spit of land to another. There are developed campgrounds here for those who like amenities close by, but a lot of this park's wilderness is accessible only by canoe and kayak.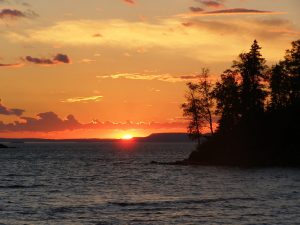 Wikimedia
3. Kobuk Valley National Park, Alaska
Annual visitors: 14,937 
Fun fact: Archeological research indicates that there were human settlements here 12,500 years ago.
The dunes that distinguish Kobuk Valley have an interesting origin story: for centuries, this area was covered by enormous glaciers, which slowly ground down the rocks they were sitting on to form fine, golden sand.
Today, the dunes are in the migratory path for thousands of animals. Visitors can hope to spot bears, moose, foxes, wolves, and caribou.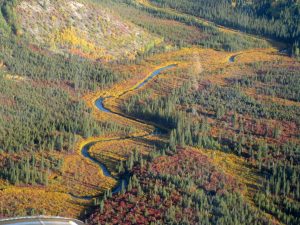 Wikimedia
2. Lake Clark National Park and Preserve, Alaska
Annual visitors: 14,478 
Fun fact: Redoubt, one of the park's active volcanos, most recently erupted in 2009.
Avid nature-lovers name this one of the best parks in the US. Its turquoise glacial lakes, mountain vistas, and coniferous forests beckon visitors to experience a way of life the predates cities and technology. This is largely thanks to the fact that the area can only be reached by boat or floatplane; but once you get there, you'll have an all-access pass to spy on the roaming wild wolf packs, view the exceptional vistas, and inhale the crystal clear air.
Advertisement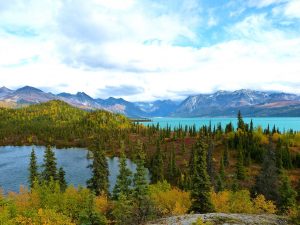 Image by skeeze from Pixabay
1. Gates of the Arctic National Park and Preserve, Alaska
Annual visitors: 9,591 
Fun fact: In the winters, which last nearly the whole year, temperatures plummet to −75 °F (−59 °C).
Untrammeled by civilization, the NHS calls this the "last truly wild place on Earth". If that's not enough to spark your curiosity about this national park, perhaps the chance to camp under the aurora borealis is? Travelers would be wise to note, however, that only experienced wilderness campers are advised to make a trip here; if you're unsure of your survival skills, there are guide services that can take you to one of the most unforgettable places on the planet.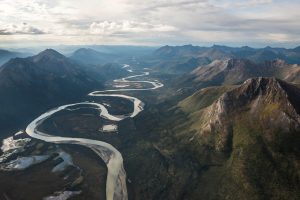 Image by skeeze from Pixabay
---
KEEP ON READING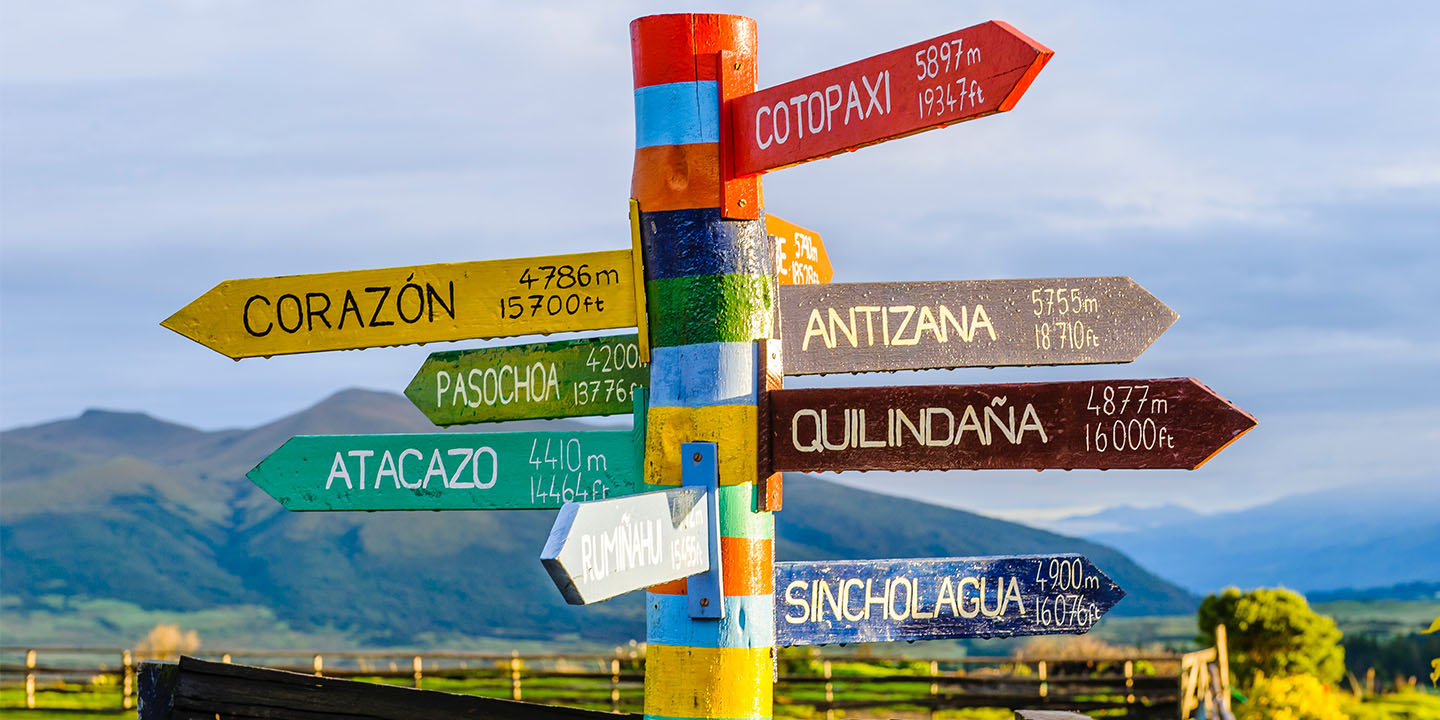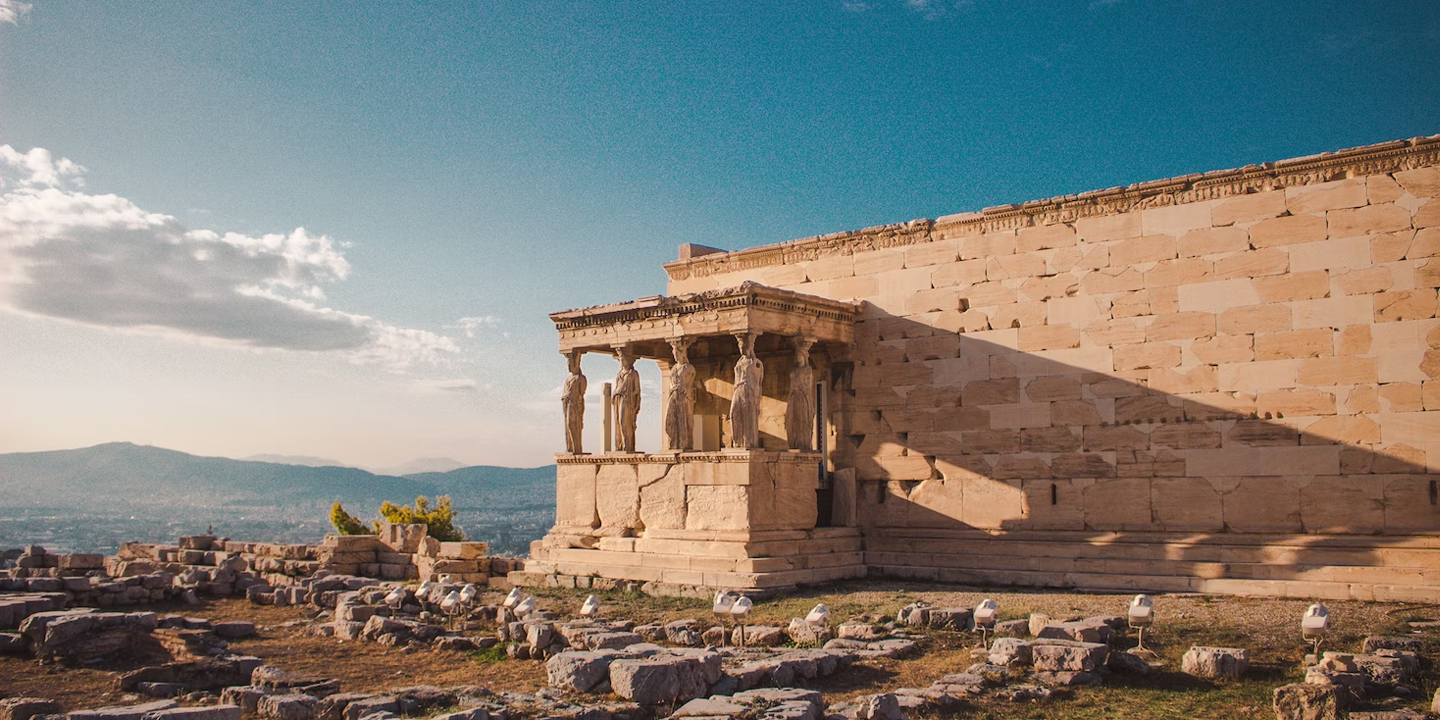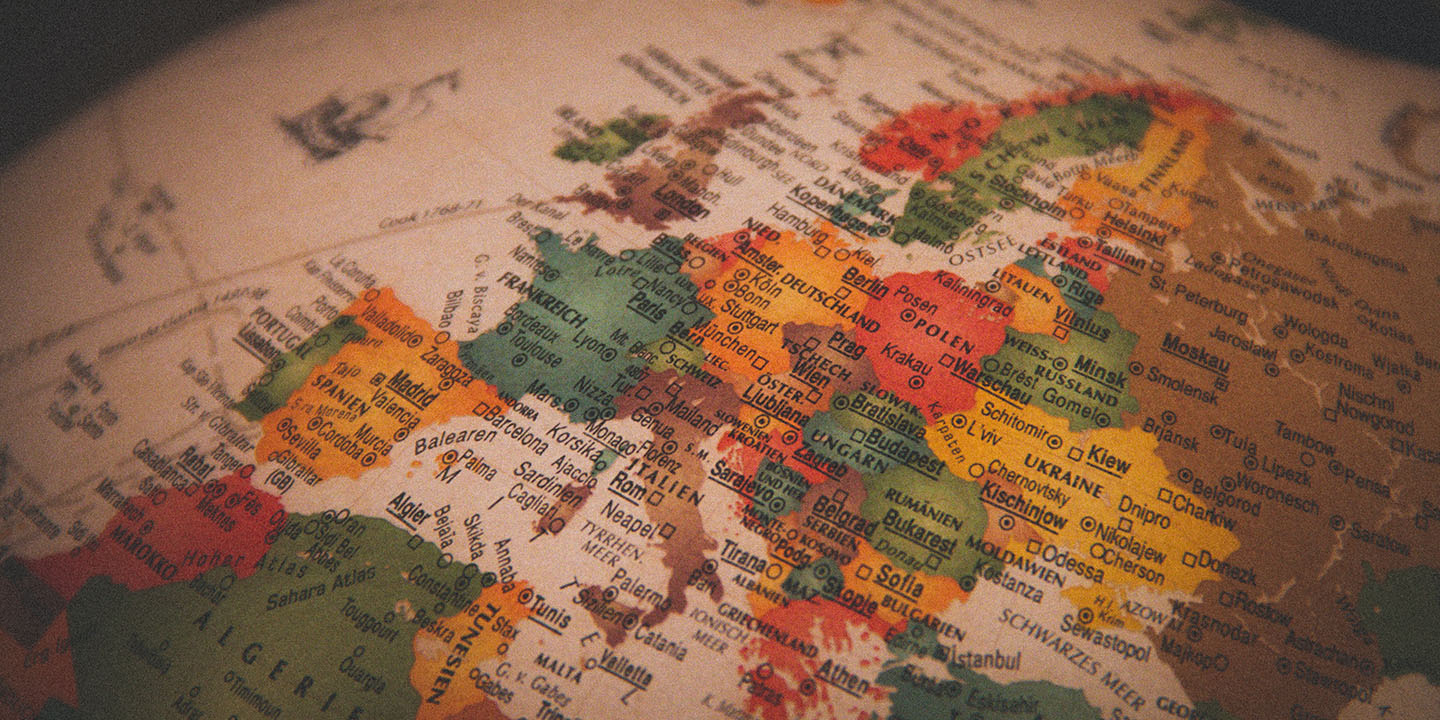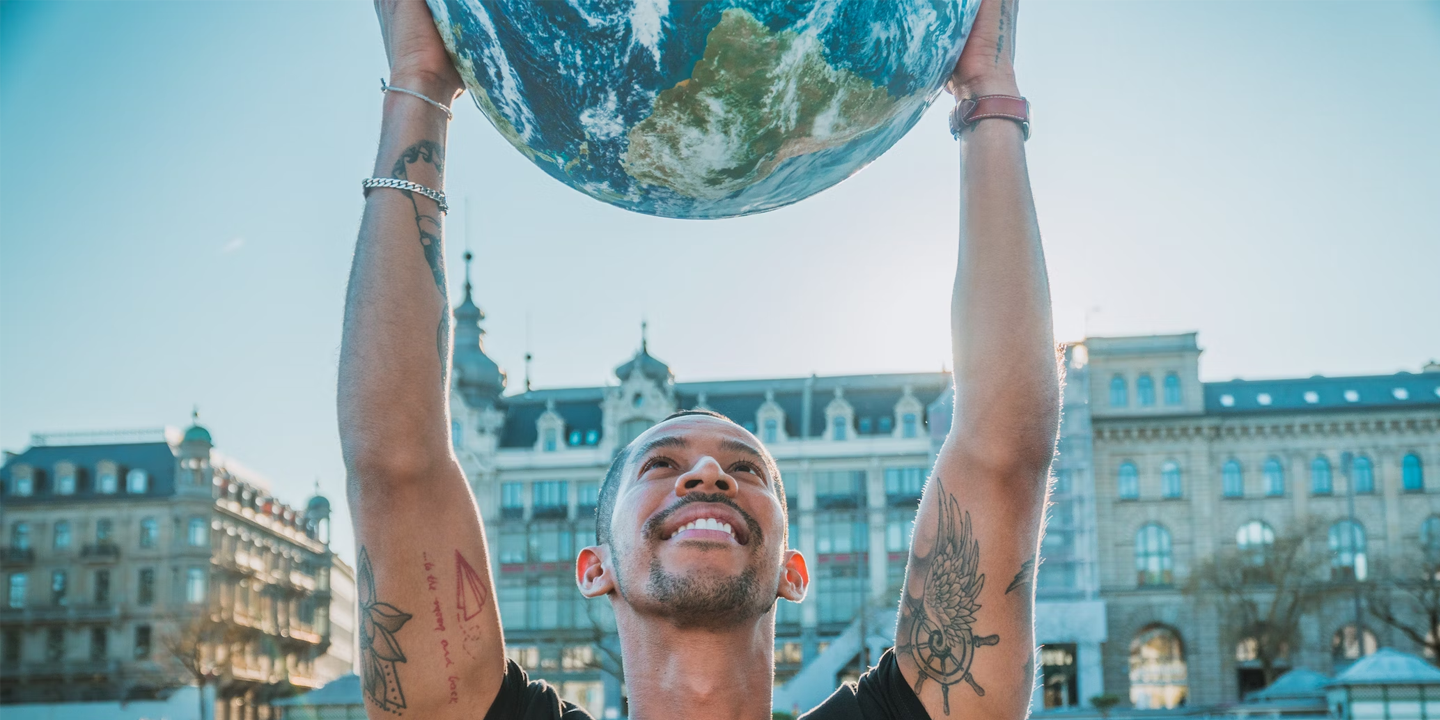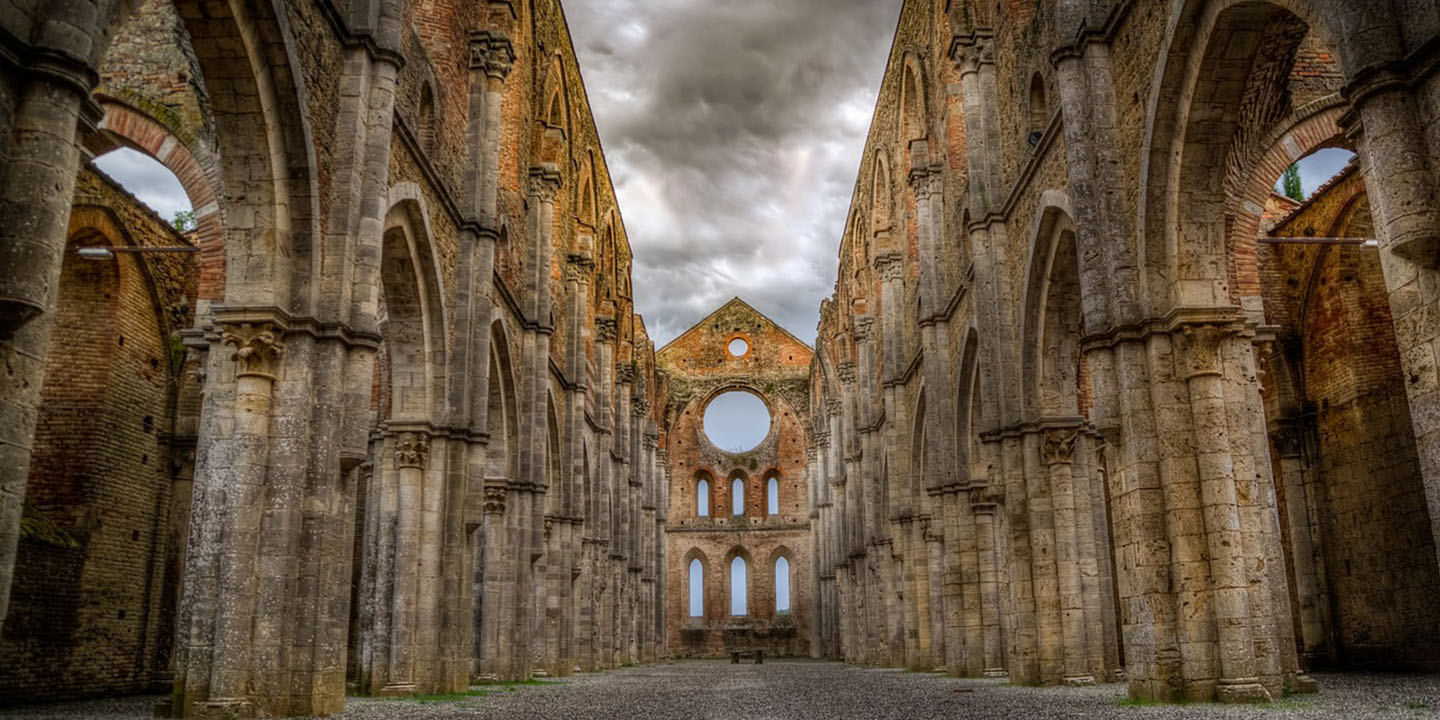 ---